How to Improve the Student Experience with Surveys
Brynne Ramella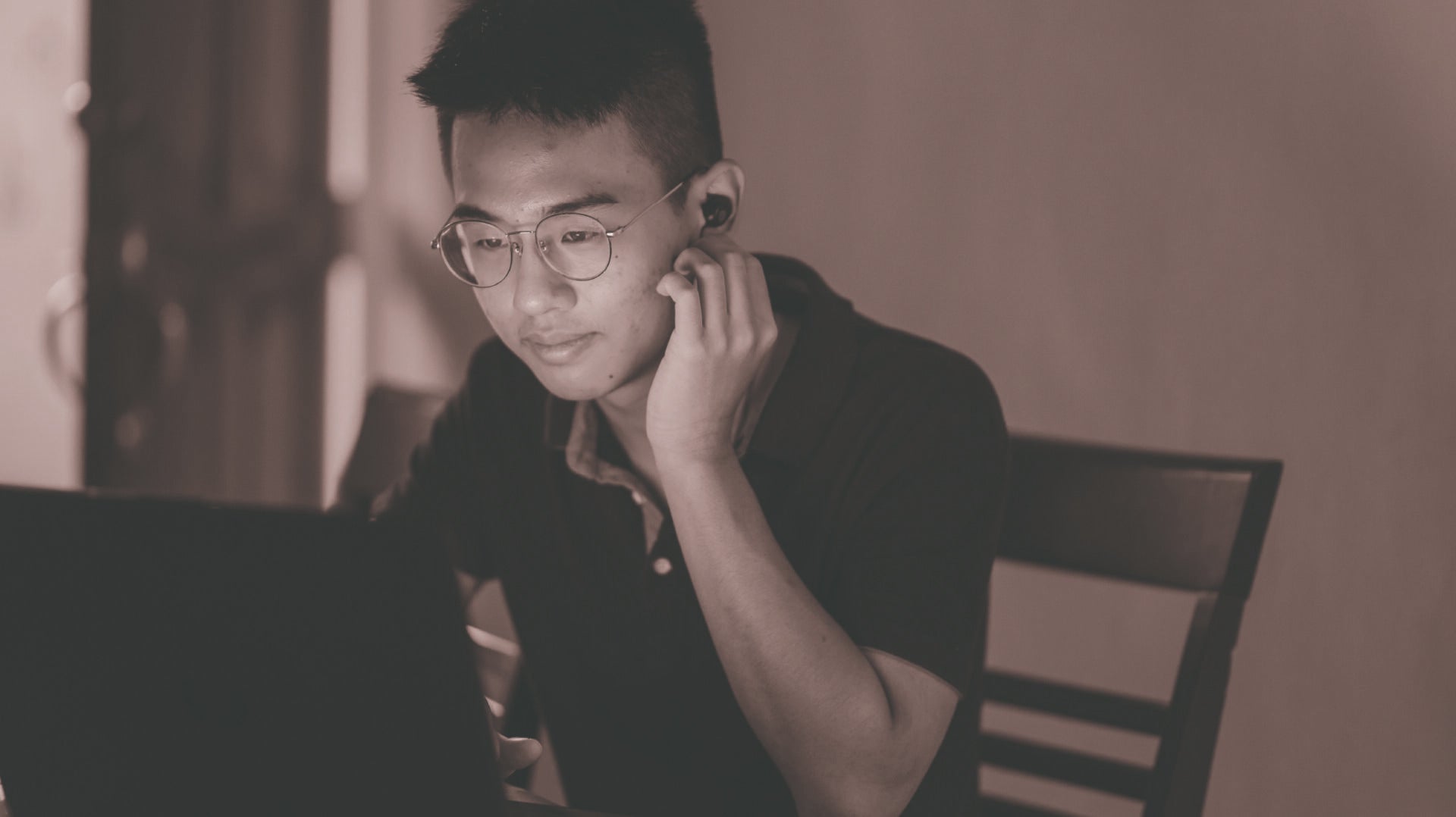 Surveys are the most efficient way to gather feedback on the student experience. The well-being of your academic institution depends on student success and a positive learning environment. The only way to see if your planned initiatives are helping to improve student satisfaction is to talk directly to the students themselves.
Creating surveys allows you to collect a sweeping amount of valuable data all at once. But there are different types of surveys to select, along with other strategies you can take to ensure you operationalize that feedback in the best way possible. 
We'll help you through that by covering the following sections:
What are the Benefits of Surveys in Higher Education?
Student surveys offer a myriad of benefits to several different facets of your higher education institution. For one, feedback gathered can reveal problems across your university.
Students have first-hand knowledge of everything happening on campus, which means they'll be best attuned to problems you may not even be aware of. But on the flip side, their feedback can also clue you into positive trends happening on campus. 
Your administration can use that knowledge to make targeted improvements on campus. Moreover, those positive changes have the power to directly impact your students for the better. As Inside Higher Ed states, student survey data collected can help improve learning and the overall academic experience. That will undoubtedly lead to more successful students in the future. 
What Are the Different Kinds of Surveys?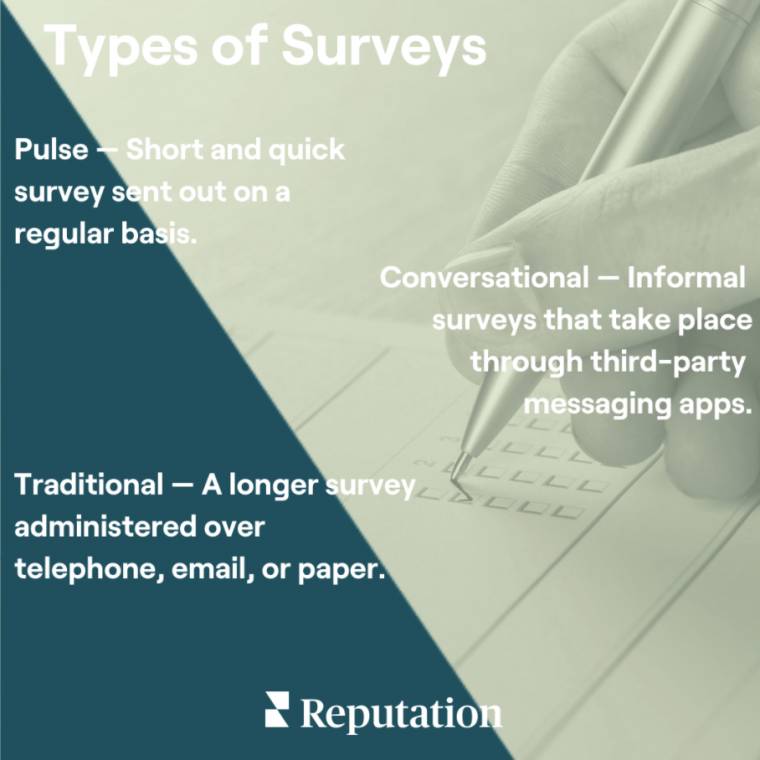 You need to be strategic in choosing the specific type of questionnaire you will use to gather student feedback. We're going to focus on three specific types — pulse, conversational surveys, and traditional.  
Pulse Survey
This option is a short, quick questionnaire sent out on a regular basis. As the question types are so short, they reduce friction and increase completion amongst respondents. As EduMe states, these are typically carried out to continuously gain views on subjects such as communication and relationships and the overall environment at the university.
These surveys can often be used in instances such as scheduling, reception, and follow-up. That makes them an excellent option for reaching out to students who use facilities such as the health center and various dining halls around campus. Use cases for these include scheduling an appointment with a physician or rating the quality of dining hall food.
Conversational Survey
Conversational surveys take place through real-time third-party messaging platforms like SMS messaging or Facebook Messenger. As the name suggests, these online surveys act more like a conversation. These questionnaires are more informal, friendly, and shorter in length. It's not uncommon to include a mix of images, texts, buttons, video, and audio files in these questionnaires.
Related: 5 Critical Things Your Surveys Must Do
A great academic use case for this type could be various types of student programming. Conversational student surveys can be sent out after freshman orientation events or general student entertainment events. You'll want to receive more than just a yes/no answer or a star rating as actionable feedback with these kinds of events, and it is absolutely critical for continued improvement.
The most significant benefit of conversational surveys is that they tend to be a softer ask than a traditional one. Users can leverage artificial intelligence (AI) to route survey questions in a logical order when using certain platforms.
These questionnaires are also typically deployed over text, and most text messages are read within three minutes. Students might see them as a casual conversation and respond quickly. That gives you the valuable feedback you're looking for quicker than other methods might have done. That feedback can turn into positive reviews of your various programs on campus.
Traditional Survey
An additional method that your administration can take is using a traditional survey. This typically refers to a questionnaire printed on a physical piece of paper in which respondents have to fill it out with a pen or pencil. Traditional surveys can also be administered on student survey software through email addresses or by telephone. 
While you may not get the strongest response rate, they can be administered to students in order to judge staff performance throughout the semester. This can be applied to both in-person and online courses. 
While a traditional option may not be the most effective for students, it's a great method for reaching out to alumni. With most colleges and universities having ample opportunities for alumni to remain involved with their alma mater, many will be eager to give feedback.
Related: 5 Tips for Getting Great Reviews Online
As traditional surveys are longer than pulse and conversational methods, your team can take advantage of this to get thorough and detailed feedback. In turn, that allows you to improve the alumni experience for those who remain engaged after graduation.
Did you know that Reputation offers a Survey solution that is fully customizable for academic institutions?
How to Operationalize Feedback
The kind of feedback you're looking for should absolutely dictate the survey option you select. But figuring out how to operationalize that feedback is the real challenge. 
First and foremost, your staff should always make appropriate changes when possible. No matter the type that you select, seeing recurring trends within feedback should catch your eye. Honest feedback from a student is the best kind of market research you could ask for.
Analyze those responses and see if it's a realistic change that your university can implement. If it is, carry that change out and inform your student survey respondents that you are doing so.
On the flip side, you should also keep an eye out for overwhelmingly positive feedback too. Take those responses and use them in your marketing initiatives. Positive and honest testimonials are the best thing you could ask for to attract new students.
Remember that collecting feedback from students should not be a one-time thing. Get in the habit of doing it continuously in order to boost student engagement and the learning experience for your students. Reputation can help you analyze that feedback to make sure you understand exactly where your institution is thriving and where there is room for improvement.