5 Critical Things Your Surveys Must Do
Reputation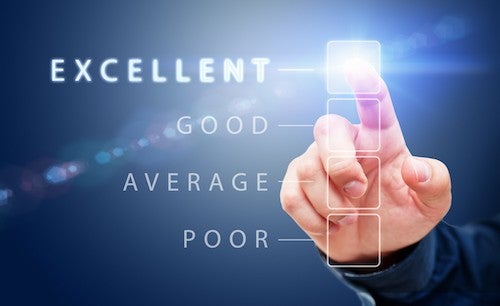 Are your surveys delivering the actionable feedback you need?  
If that statement just caused alarm bells to go off in your head, this is a great time to re-evaluate how you're gathering customer feedback, and whether or not your customer satisfaction surveys are doing what they should — providing truly actionable insight.
Too often, surveys aren't engaging or require too much time to complete. They may be sent after considerable time has passed after a transaction — and by then, the customer may not even remember the details of the experience. You get a watered-down response with little usable data — if you get anything at all.
That's a big problem in today's customer-driven economy. According to a recent study, by the year 2020 customer experience will overtake price and product as the key brand differentiator.
As online reviews and social media sharing continue to put the power of brand creation into the hands of consumers, companies who fail to tune into the voice of the customer will fall behind.
Send Surveys that Work
Done the right way, customer satisfaction surveys can provide a wealth of data that you can use to identify and address problem areas early — before they have a negative impact on customer experience.
Surveys can also provide valuable insight into what practices are working well, so you can standardize on those strengths across locations.
But a robust survey solution delivers more than just a means of collecting customer feedback. A great survey platform can help you in five important ways:  
1) Make surveys customizable and true-to-brand.
As with all communications with customers — whether one-to-one or one-to-many — surveys need to be true to your brand. That means they must have a look, style and tone distinctive of your company.
Surveys that represent your brand help to strengthen it. And, they help customers remember and recognize you. Those who have had positive experiences with your locations will associate good feelings when they see your logo, leading to better brand recognition, and ultimately, more business.
Ensure your surveys are true to brand by choosing a platform that enables you to create customized, branded surveys for multi-channel delivery.
2) Deploy engaging surveys on multiple platforms.
We all know mobile is where it's at — so why not use SMS to deliver surveys?
SMS-based surveys are immediate, actionable and engaging. Customers who participate in surveys on their smartphones experience a higher level of interaction with your brand. On mobile, surveys can be tailored to ask different questions, according to customer responses during the survey, making the experience highly conversational and customized.
Plus, according to Pew Research, SMS-based surveys help you get feedback sooner.
But don't forget the traditional methods. Depending on your market segment or buyer persona, email or kiosk survey delivery may work better. Make sure your platform covers all the bases, and makes it easy for your customers to participate.
3) Integrate surveys with online reviews.
Google and other search engines rank your locations on results pages based on how many recent, positive reviews they have. And SearchEngineLand reports 69 percent of consumers think reviews older than 3 months aren't even relevant.
But requesting reviews routinely following transactions is cumbersome and time-consuming. Companies with multiple locations have inconsistent practices, yielding spotty results.
Surveys provide an ideal platform for requesting online reviews. A survey sent via SMS can be followed by a quick text asking the customer to submit a review. It can include a link to the review site, making it fast and easy — the customer simply clicks on the link and it taken directly to the website where they can post a comment or review — all while the experience is fresh in their mind.
This method covers two bases at once — you receive actionable, detailed feedback in the survey, and you increase your chances of getting timely customer reviews across the web.
4) Give your business actionable insights.
Gartner reports that companies implementing customer experience projects begin by focusing on ways they collect and analyze customer feedback. Such analysis is essential to understanding how customers perceive your brand — and what they expect from you.
Advanced survey solutions enable you to analyze segmented feedback by multiple attributions. They allow you to benchmark performance between locations and against your competitors, so you can see where you're taking a lead or lagging behind.
Here's an example of Reputation.com's "Tornado" chart, which provides a snapshot of how a company is performing against competitive industry benchmarks:
By integrating with deep analytics and reporting, such solutions enable you to schedule alerts, so you can quickly identify recurring issues and trends, and take immediate action to address customer issues.
5) Stream testimonials to websites to improve SEO. 
Great reviews and positive survey findings should never go to waste. Find a survey solution that enables you to publish ratings and testimonials on your website for your buying public to see.
The text in your survey responses is crawlable, so streaming them to your site boosts SEO. Your rankings and ratings will increase as a result. And, website visitors will be able to read what your satisfied customers say about you — helping them to choose you over the competition.
Focus on the Voice of the Customer, or Be Left Behind
Gartner predicts that by 2018, more than 50 percent of organizations will be shifting their focus — and spend — to innovations that improve customer experience. And 89 percent of businesses will compete primarily on the experience they provide.
If you don't act now to elevate your focus on the voice of the customer, you'll be at a disadvantage. Surveys are a great place to start.
Learn more about Reputation.com's Survey solution.