How to Get Started with Customer Sentiment Analysis
Brynne Ramella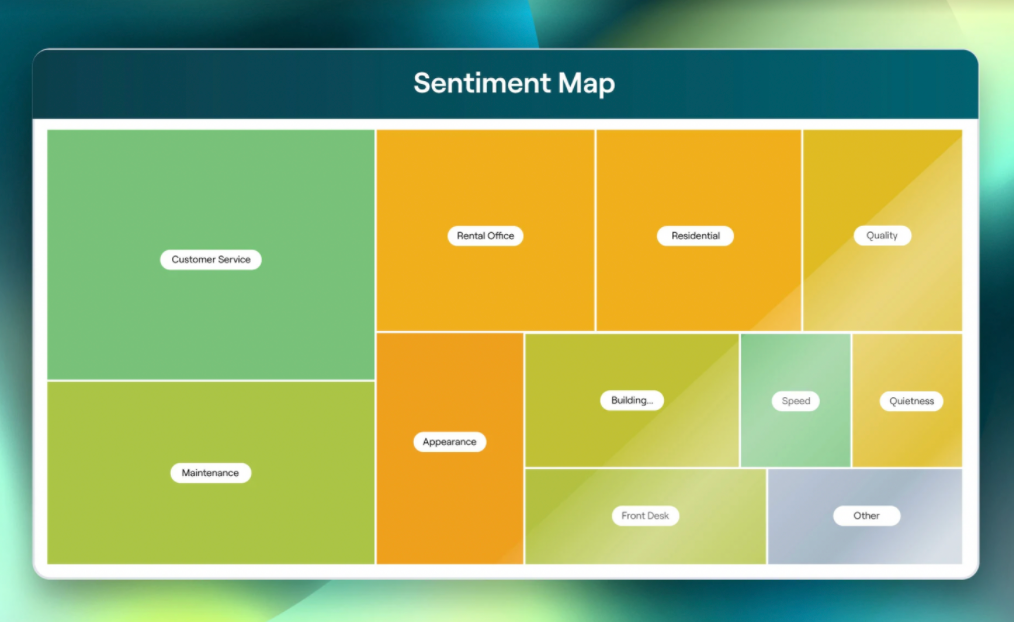 How will your business succeed if you don't know how customers feel about your brand? The answer is that it simply isn't possible. But it's not always easy for businesses to corral crucial customer sentiment because it proliferates unstructured and unmanaged across the digital world, on destinations ranging from Google to Twitter. Fortunately, digital customer sentiment analysis tools can help you get the answers you need to thrive and grow. 
In this article, we'll cover everything you need to know about customer sentiment analysis through the following sections:
What is Customer Sentiment Analysis?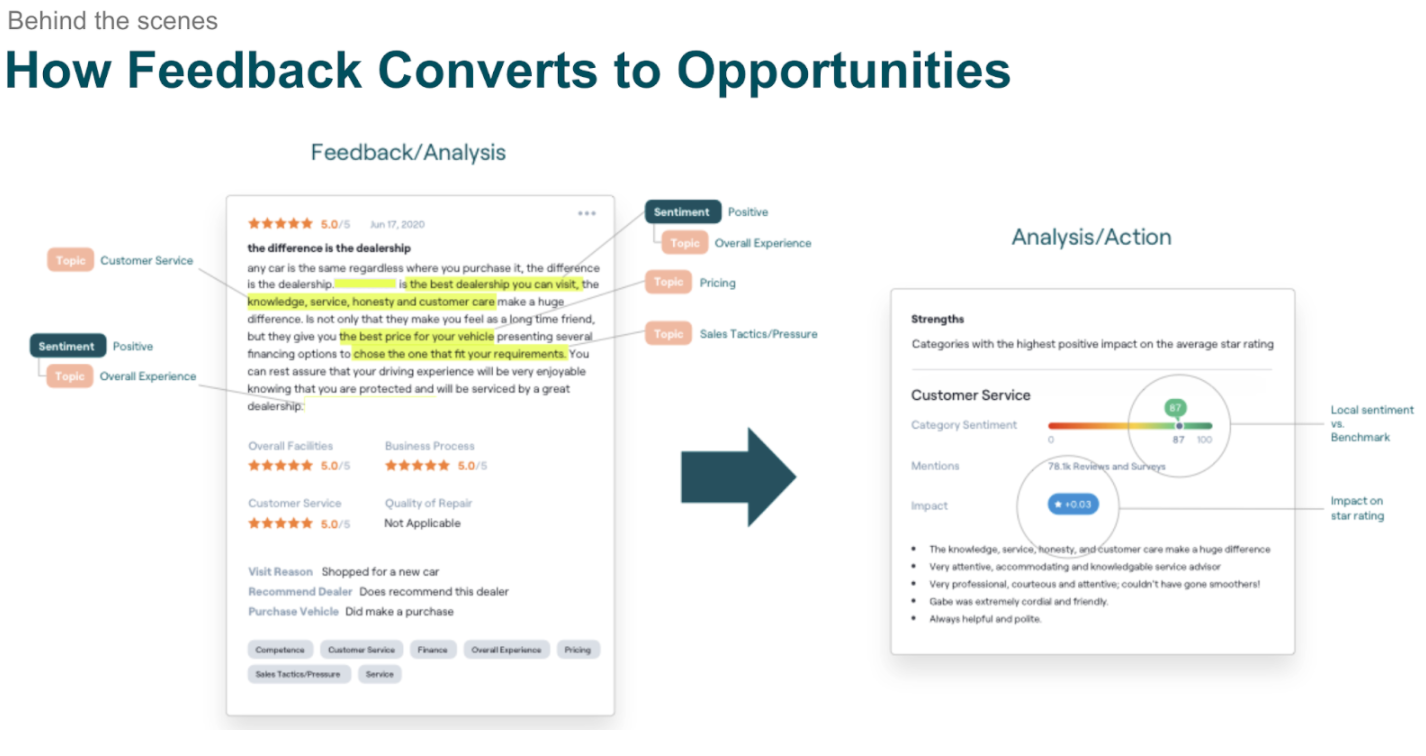 Sentiment analysis uses natural language processing (NLP) and text analysis to extract information from billions of online comments and data points. This is done to learn how your customers feel about your product or services. 
This process allows you to monitor, manage, and leverage every comment from social media, online reviews, and surveys, which help you improve your business.
Customer sentiment analysis takes this pool of feedback in order to identify and aggregate customers'  emotions about you. This matters because a brand's value is built on the emotional connection it has with customers. Comments can be identified as positive, neutral, or negative. 
From there, machine learning surfaces detailed patterns and trends within the feedback your customers leave about you. Your team can then harness those insights in order to identify strengths, weaknesses, and potential crises before they escalate. 
Feedback trends are vital to understanding the customer experience your business provides. In the feedback economy, your customers have endless choices for the product or service you provide. 
If a business has a negative online reputation, customers will know — and they do not need to settle for subpar experiences. Conducting customer sentiment analysis ensures your business will never find itself in that situation. Feedback uncovered from these insights will take your brand to the next level.
Related: 12 Tips for Customer Experience Survey Design
Benefits of Customer Sentiment Analysis
Conducting sentiment analysis offers you a direct line to customers' perceptions. This opens the door to a number of opportunities for your business. Here's a breakdown of additional benefits you can expect from customer sentiment analysis:
Boost your customer service — Your customer service can make or break your business's reputation. Conducting sentiment analysis with customer service feedback surveys will allow you to see where your business is excelling and where there is room for improvement. This will allow you to see negative feedback trends so that your team can get out in front of potential issues.
Improve your product/service —  As MonkeyLearn writes, trends within your sentiment analysis could actually uncover certain issues such as:
Issues/bugs that need to be fixed — An influx in negative comments may show that your product is experiencing a bug 

Room for improvement — Customer comments can show your product team where a specific aspect of your offering has room for improvement, or where you need to improve service 

Customer needs — You might receive comments about missing features 
Monitor brand reputation — If you track what customers are saying about your business, you'll get a good idea of where your online reputation stands. By making a point to constantly monitor your reputation, you'll ensure you're always in good standing with customers.  
Fuel marketing strategies — Analyzing your customer sentiment can give your marketing team insight into emerging industry trends. You can subsequently build future strategies around those insights. Sentiment analysis can also assist you in segmenting your customers based on how they feel about your brand. That means you can provide the most personalized experience possible.   
How to Gather Customer Sentiment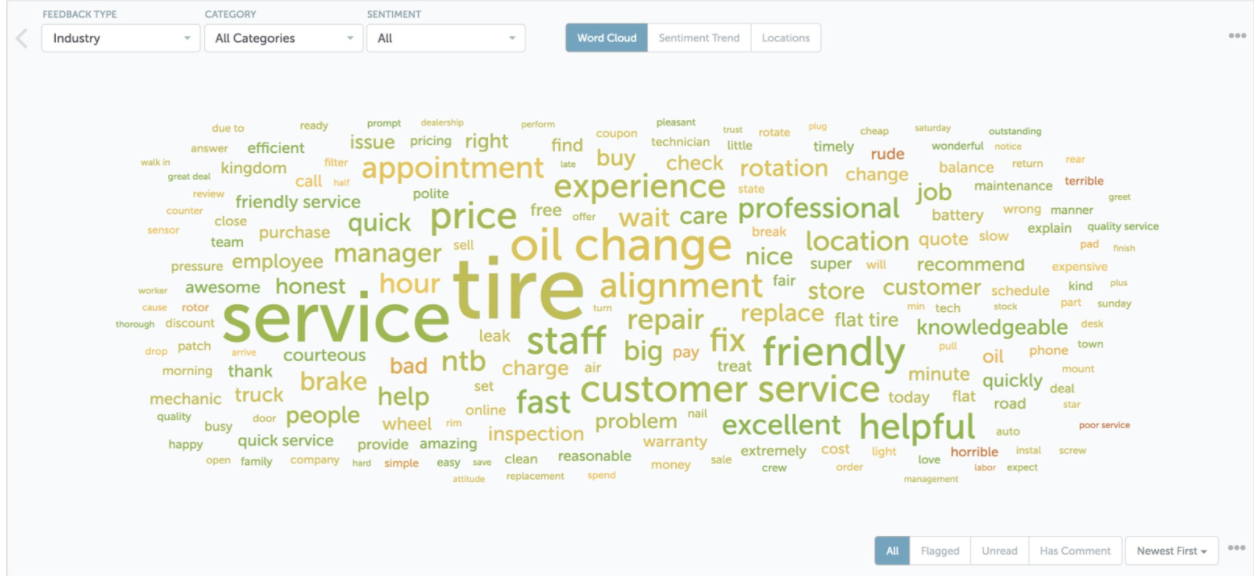 Conducting sentiment analysis is a large undertaking, which means you need the right tools in your arsenal to get started. Here are a number of ways you can get started with customer sentiment analysis.
Related: How to Provide Great Social Media Customer Service
Customer surveys — Customer surveys can give you deep insights into how your customers feel about your product and/or services. With a tool like Reputation, you can deliver in-app surveys through popular channels in order to quickly collect customer feedback. 
If your surveys are well-structured, you'll be bound to receive a plethora of rich customer data. As we previously wrote, here are different options of surveys you can send to customers:
Market Research Surveys — Gauge your position within your industry in order to learn where your products are being purchased.

Brand Awareness Surveys — Measure general awareness around your brand.

Event Evaluation Surveys — Learn more about attendees' experiences at your event. 

Net Promoter Score — Ask your customers "On a scale of 1 to 10, how likely are you to recommend our brand to someone?"

Segmentation Surveys — Ensure your team is focusing marketing efforts on the right segment of the population.
Social media posts — Even if you don't realize it, customers are likely talking about your brand online. This unsolicited, in-the-wild feedback can be harnessed with the right tools. Leveraging social media monitoring and social listening tools will allow you to listen for terms and phrases relevant to your business. That way, you can gather customer feedback even if your business isn't tagged in a comment. 
Product review websites — If your business offers a product to customers, your team needs to constantly monitor review websites. Real product users offer thorough feedback on these websites. Make sure you're monitoring every review website your product is listed on in order to get the clearest picture. 
Once you've collected a thorough sample of your customer feedback, your team needs to organize the data you found. To dig into feedback, leverage tools such as a word cloud, Reputation Score, tornado chart, or an analytics solution. Tools like these will help you spot trends or areas of improvement for your business. 
Related: How to Create a Social Listening Strategy
Five Sentiment Analysis Use Cases
Any business can leverage sentiment analysis to gain valuable insights into how customers think and feel about their brand. But in order to do this effectively, your team needs to understand the ways in which you can execute customer sentiment analysis. Here are a few examples of how to use customer sentiment analysis for your own business:
1. Track Customer Sentiment Over Time
Having your current insights show that customers are happy with your product and/or services is the ultimate goal of successful sentiment analysis. But your team's work shouldn't stop just because you are delighting your customers. 
You should constantly be working to keep your customers happy, and sentiment analysis can show if those ongoing efforts are working. Conduct an analysis to measure customer satisfaction over time. That way, you can see both positive and negative trends, and figure out the root of the cause.
2. Determine Which Segments Have the Strongest Opinions
Customer sentiment analysis allows you to uncover your customers' true feelings about your brand. That means you can figure out which customers have the strongest opinions toward your organization — both positive and negative. 
That data will allow you to adjust your marketing efforts. That way, you can better speak to those customers who aren't happy with your brand. You can also identify which customers can act as your brand ambassadors. 
3. Map Out Product Improvements
Sentiment analysis can tell you exactly how your customers feel about your product. For example, the unstructured data that customer sentiment analysis provides could tell you that customers love your product's look. However, they might think it's incredibly difficult to use.  
Use that information to make necessary changes to your product. Over time, this data can ensure that the product or service you provide fits your customers' exact needs. 
4. Determine the Most Effective Communication Channels
Your business doesn't need to have a profile on every social media channel. You just need to make sure your efforts are going toward the right channels. Sentiment analysis can show if your customers respond more positively on apps ranging from Instagram to Twitter. 
This allows you to dig into why this might be. That analysis can inform how you interact with customers and make changes to your social media marketing strategy if necessary. If you are receiving, say, largely negative feedback on Instagram, this could be a sign that you need to engage with them more there.
5. Prioritize Customer Service Issues
Sentiment analysis can help you dig through customer support tickets in order to see which should be the highest priority. That way, you can bring those inquiries to the top of your customer service queue. Today, you can also take this one step further and even leverage sentiment analysis through your chatbots to ensure your responses are aligned with customers' emotions as well.   If this process is done strategically, your company will be able to address negative feedback quicker and more efficiently. 
Customer reviews are a direct line to understanding how your customers feel about your brand. However, they can constitute an overwhelming amount of data. Take a look at our Customer Review Management Guide for tips on how to get started with handling this feedback.