If you want to connect to your customers on the most granular level possible, your business needs to implement social listening. But you need to develop a thorough understanding and strategy before you can begin. We'll cover everything you need to know in the following sections:
What is the Definition of Social Listening?
Social listening refers to the process of monitoring significant social media channels for mentions of your brand's name, competitors, and other related keywords. Those online conversations include relevant and actionable data that your business can use to make informed decisions. That data is drawn from your competitors' and customers' actions and conversations online. It's an easy way for your company to stay in control of the narrative while leading your company toward a successful future. 
What are the Benefits of Social Listening?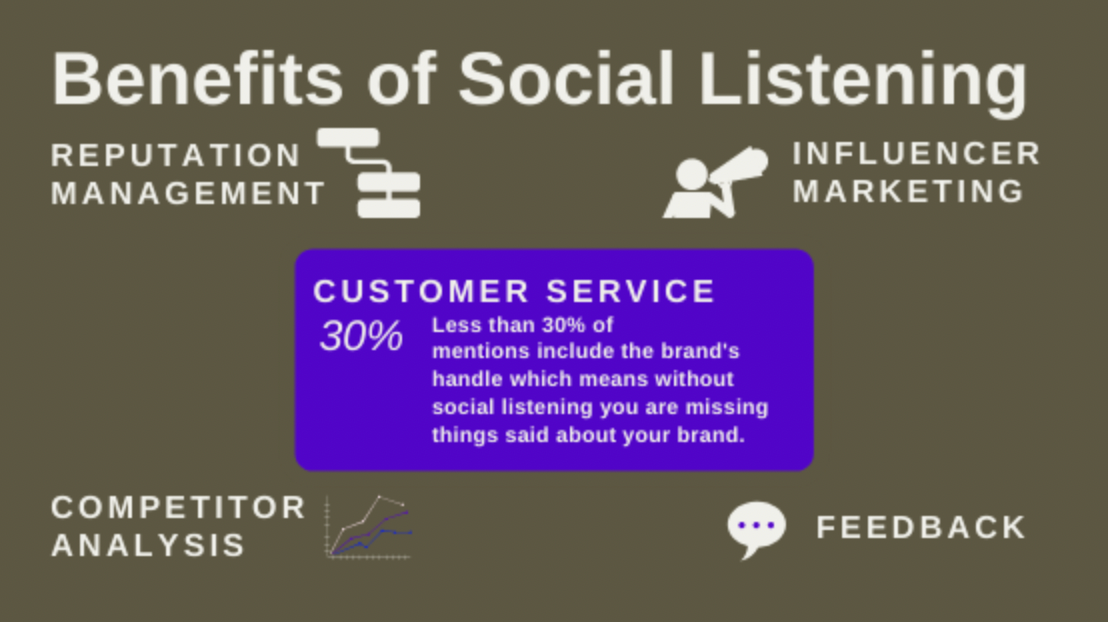 Social listening for business grants you unbiased and raw insight into nearly everything about your customers, benefitting nearly every aspect of your business in the following ways:
Online reputation management — Online reputation management has always been Reputation's bread and butter. As we've previously written, social listening takes reputation management to a new level and empowers your brand. The right social listening tools enable you to learn about a potential crisis before it completely blindsides your team. As social listening allows you to monitor online activity in real-time, you can watch customer sentiment and take action if it begins to turn sour. You can take what you learned from that particular situation and turn it into a crisis management plan. 
Related: How to Address the Challenge of Social Media Management at Scale
You can also use that social media data to improve your customer experience. Social listening monitoring lets you know what customers are saying about you. If you find any patterns, whether it is positive or negative feedback, you can take that data and make necessary changes to your business. Acting on suggestions that come directly from your customers will prove to them that you value their opinions, which will, in turn, transform a hesitant consumer into a return customer. 
Competitor analysis — Seeing what your competitors are doing and saying on social media should be an important part of your organization's overall social listening management strategy. Social listening can easily enable you to check out their campaigns and see what their customers like or dislike about them. Your business can use that data to its advantage. 
For one, you can use their performance to benchmark your own. Competitor analysis is what can take your social media content strategy from good to great. Monitoring the successes and failures of your competition ensures that you aren't measuring your business's own performance in a silo. Analyzing the number of times your competitors mentioned online, the sentiments of their mentions, and audience demographic will provide the insights that allow you to optimize your own campaigns to produce even better results.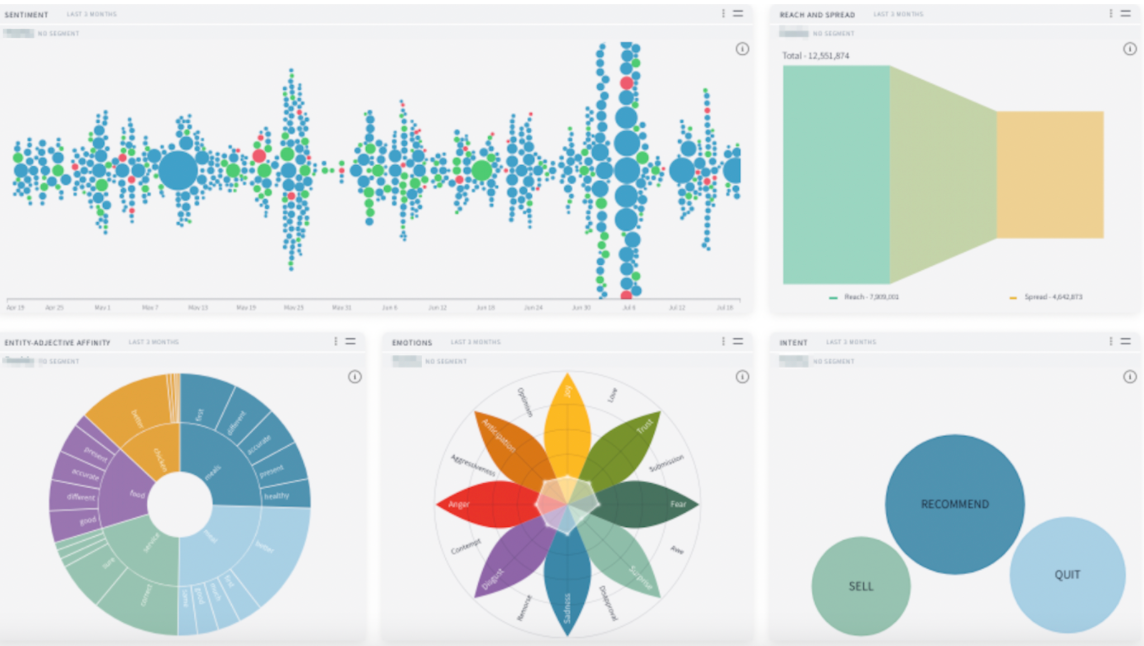 Social listening is essential to a more precise and fuller understanding of your customers. You can understand the customer sentiment with social listening. That means you can see the good, bad, and ugly straight from the source. After implementing social listening, you'll gain a precise understanding of customer sentiment towards your brand's behavior online. For example, you can not only know how customers regard your brand in a crisis but also if your posts, responses, PR, and actions are meeting the issue with an adequate response.
Spot trends — As you can track specific keywords with social listening, you'll be able to see what topics are trending with your customer base. You can note trends in your industry overall as well. If your customers or competition is discussing something happening in your industry, you can leverage that information to create content or other related campaigns. The best social listening tools allow you to filter searches based on metrics like demographics and geography. That means you can get as granular as you need to create campaigns for specific segments of your audience. Constantly monitoring these patterns and trends can help you to create an effective social media strategy for business moving forward. 
Monitor events in real-time — Social listening allows you to follow what's happening in real-time and the sentiment around it. That might be a product launch or a conference. But more importantly, you can get ahead of a crisis before it happens. Our recent study showed that IBM experienced the largest negative sentiment spike it has seen in months. Social listening allowed them to pinpoint the origin of the spike to get a jumpstart on crisis management and eliminate the problem before it spiraled out of control. Even if your organization is not as quick to act as IBM and fails to get ahead of a crisis, social listening can still help. It will allow you to track untagged conversations about your brand that you might have otherwise missed. These tools will enable you to improve reaction time and deploy service recovery measures. Those actions may include showing empathy to a disgruntled customer or delivering the necessary post-mortem communication after the crisis has been solved.
Identify leads — Social listening is a great avenue to developing a natural relationship with potential B2B customers, making it a great segue into social selling. This refers to the practice of leveraging social media activity as part of the sales process. When you see a potential lead discussing something within your industry on Twitter, Facebook, or any other social media software for business, you can reach out directly with helpful information. 
As reaching out on social media establishes your brand as a top resource, that connection will stick with the person when it comes time to make a buying decision. Joining in on social media conversations is a great way to build customer loyalty. This practice will also translate to improved customer service. Our recent study showed that most companies that offer a great experience see an increase in the likelihood of their customer base showing loyalty-based behaviors from 15 percent to over 80 percent — that's an increase of more than 65 percent.
Related: Got Multiple Locations? Here's How to Master Social Media Management
How to Develop a Social Listening Strategy 
Effective social listening requires a well-thought-out strategy that will likely touch multiple parts of your organization. Follow these four steps to build a plan that's right for your business and will help guide you toward success:
Define your business goals. Social listening can support several business goals. So before you get started, you need to decide which you are working toward. The specific goal you select will dictate which words or phrases you should be tracking across social media. With that understanding, your team can be more strategic and nimble with the way they listen and how they respond to customers.
Set up your tool. You can't carry out a social listening strategy without a tool designated for that purpose. Reputation has you covered. With our acquisition of Nuvi, we now provide deep social listening capabilities with hyper-targeted brand and competitor mentions through keyword rules and filters. Nuvi has taken our social suite to the next level. 
Decide on keywords to track. Deciding on the end goal of your social listening strategy will help you to inform the keywords you should be tracking. According to Search Engine Watch, here are five keywords you should be tracking:
Company name

. Tracking your company name is the most direct way to see what people are saying about you on social media. This is the easiest way to make sure you don't miss out on mentions. Make sure to track common misspellings and abbreviations for your brand name, along with your URL. 

Competitors

. This is how you can see what your competitors are up to and compare your performance against theirs. You can also view the customer sentiment around their brand. You can even jump in and answer questions geared toward them when it's appropriate. 

Executives

. Is the CEO of your company a public-facing figure? If so, it's wise to track their name with your social listening tool. That way, you can see if your CEO's actions on social media might attract attention or if a notable publication mentions them.

Campaigns

. You can utilize social listening to track how your campaigns are being received on social media. Track hashtags and slogans related to your campaign to see what's working and what's not.

Industry Keywords

. Track the words related to the product or business that you sell. Narrow down to location and language and start the social selling process as quickly as possible.
Related: Social Listening Tools vs. Social Media Monitoring Service: What's the Difference
Act on the insight you learn. Social listening opens the door to a wealth of knowledge, but it's up to you and your team to act on it. You should be taking that customer feedback back to your executives regularly to make necessary changes and data-driven decisions for your business. 
How Reputation Can Help You Get Started With Social Listening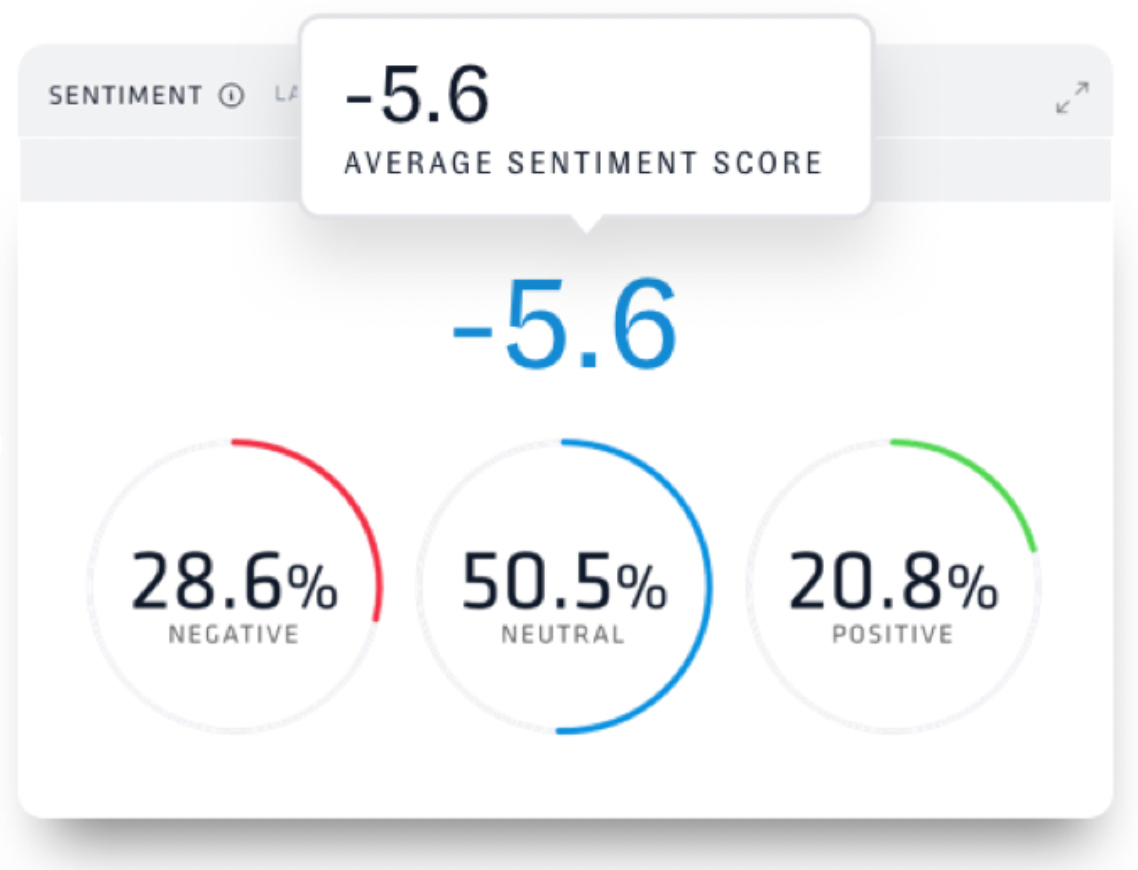 We can help you turn a negative comment into a follow, and a follower into an advocate. The Reputation difference means that we can help you do this on the same platform. That's right — leverage solutions like our Review Booster, Surveys, and more with our advanced Social Suite. We use the live data gathered from your social media data to transform the way your brand interacts with customers and adapts based on that information. We can analyze those mentions and interactions at scale with human emotion in mind to make sure you understand your audience. The better you understand them, the quicker you'll be able to get ahead of problems and identify your successes.
Anna Davis, the senior global marketing associate at Stryker, discussed the ways that Reputation's social listening solution helps her business succeed. At Transform'21, Davis discussed how our tool allows them to focus on volume and sentiment, so the team can filter by sentiment to gauge performance — that's because our tool enables users to monitor their own products, competitive products, trends, and answer basically any question a customer asks. Reputation gives businesses like Stryker clues to the future of the market.
Davis said, "Since we started utilizing social listening, every marketing decision we make has been powered by Reputation's social listening platform."
Stryker utilizes our solution for product launch targets, messaging, product positioning. Reputation's social listening and data collection allow customers to make data-driven decisions. Our solution goes beyond social media management tools and into operations, guiding businesses to success.
Ready to transform your business and boost customer experience strategies? Contact Reputation to get started.