The Value of AI-Powered Taxonomies and Sentiment Analysis
Reputation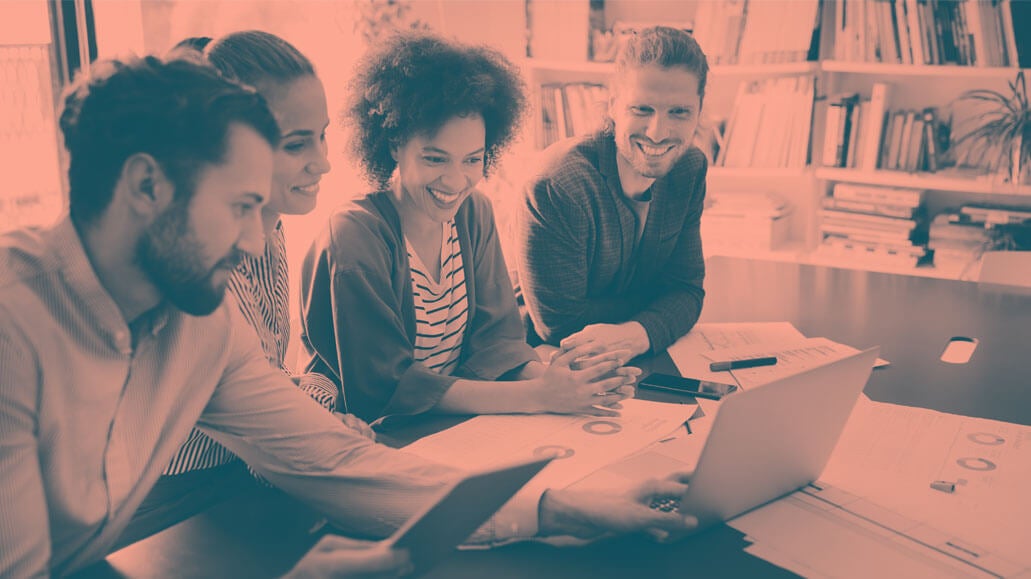 Taxonomy and sentiment analysis is the process of tagging and categorizing large amounts of information through artificial intelligence (AI) and industry-specific algorithms. In just moments, you can see a unified view of all your public feedback data. Then, you can easily understand how to use the insights in a meaningful way. 
What is Sentiment Analysis?
Sentiment analysis involves natural language process (NLP) and text analysis automatically extracting subjective information from billions of comments and data points to identify meaningful insights. Consider every comment from your social media, online reviews, surveys and other data about your business online – how are you currently monitoring, managing and putting action plans in place to drive improvements? 
From this pool of feedback data, sentiment analytics identifies the overall emotion as positive, neutral or negative to provide a summary of feedback The deeper machine learning surfaces detailed patterns and trends from all the feedback in order to easily see areas you should focus on due to strengths, weaknesses or crisis concerns. 
It's important for businesses to pay attention to their feedback trends because they are the key to understanding the customer experience. Customers now have endless product and service provider choices and will not settle for subpar experiences. Brands that will get to that next level depends on the level of action they take from the customer feedback they receive.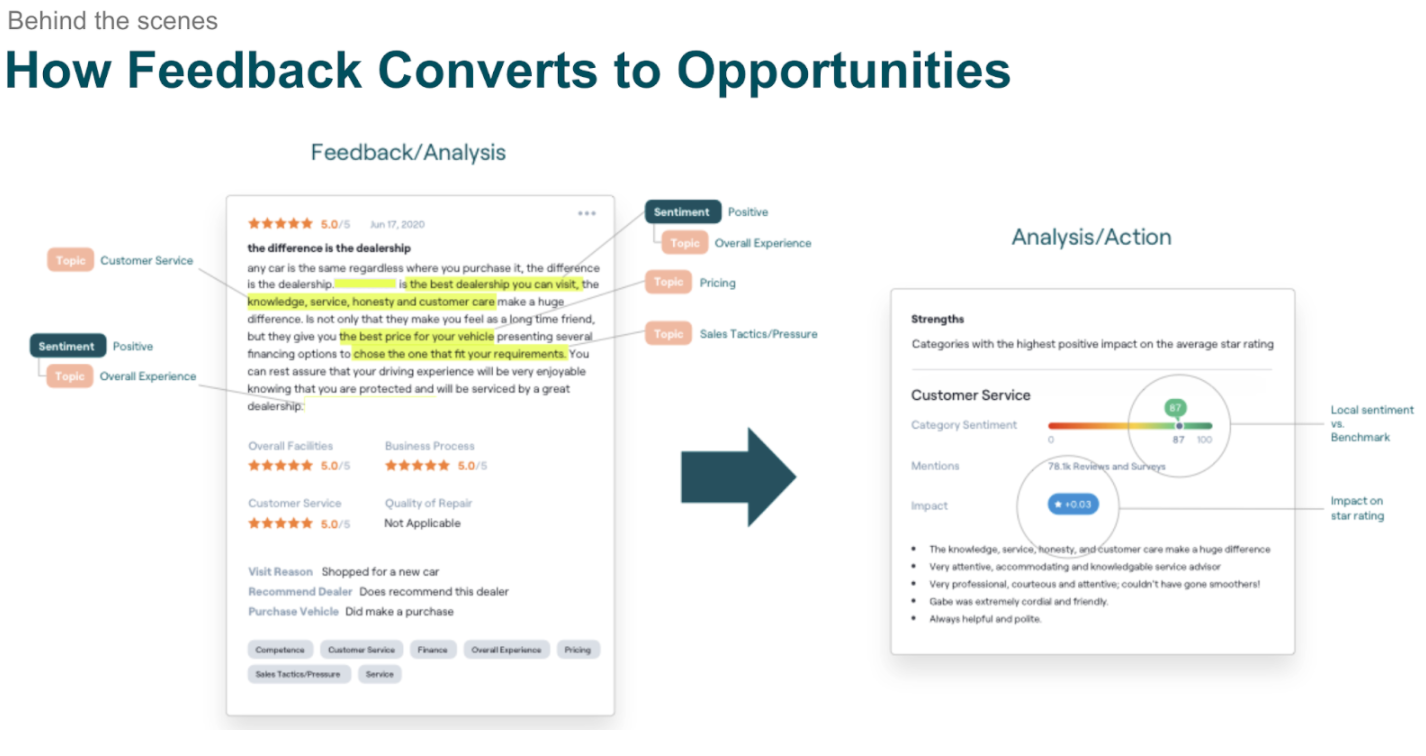 What is a Taxonomy?
At its core, Taxonomy means "order" and "arrangement".  Data taxonomy is the process of automatically organizing data inputs into categories and sub-categories.  
The majority of customer feedback data is found within unstructured, written text from online reviews, survey responses and social media. That means it would be impossible for a human to read through and organize in an efficient and consistent manner.  For example, our platform takes in an average of 95 million reviews per day and over 1.4 billion feedback comments a month. That'd be far too much data for a human to process
The insights are analyzed in real-time which empowers marketing and customer-facing teams immediate feedback into campaign and online performance and customer satisfaction levels. The difference between companies that are top-performers and top customer choice is they track, review and act on their feedback data. 
In order to make meaningful change that drives better results, businesses need to understand exactly what's causing the business impact across multiple sources and channels. This is where certain technology platforms become extremely valuable to marketers and customer experience teams. That's because they are able to process millions of data points within minutes all while taking the guesswork out. 
Related: 5 Real-World Sentiment Analysis Use Cases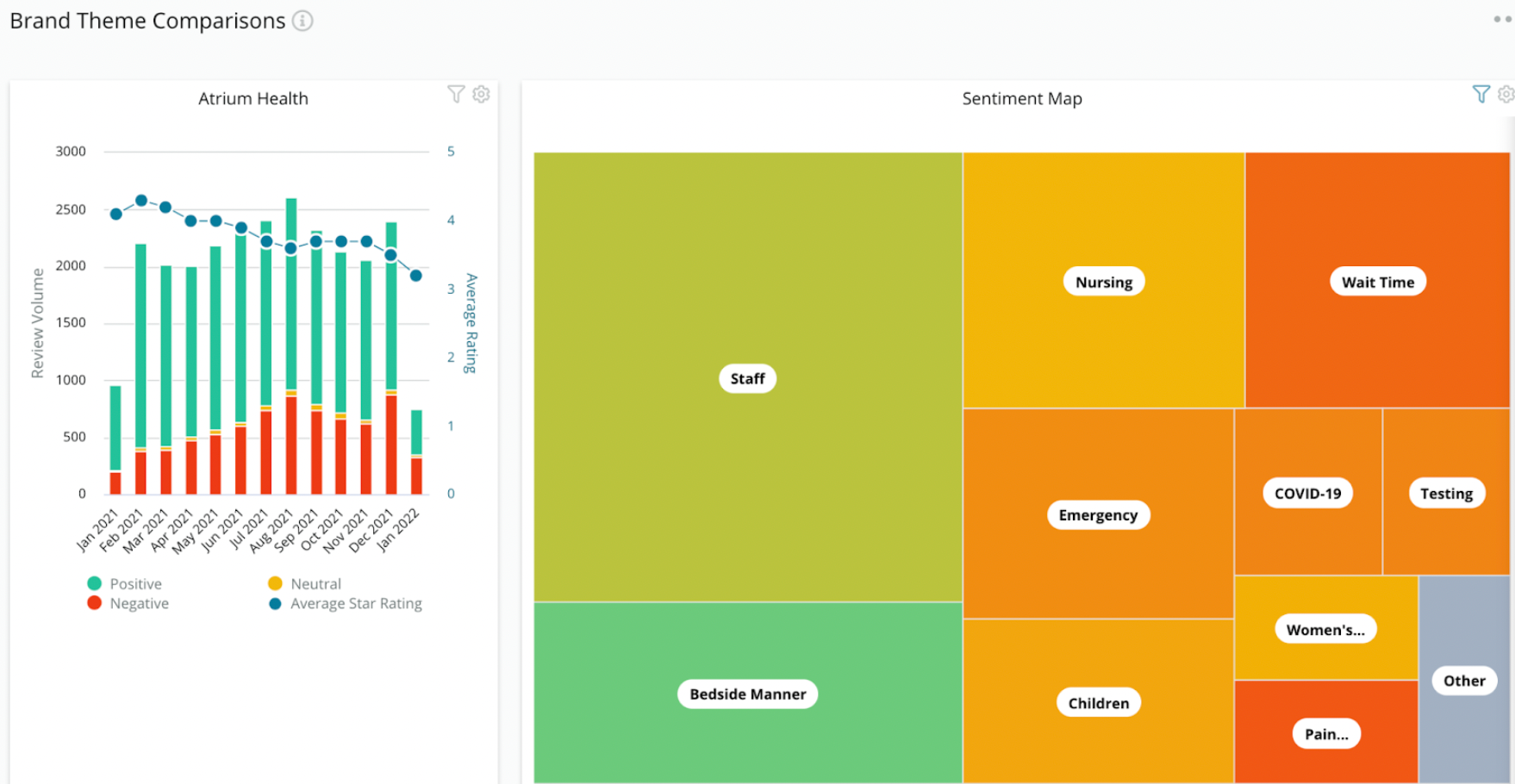 How Reputation's Taxonomies and Sentiment Analysis are Unique
The Reputation Platform is powered by patented AI and deep machine learning techniques that have developed over a decade of analyzing 3 billion+ pieces of feedback across 70+ industries. 
Due to this volume and scale, we know that customers behave and engage differently across different industries. The industries themselves have quite specific differences that need to be measured accurately. Our taxonomies and text analytics are fine-tuned per industry in order to deliver the most accurate and impactful analyses of your feedback into strengths and weaknesses. 
For example:
Automotive

taxonomies — Identify if the feedback is about the brand, dealership location, vehicle, parts, service, sales and related to: sales tactics/pressure, customer service, management, getting an appointment, PPE/safety, etc.

Healthcare

taxonomies — Identify if the feedback is about bedside manner, nursing, care coordination, emergency and related to: children, elderly, wait time, testing, billing.

Property Management

taxonomies — Identify if the feedback is about

Amenities, Maintenance, Front Office, Customer Support and related to: management, privacy, quality issues and safety.
Once you group feedback into the appropriate domains and categories, you must understand how the sentiment is affecting your score and specific reputation factors. Feedback is simply organized into themes, then the feedback within each theme is analyzed for sentiment, emotion and business impact. For instance, in automotive, "Sales Tactics / Pressure" is simply a category – it is not innately negative.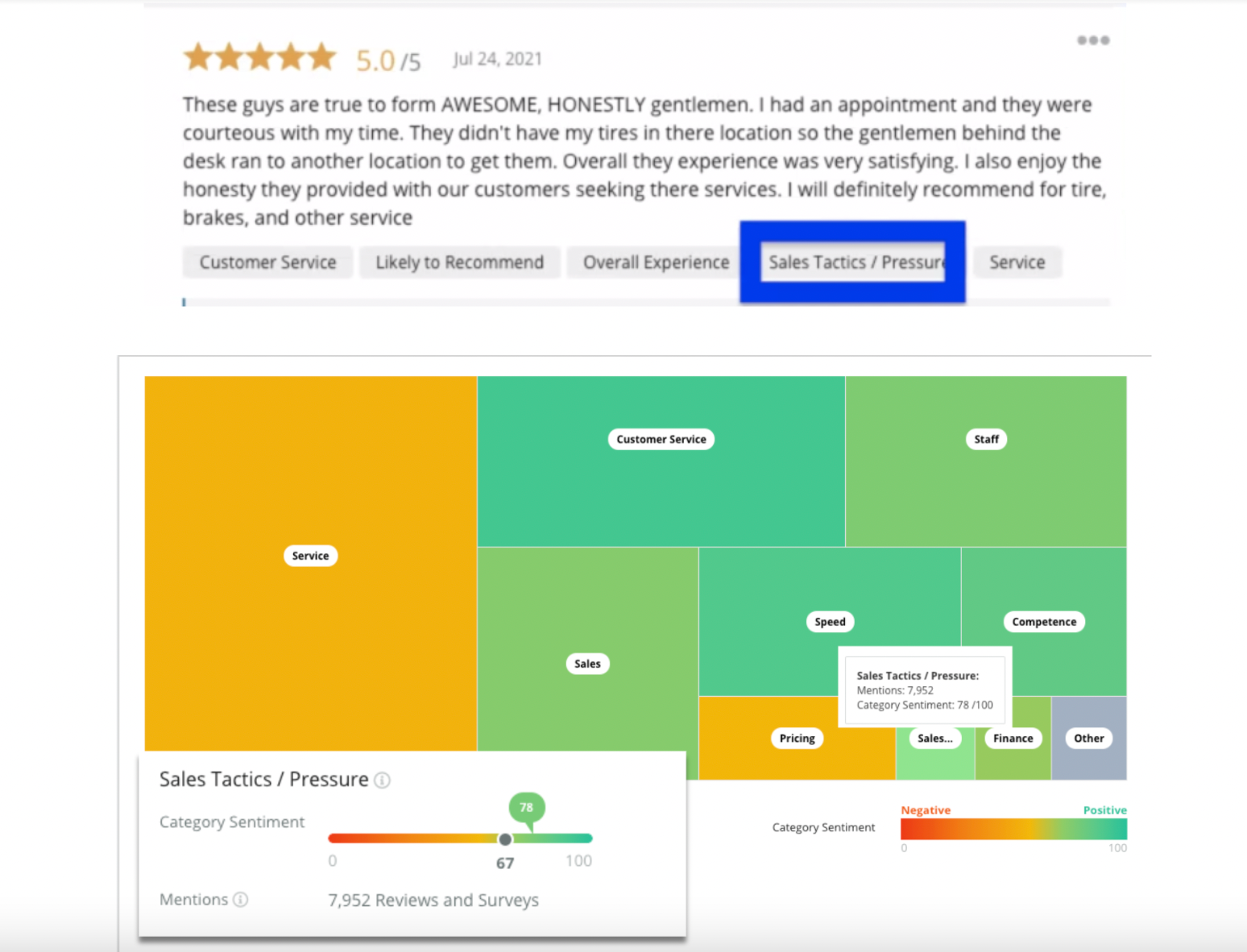 Shown above is a review that has been tagged with Sales Tactics / Pressure, that is 5/5 stars and positive feedback. You can see thatSales Tactics / Pressure is mentioned in nearly 8,000 pieces of feedback and is trending positively at 78%. This category is also scoring well above the industry average score of 67. 
Related: How to Conduct Large-Scale Sentiment Analysis
At a glance, the brand manager above can see their sales customer service teams are doing well, however, Service is a category for the team to dive deeper into. From this view, they could continue to filter by location and feedback type to pinpoint the problem and prioritize. With this intel, the business has the chance to take cross-functional action and course correct a customer pain point. 
Looking at feedback is a huge source of information for companies who want to improve their customer experience and brand reputation. With Reputation, you can quickly draw meaningful conclusions from large volumes of feedback data and identify your biggest positives and weaknesses.