Want More Online Reviews? Make Requesting Mobile
Adam Dorfman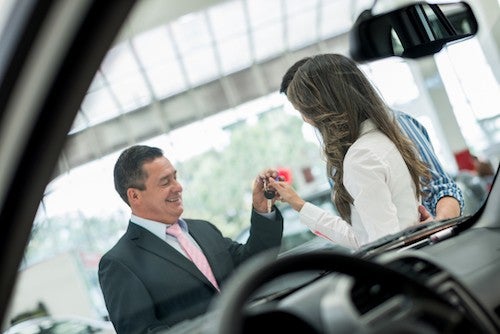 For many consumers, when it comes to writing online reviews, it's out of sight, out of mind.
In other words, a customer may have a great experience buying a car at your dealership, but get distracted once they leave and never write a review — even if they said they would.
It's understandable. They just bought a new car! They're more concerned with showing it off and driving it around town. Going onto Google, Facebook or another major review site and writing about their awesome buying experience may be the last thing on their mind.
That's why it's best to capture feedback in the moment — when the customer is still in your dealership. And the best way to do this is by sending a request to their phones via text, immediately following the customer interaction.
Car Buyers Read Dealership Reviews Before Shopping
Car shoppers are five times more likely to convert to a lead when a dealer has an overall 3.5-star or higher online review rating. And a regular stream of fresh, genuine customer reviews can help put your dealerships on the map — Google's local 3-pack of map locations that come up in local searches.
Why should you care about getting into the local 3-pack? Because landing a spot on the map is critical to driving business to your dealership. Fifty-one percent of new vehicle internet shoppers use a smart device to locate or call a dealership as they get closer to making a purchase.
Related: How to Ask Customers for Reviews
Arming your frontline sales reps with a mobile app for requesting reviews can help you land one of Google's top spots. Here's why:
Most reviews are positive. So, the more reviews you have, the higher your star ratings are likely to be.

Google uses various review factors, such as star ratings, review volume and review recency to determine your rankings on search results.

With higher star ratings and search rankings, you'll capture more of the local traffic performing searches, beating out your competition. More foot traffic means more potential cars sold.
Make Online Reviews Easy for Your Reps

and Your Customers

Dealerships typically request reviews verbally, or send an email or letter following a transaction to ask for feedback. But research shows that requesting a review via text yields better results.

According to data from Reputation.com, location-based businesses generate up to 15X more new online reviews using SMS on mobile than by email. Whereas email requests receive a response rate of about 5 percent or less, requests sent by text get a 20 – 40 percent response rate.

Related: How to Improve Your Online Reputation (& Examples from Transform)

With a mobile app for requesting reviews, dealership sales staff can request reviews while the customer is still in the dealership, then follow up with a text reminder.

By making it simple and immediate for reps to request reviews, and convenient and fast for customers to write the reviews via mobile, you'll rack up new reviews quickly, and make a significant impact on search rankings and star ratings.
Build Trust with Your Track Record
Remember, recent reviews are more credible — and trusted — than old ones. Generating online reviews regularly and over time demonstrates an ongoing commitment to the customer experience and provides a written track record of your excellent service.
Find out more about Reputation Live, Reputation.com's mobile app for requesting reviews, or request a demo.
Keep Reading: How To Use Customer Delight For Brand Reputation Management