How to Ask Customers for Reviews
Reputation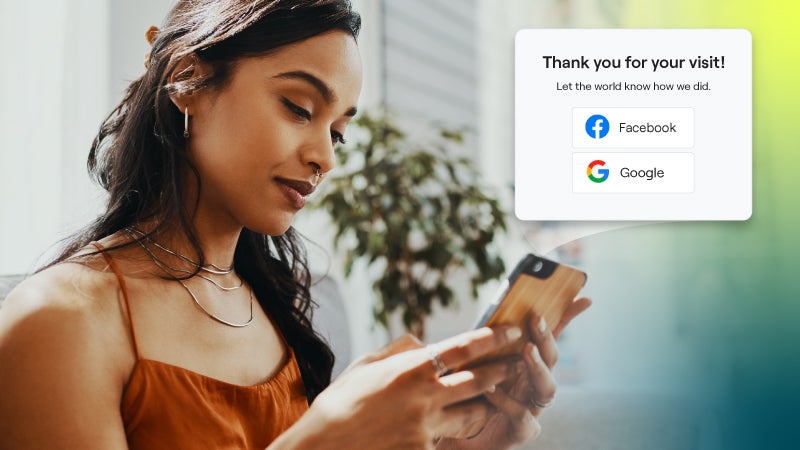 Knowing when and how to ask customers to leave a review helps your business rank higher in search results, elicit more feedback and improve its online reputation.
Reputation research shows that having 50 or more negative or positive reviews can boost your search rank by 50% and your click-through rates by 266%, compared to companies with no reviews.
(Download our free Online Reviews and Ratings 101 guide for more information on how to ask for a review and why it matters to your marketing strategy.)
We'll cover all of this and more with the following sections:
When to Ask for Online Reviews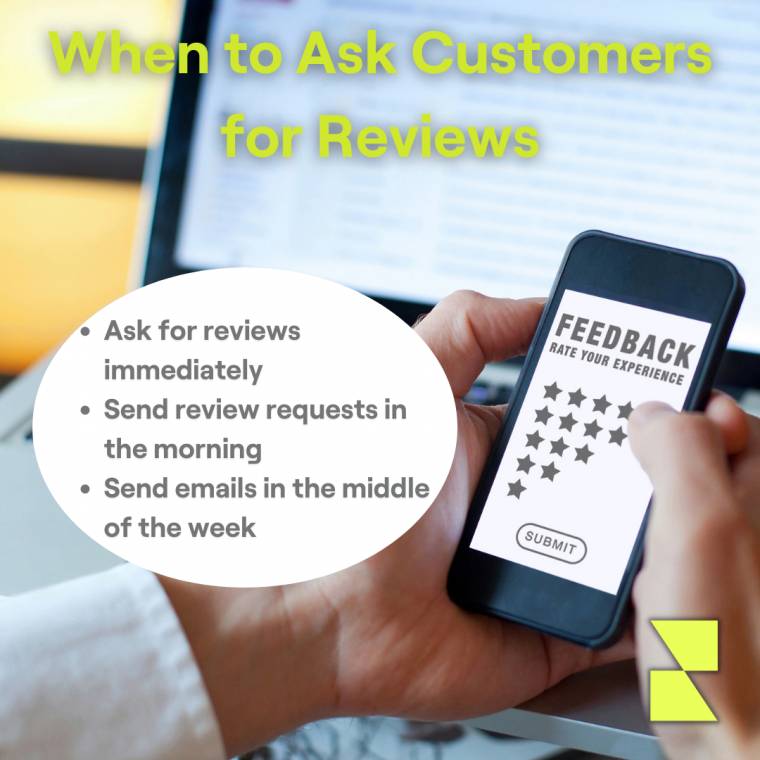 Before you figure out how to ask for a review, first let's discuss when is the best time to ask for one. Believe it or not, your team needs a thoughtful strategy when it comes to when and how to ask for reviews. At Reputation, we recommend that companies follow these three tips to get the best results.
Collect feedback immediately or soon after customers have completed a purchase or used your services. Your product or service will be fresher in your customers' minds the earlier you reach out to them. That way, you can receive more thorough feedback that can be operationalized to make notable changes to your product or services.
Have your customer support team send your review requests by email in the morning. Our research shows you can see a 5% gain in response rates by timing messages right. You might even see a boost in your conversion rate as well. This can be vital for getting actionable insights to take back to your team.
 Send your email review requests in the middle of the week. Your response rate could increase by as much as 10% with this tactic, as it's been proven to be the best time to send review request emails.
How to Get More Responses to "Leave us a Review" Requests
There are many schools of thought about how to ask for reviews and get better responses. However, here are a few suggestions that are very effective based on our research.
Related: How to Tell if Reviews are Fake: Spot Fake from Real Reviews
Implement the Right Approach
By taking the right approach, you can make it very easy for customers to share their feedback without giving up halfway through. Use streamlined, graphically appealing templates that make sending in a review an enjoyable customer experience. Make sure to have a mobile-friendly version, too, as it will help with your review collection. You need to ensure it's brief so that customers are more likely to complete your survey.
Focus on sending customers or potential customers to one or two review sites that are most relevant to your company. That could be a link to your Google My Business listing or a simple Google review link. Ensure that your support or customer success team sends these requests via email or text.
Remember that giving one or two nudges to non-respondents is perfectly acceptable and even a good practice to follow. According to our data, reaching out to your customers two times a day several days apart improves response rates by as much as 60%.
Use Well-Thought-Out Subject Lines
A great way to approach your review requests is by including a thoughtful question in the subject line. Consider including questions about how the customer's recent purchase was or how your team did on the customer service front.
That will give you fuel to improve your product or services. A subject line with a gentler ask than "Please leave us a review" tends to work best. Be sure to include your business name in the review request as well. This is a good practice for both large or local businesses to determine how to ask for Google reviews.
Related: How to Delete a Review on Facebook: Bad Ratings And Reviews
Utilize Live Review Requests
Develop a process that eliminates the guesswork on how to ask for a review among your salespeople and other employees by asking for feedback in real time. It's a great way to respond to reviews from happy customers that provide unsolicited praise. If a customer expresses a willingness to provide a review, be sure to have a strategy for following up with them. Letting people know that you value their feedback is as important as figuring out how to ask for a review from customers.
Leverage Hyperlinks for Customer Feedback Management
Create a widget or sidebar on your company website to make it simple for people to connect to relevant review sites and leave feedback. If you're wondering how to ask for a review on Google, this is an effective method.
Add links and a call to action on order confirmation pages and emails. Make sure to feature those requests in posts on your primary social media channels as well. By ensuring that links to review sites are included wherever your customers are, you'll be more likely to see more reviews.
Building a Top-Down Strategy
Focusing on how to ask clients for reviews and responding to them is essential at each level of the organization. Getting better or more reviews needs to begin with the C-suite, with executives communicating the importance of the customer feedback loop and gaining organizational buy-in. Helping employees understand the value of reviews can also make them more focused on their work outcomes.
Reputation helps brands leverage the power of customer and patient reviews. Read our free guide to Getting Started with Online Reputation Management to learn more.
Keep Reading on the Reputation Blog: The Ultimate Guide to Customer Review Management