The Right Way to Request Reviews
Adam Dorfman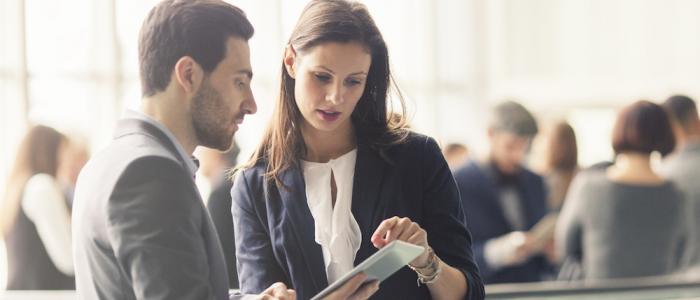 There's been some misleading chatter lately — propagated by a vendor who seems intent on using the market to its own advantage — spinning about "black hat" review requesting in the Online Reputation Management (ORM) space, and mischaracterizing Google policy. We feel compelled to weigh in, in support of our enterprise clients, because nobody's interests are served by a vendor's sowing needless confusion.
The fake buzz revolves around the legitimacy of requesting reviews from customers. At Reputation.com, we believe that any vendor who takes a client's money but can't enable them to request authentic reviews from legitimate customers — the right way — is doing that client a real disservice.
Why? Because there's simply no way to capture an accurate and fully representative picture of customer experience (CX) without seeking a healthy volume of fresh, real reviews from a broad cross-section of customers.
Here's why it matters:
7 in 10 consumers seek out others' opinions before purchasing.
69% of consumers believe that reviews older than three months are no longer relevant.
87 percent of Americans say they trust online reviews to help them choose which local businesses or service will receive their hard-earned dollars.
Given these facts, there's only one path with integrity for an ORM vendor that accepts money from an enterprise in exchange for the promise of supporting a full and fair picture of its online reputation: Namely, to ensure their client's locations have a steady stream of recent, real and representative reviews.
Requesting reviews from all of your customers following interactions and transactions with them is the only way to capture the true voice of the customer and to gain an accurate picture of how your locations are doing. Reviews provide specific and actionable customer feedback — positive and negative — that helps companies build on their strengths, understand their trouble spots, and make service and operational improvements to improve customer experience.
Related: Why 5-Star Online Reviews Aren't Perfect for Business
What Google Actually Says About Requesting Reviews
Google has issued very clear and thoughtful policies on the subject of requesting reviews that deserve to be explained accurately and understood clearly.
First, Google encourages businesses to invite their customers to leave reviews: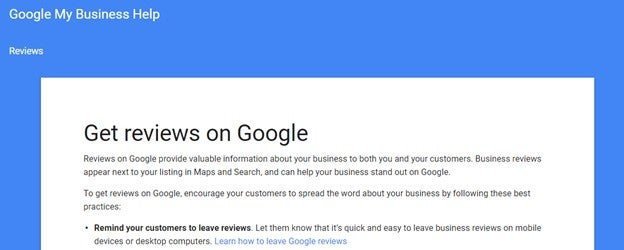 Second, Google encourages businesses to actively manage reviews:

Third, Google supports review requesting, with helpful instructions for doing so:

What Google actually discourages — and for good reason — is the practice of offering customers incentives to request reviews. Incentives are likely to inject positive bias into reviews, and we explicitly discourage this practice.
So how do you request reviews in a way that is ethical, is fully compliant with Google's policies, and meets your business objectives?  Here are five simple best practices for requesting reviews the right way:
Related: 5 Steps to 5 Stars: Use Great Online Reviews to Accelerate Sales
Never Spray and Pray. Google's policy on requesting reviews — now posted on its Maps User Contributed Content Policy page —  explicitly says, "Don't solicit reviews from customers in bulk." Reviews should be requested only from genuine customers, after genuine transactions. Reputation.com discourages clients from blindly sending bulk e-mail review requests untethered to real customer transactions. Our ORM platform is integrated with the enterprise's CRM system, to ensure that a business ties its requests to specific visits, and requests reviews of all customers — not just the happy ones — to leave reviews. We also enable single requests at point of sale through SMS immediately following a customer visit, so that the resulting review is fresh and fully representative of the customer's experience — positive or negative.
"Path" Reviews the Right Way. The practice of "pathing" is often misunderstood — because it comes in two forms. The first — only requesting reviews from happy customers — is a practice we strongly discourage.There is, however — confusing suggestions to the contrary — a second practice of pathing with total integrity, which we support:  Direct unhappy customers to a short survey that enables a deeper diagnosis of trouble spots. Once this information is gathered, a business immediately points the disgruntled consumer to Google and other review sites to share their experience, positive or not.This form of pathing is the only way for a business to receive granular, systematic insights that help improve customer experience, and provide a representative picture to the marketplace. It leaves it entirely in the hands of the customer to decide if they will leave a review, what that review will say, and what star rating they'll give the business.
Never Compensate Reviewers. Providing incentives for reviews is not ethical, in our opinion, because it taints the results. If you're giving gifts, discounts or free products or services to consumers for writing reviews, it's more likely the person will write a positive one, guaranteeing bias. Don't do it.
Share All of Your Reviews. To give prospective customers the full picture of location performance. We recommend streaming all reviews — positive and negative — to location web pages. This builds trust and credibility. No business is perfect, and a stack of 5 star reviews diminishes credibility. A reputable ORM platform enables all customers to voice their opinions — whether complimentary or critical — eliminating bias entirely.
Use Review Data to Deliver. Better Service Reviews requested from customers are a gold mine of information that businesses can use to identify where service needs to be improved — both at the individual location level, and systemically across all locations. Vendors that accept payment for ORM but can't request reviews are preventing businesses from access to important operational insights that help them deliver better service for their customers.
Related: Does Your Online Reputation Represent You Fairly?
A Final Thought
When deciding where to take their business, consumers deserve to see the whole picture — and businesses deserve a chance to learn how to deliver better service.
For too long, location-based enterprises have cobbled together fragmented tools to manage customer experience on the web.
What businesses most need now, beyond point solutions that can't request reviews, is the ability to capture and integrate customer insights from every channel across the web. Enterprises need integrated tools that engage customers across the span of CX — through directories, location finders, business listings, reviews, surveys and social media — on a single platform.
You can't fake that.
# # #
The Federal Trade Commission offers important guidance about manipulating endorsements in general, that any responsible ORM vendor should follow — and which we support.
Read more about best practices in review requesting and other aspects of Online Reputation Management done right.
Learn more about how integrity is the key to building a solid online reputation.