Does Your Online Reputation Represent You Fairly?
Reputation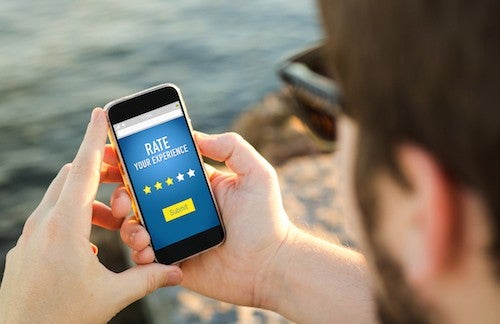 Is your online reputation in sync with your customer experience?
Your customers are happy. Your satisfaction surveys come back with high marks and free-form responses citing good interactions with your locations.
In fact, many say your quality of service is outstanding, that your people go beyond what's necessary and that customers have a great experience when interacting with your employees.
But you only have three stars on Google. Worse yet, your locations aren't showing up in Google's local 3-pack when consumers search for them.
Of course, this is baffling. There's a simple explanation, but to correct the problem and ensure your business is fairly represented online, you need to take action.
What Influences Ratings?
Recently, Google changed the way it calculates ratings. Until recently, it used the Bayesian average, which looks at the larger data set for all businesses. This method calculates the likely average for your business as lower, if you only have a few reviews. If you have fewer than 10 online reviews and a 5-star arithmetic average, using Bayesian, Google would show only 4.8 or 4.9.
Now, in a major shift that has been largely overlooked by businesses, Google has started using the arithmetic average to calculate star ratings for a business. This means you can have just one or two 5-star reviews, and Google will display a 5-star rating. The new method is great news for businesses with only a couple of 5-star reviews.
But here's the catch: If one of your two reviews is negative, you could end up with a low rating that is not representative of your true service levels or the experience the majority of your customers have with you.
What Influences Rankings?
Although Google takes into consideration Google My Business signals (relevance, distance and prominence) when producing the local 3-pack for a "Near Me" search, there are other factors involved — in fact, more than 200.
If you're only paying attention to a handful of those factors, your ratings will suffer, no matter how happy your customers are.
According to Moz's 2017 Local Search Ranking Factors Survey, two ranking factors have become more important over the last couple years:
Review signals: The number of reviews your business is receiving, as well as how quickly you're receiving them and the sites on which they appear.

Behavioral signals: How people engage with your website, including click-through rate and dwell time.
As the growing impact of these key ranking factors indicates, third-party validation such as online reviews and quality content are essential to driving up search rankings.
Take Action with Online Reputation Management
Here are some essential Online Reputation Management strategies to help you ensure your online reputation is fair, balanced and representative of the service you provide.
Make it easy for all of your customers to review you. Don't let a single reviewer tell your brand's story — make sure you have plenty of fresh reviews so the customer experience you provide is accurately reflected. Send review requests through text and email following all transactions to collect a representative sample of the customer experience. Turn on the "Review" feature on your Facebook page, and include a link to a review form on your website. The easier and faster you make it for people to review you, the more reviews you'll receive.

Ensure your business listings are accurate: Nothing frustrates customers more than outdated location addresses, phone numbers and hours of operation. Plus, accurate business listings help you rank higher in local search results. Ensure all information for all your locations' listings is up to date and consistent.

Engage with consumers through social media: An ORM platform can help you stay on top of social conversations across all channels and enable your team to respond to posts about your organization in real time. You can also publish approved content and local stories across channels, and promote positive reviews and customer successes to drive awareness, visits and leads.