How to Respond to a Bad Review on Facebook
Adam Dorfman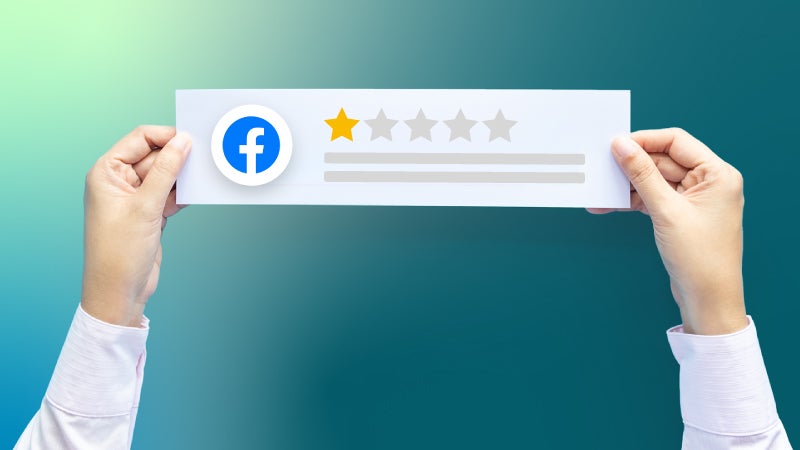 Your social media marketing strategy should include promoting customer feedback on Facebook, whether you have one or multiple locations. Of course, this strategy can have its pros and cons. Of course, your company's reputation hinges on what those reviews say about your products, services and attitude toward customer service.
People are inclined to share two types of experiences on social media: Extremely positive ones and dismal failures. Some brands will choose to ignore Facebook reviews or just not enable them. Either choice could be a mistake. Even if you get a bad review on Facebook, it's simply a matter of knowing how to respond.
Why Facebook Reviews Are Vital
If you haven't paid much attention to how reviews can impact your business, it might be a good time to start. (Download our free Online Reviews and Ratings 101 guide.) In short, a staggering 88 percent of customers will look at a local company's reviews to gauge its quality.
Unfortunately, about a third of customers will take their grievances online after they've had a poor customer service experience. Not only do these customers want to vent their frustrations, but most are also hoping for a resolution to their issue. When these events happen, this gives your company another opportunity to shine in front of millions.
How to Respond to a Negative Facebook Review
When you are not actively asking for customer feedback, you might get more negative reviews than positive ones. This is because people who are dissatisfied are motivated to say something. So, do you let it slide or respond? In most cases, it's best to respond.
Related: Are Fake Facebook Reviews a Problem for Your Business? Here's What to Do
When you do respond to a bad review, do so promptly. Another good tip is to make your review brief but personalized to the reviewer's experience. Some other tips for responding to negative Facebook reviews include:
Write a non-confrontational response to the customer's review with some specific keywords that let them know you've read and understood their review. Express sincere regret that the customer had a poor experience.
Thank the customer for taking the time to give you honest feedback.
After you've apologized to the customer, make an offer to discuss the situation further and make things right.
Let the customer know that the issue has been (or will be) resolved.
Avoid stating your business name in the review so that it is less likely to be found in a search engine query.
It's not just your reviews that matter anymore, but how you respond to them — each and every one. Nearly a third of consumers who check online business reviews also check to see how a business responds to their feedback.
Reviews are just a small part of your company's reputation, but these alone are time-consuming and sometimes tedious to manage. At Reputation, we not only help clients attract, track and manage client reviews — we also help with many other elements of managing your company's reputation.
Keep Reading: Facebook's 'People Talking About This' Feature — and How It Affects Your Business