How Your Business Can Manage Fake Facebook Reviews
Adam Dorfman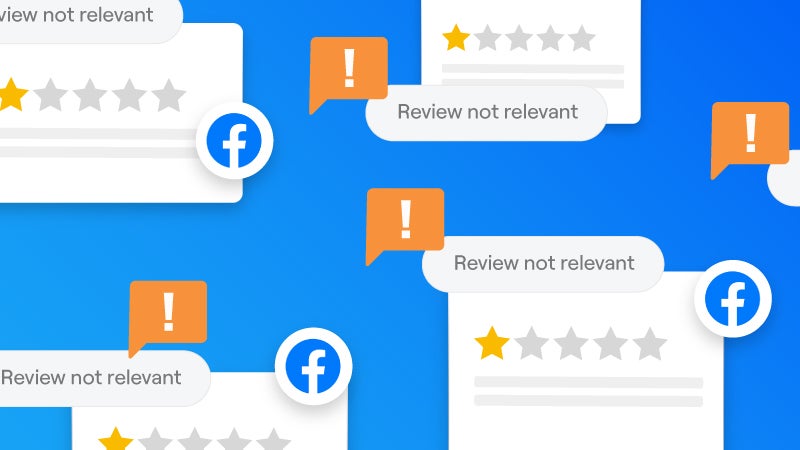 Simply ignoring negative reviews on Facebook can be a disaster for your business. Here's why:
(For more information on customer reviews and how they impact your business, download our guide on How Better Customer Reviews Drive Revenue.)
Your business does everything possible to put its best foot forward, but there is an insidious practice that could threaten your livelihood. Online reviews on social media should reflect the overall experience of your customers. But, what if they don't?
In some cases, reviews on Facebook are not genuine. In other words, they are completely fake and meant to harm your business. If this is becoming an issue for you, here is what you should do to address the problem.
Tips for Spotting a Fake Facebook Review
If you find that your business's Facebook page has some suspicious reviews, first make sure that they are legitimate. Review your records to verify transactions with that customer. Can you confirm that events occurred the way they describe? Some of the ways to spot fraudulent reviews include:
Vague descriptions
The reviewer is a former employee or is connected with a competitor
The reviewer recommends a competitor as an alternative in their review
Request that the Review Be Removed
You may not have to request that all negative and fake reviews be removed. If a post doesn't meet Facebook's community standards, the platform will take it down automatically. These include posts that are spam or those that constitute hate speech. You'll have to work, however, to get the other offenders taken down.
If you believe that a review is fake, you also have the option of reporting it to Facebook. On your business page's "Reviews" section, click the three dots in the top right-hand corner of the review you want to report. Then choose "Report Post."
Your choices will then be: "It has nothing to do with this Page" (i.e., fake reviews) or "I think it shouldn't be on Facebook" (i.e., personal attacks, discrimination). Choose an option and then enter some more information before hitting "Submit."
Unfortunately, Facebook is a flawed system, and there is no guarantee that fake reviews will be removed. If these continue to pile up and harm your business, you also have the option of turning off reviews entirely on your page. However, doing so can also weaken your online reputation and your ability to attract and convert customers on Facebook.
Respond to the Review Publicly
Whether the review gets removed or not, Facebook generally isn't quick about this process. You should make it a practice to respond to all reviews because potential customers are looking online to see how you handle these matters.
One thing you want to avoid is sounding angry or indignant in your response. Instead, take this approach:
Emphasize your company's commitment to customer service.
Suggest that there might be a case of mistaken identity since you can find no record of the customer. But also invite the customer to contact you directly to speak about the matter.
Politely point out any issues with false claims. For example, "You stated that David treated you terribly, but we don't have anyone at our company by that name. Perhaps you're thinking of a different business?"
Your business's reputation is everything, and someone targeting you on social media is not only wrong, it's against the rules. If this is happening to you, it's of vital importance that you are notified immediately and take steps to address the matter quickly.
An online reputation management (ORM) platform can give you the tools and resources you need to manage your social media accounts, all online review sources and much more. You will also be able to attract more reviews so that a few negative or fake ones will begin to appear questionable. To learn more download our free guide to What is Online Reputation Management?