How Car Dealerships Can Improve Their Online Reputations
Sabrina Esposito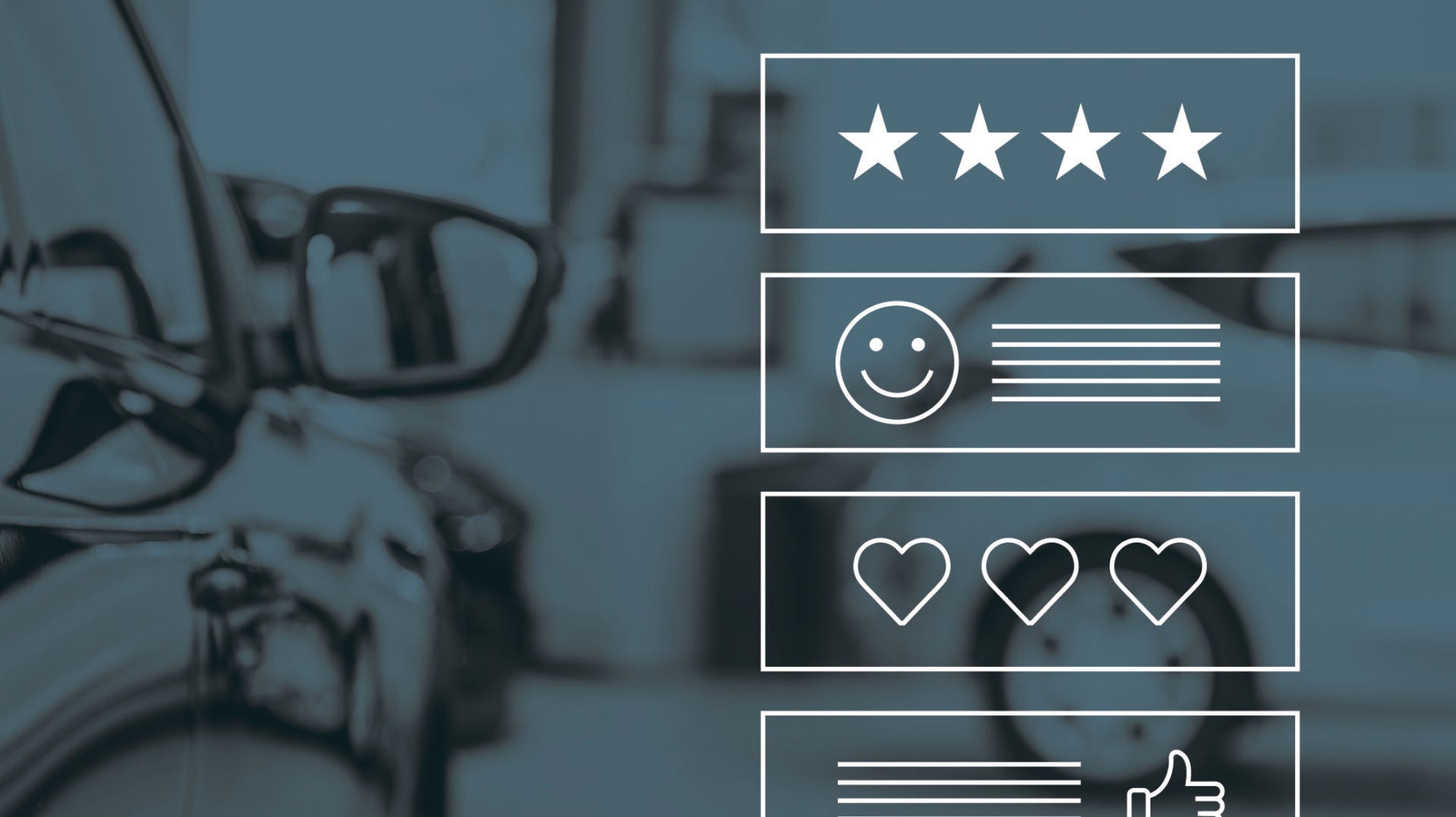 What do consumers think of the automotive industry during a topsy-turvy year of surging demand, inventory shortages, and rising prices? How can car dealerships in particular improve their reputations in response to consumer sentiment? 
These are increasingly important questions. Reputation's latest research indicates that consumer review volume in the automotive industry is higher than ever in 2021, and nearly 80% of automotive dealership customers say that reviews are important to their decision-making. 
At Reputation, we decided to find out what consumers are saying about automotive dealerships, dealer groups, and OEMs. We analyzed 5 million customer reviews and uncovered the top drivers of positive and negative sentiment for dealerships in our 2021 Automotive Reputation Report. These trends helped us understand what dealerships are doing well and what they need to improve. Based on our analysis, we recommend the following actions that dealers should take to manage their reputations.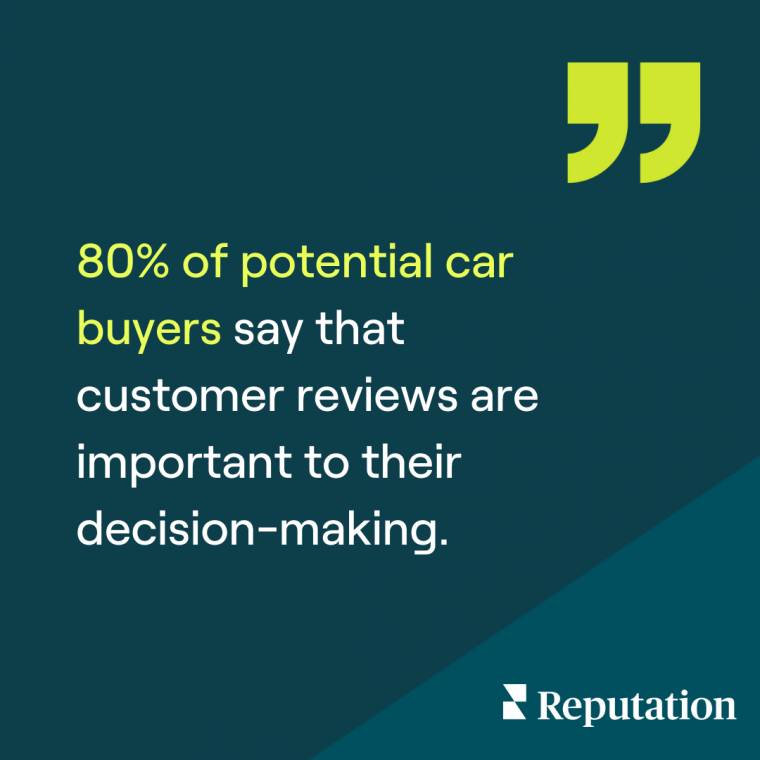 Double Down on Customer Service    
Despite the rise of digital, buying a car remains a largely human-centered, face-to-face shopping experience. 65% of car shoppers told us they are influenced significantly by in-person visits. We were impressed by how often customers praised individuals by name for providing friendly, knowledgeable service. Staff willing to go the extra mile earned high marks among buyers.
Dealerships should amplify the value of their people. Use social media, Google My Business (GMB) listings, your website, and every other possible touchpoint to make shoppers familiar with your team. 
Related: How Dealerships Can Manage Multiple Google My Business Listings
Empower the sales team to use social media to talk about the dealership and their commitment to customers. Everyone at the dealership is a brand ambassador, so they should be trained to speak like one. This can help your dealership potentially avoid negative Google search results.
Be Responsive with Sales and Service Options
According to a Cars.com consumer study, buying behavior changed during the Covid-19 pandemic, with shoppers relying more on digital features such as chat and on-demand services such as home delivery. In 2020, 57% of car buyers made the bulk of their vehicle purchases online, and several opted for contactless home delivery from their local dealership. 
Our analysis shows that options such as online chat, home delivery, and video appointments will resonate so long as dealerships manage those functions efficiently, but customers will notice when they do not. We saw a range of negative and positive comments about online chat.
For every customer who characterized a dealership's online chat as annoying or unhelpful, others praised dealerships' online chat features for being personable and easy. Ease and responsiveness are essential with chat. Our own consumer research indicates that 41% of consumers would expect a response from a dealership within an hour if they were to message them.
Manage the Fallout from the Inventory Shortage  
Sentiment about inventory shortages is dragging down the automotive industry's reputation. In fact, online reviews mentioning shortages are roughly twice as likely to be negative compared to reviews about the industry generally. Consumer comments suggest that their dissatisfaction stems not necessarily from a lack of inventory but rather unexpectedly high car costs. Dealerships need to:
Communicate the ramifications of the global shortage clearly and transparently. That includes the impact on the vehicle's price and the elimination of rebates and/or incentives. 

Promote any special offers that may ease the blow of higher prices, such as discounts for service. If possible, provide the option for buyers to receive alerts when prices change or new offers are available

Monitor reviews closely, watching for an uptick in complaints. Respond to negative reviews and other negative content with fact-based positive content, avoiding an emotional argument. 
Being proactive is key. Get out in front of rising negative sentiment with content that will balance the negative sentiment.
Improve Administration and the Service Lane  
Two major drivers of negative sentiment are administration and service (specifically in the service lane as opposed to service provided by the sales team). Complaints about service frequently had more to do with service teams being sloppy and rude than with the actual quality of vehicle repairs.
Service teams leaving clutter in cars or responding with indifference to questions about a repair were called out by annoyed customers. We also noticed that complaints about price did not always focus on high prices, per se, but unexpected costs. No one likes surprises, least of all customers making one of the most expensive purchases of their lives.  
Lean into Google
We found that Google My Business (GMB) listings are becoming even more influential for search engine optimization (SEO) results. Our GMB traffic analysis shows an increase in GMB views and actions. 
Related: Why Auto Dealerships Need Apple Maps to Attract Customers
Shoppers are increasingly using GMB listings for a number of reasons. This may include learning about dealerships, reading reviews, calling the dealer, or finding directions to visit the lot. Dealerships need to treat GMB listings as content powerhouses. For example:
Encourage customers to publish reviews on their GMB listings.

Per Google

, "High-quality, positive reviews from your customers can improve your business visibility and increase the likelihood that a shopper will visit your location."

Capitalize on their ability to

publish multiple listings

for sales, parts, and service. Accurate and complete business listings are essential to better visibility in search. Publishing listings for each department will drive more traffic to each of these sources of revenue.

Use features such as GMB Posts and Q&As to announce the launch of customer-friendly services.  Discuss ways you continue to add value and put your customers first amid the chip shortage. 

Use conversational commerce features. This means activating Business Messages functionality either manually through your GMB or

via the Google application programming interface

.
Our 2021 Automotive Reputation Report digs deeper into all the factors influencing the reputation of the automotive industry. We also rank the top dealerships and OEMs.
Contact Reputation
Reputation is the number one online reputation management platform for the automotive industry. We can help you improve online visibility, increase sales and service leads, and drive higher customer satisfaction wherever vehicles are sold. Take a look at the 2021 Auto Report to get started. 
Related: Why Messaging Matters to Car Dealerships