How Dealerships Can Manage Multiple Google Business Profiles
Reputation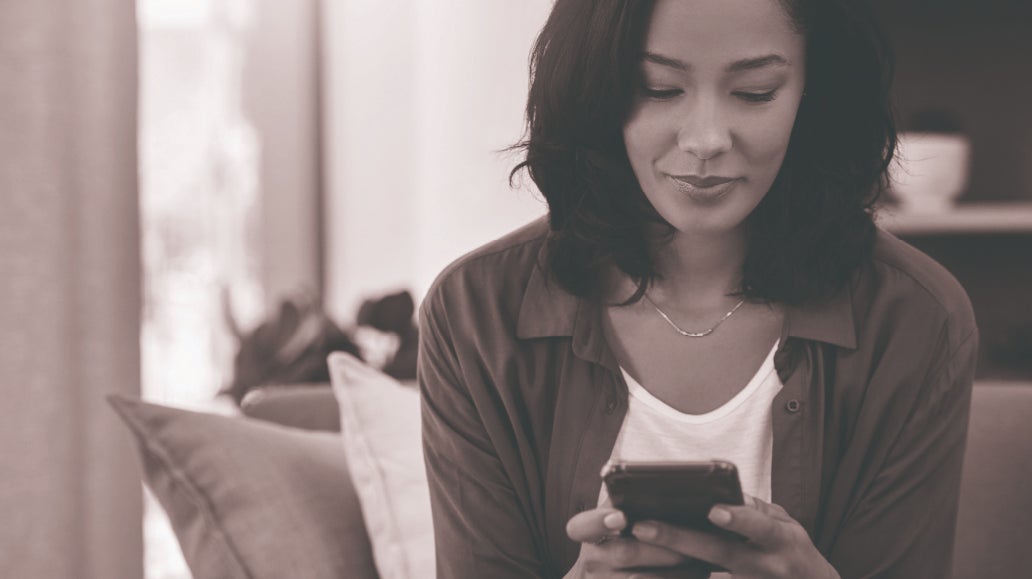 By Ziad Abouchadi
Since February 2020, Google has permitted new car dealerships to manage multiple listings on Google My Business (GMB) for the same location. According to Google, dealerships can have one GMB listing for each brand for which it sells new cars. In addition, dealerships can have separate listings for their sales, service, or parts departments. Previously, Google had restricted dealerships to have one unique listing for each physical location. With the exception of used car dealerships, Google has changed its policy. It's important that dealerships capitalize on this feature to improve their visibility when people search for sales, service, or parts on Google.
What Do Multiple Google My Business Listings Look Like?
Multiple Google My Business listings display content for different brands and departments that a consumer might find under one roof. For example, Grossinger City Autoplex operates multiple listings for a few different addresses in Chicago: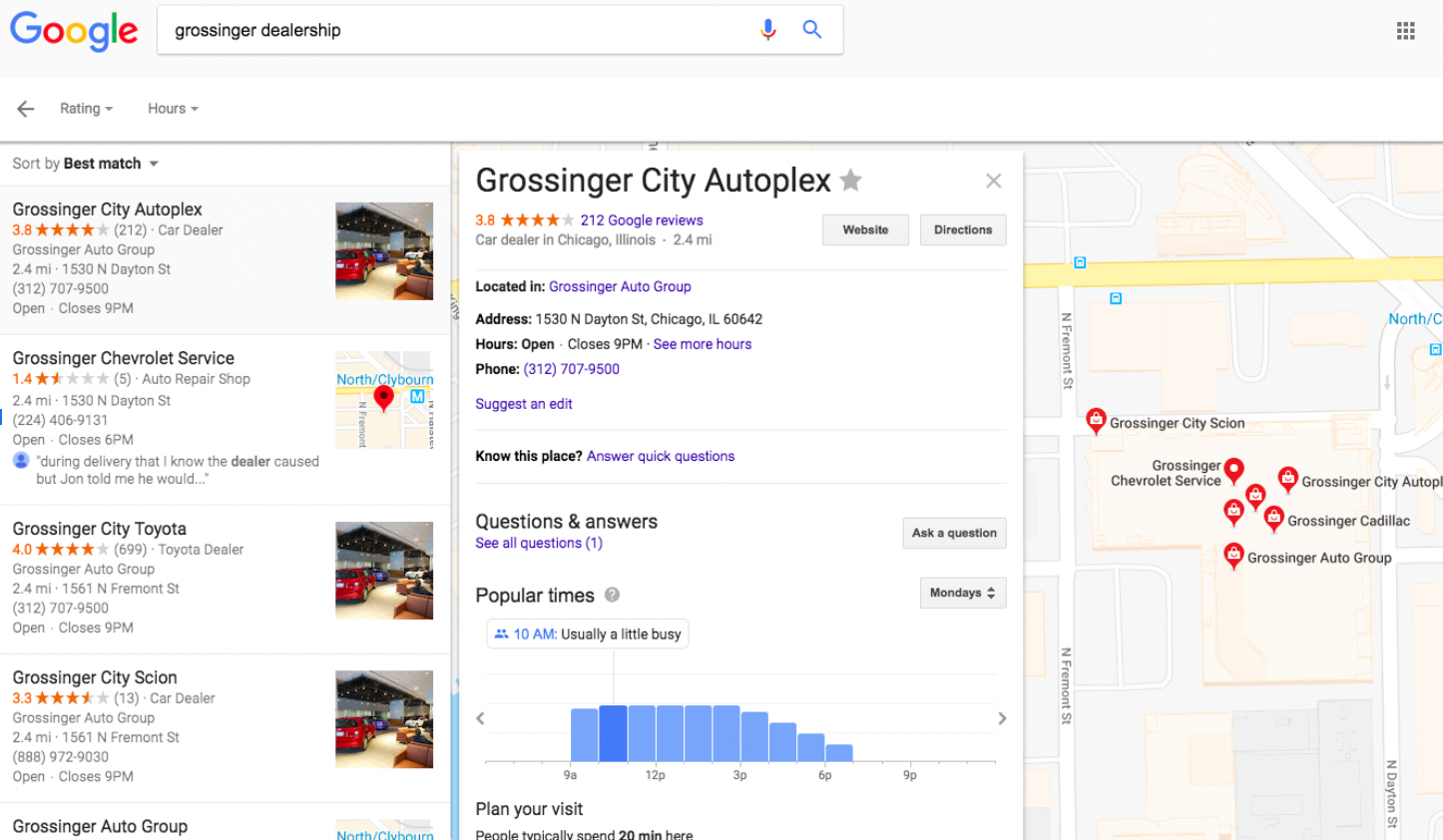 Western Slope in Colorado operates multiple Google My Business listings for a single location because the car dealership needs to reflect the fact that one might find both Fords and Lincoln brands there: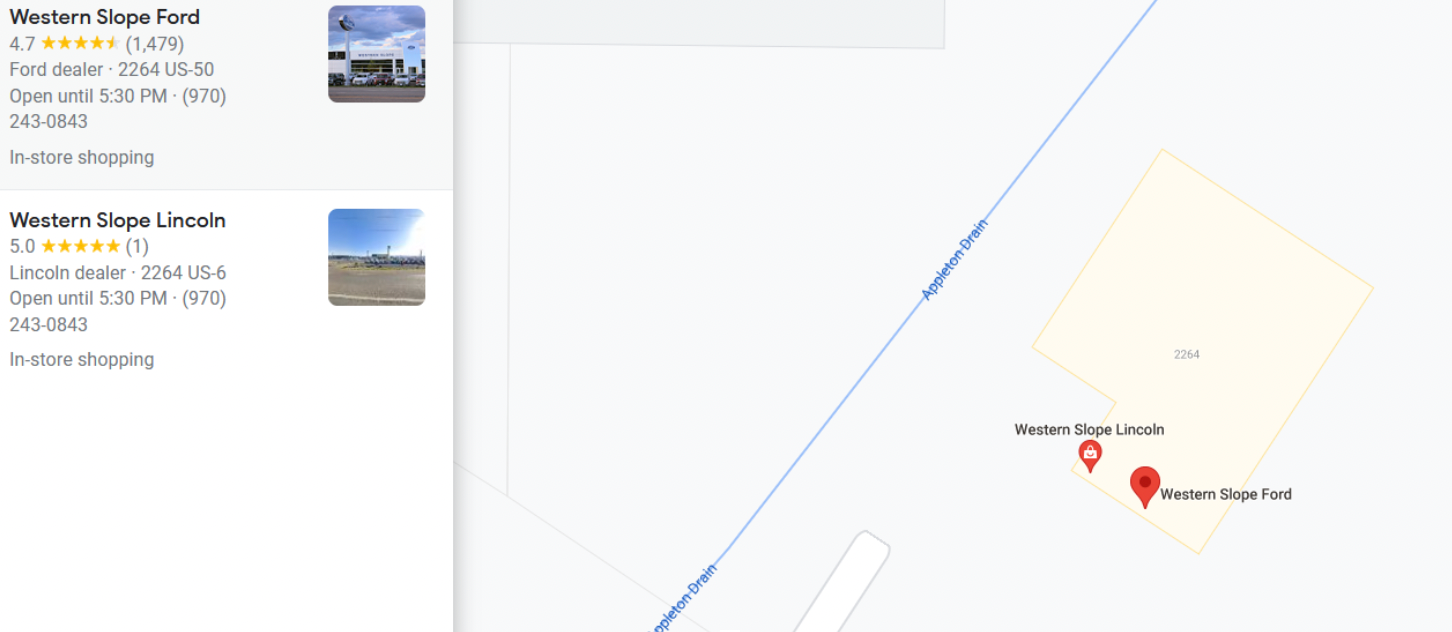 Garber Buick in Michigan has multiple listings for several departments under one roof: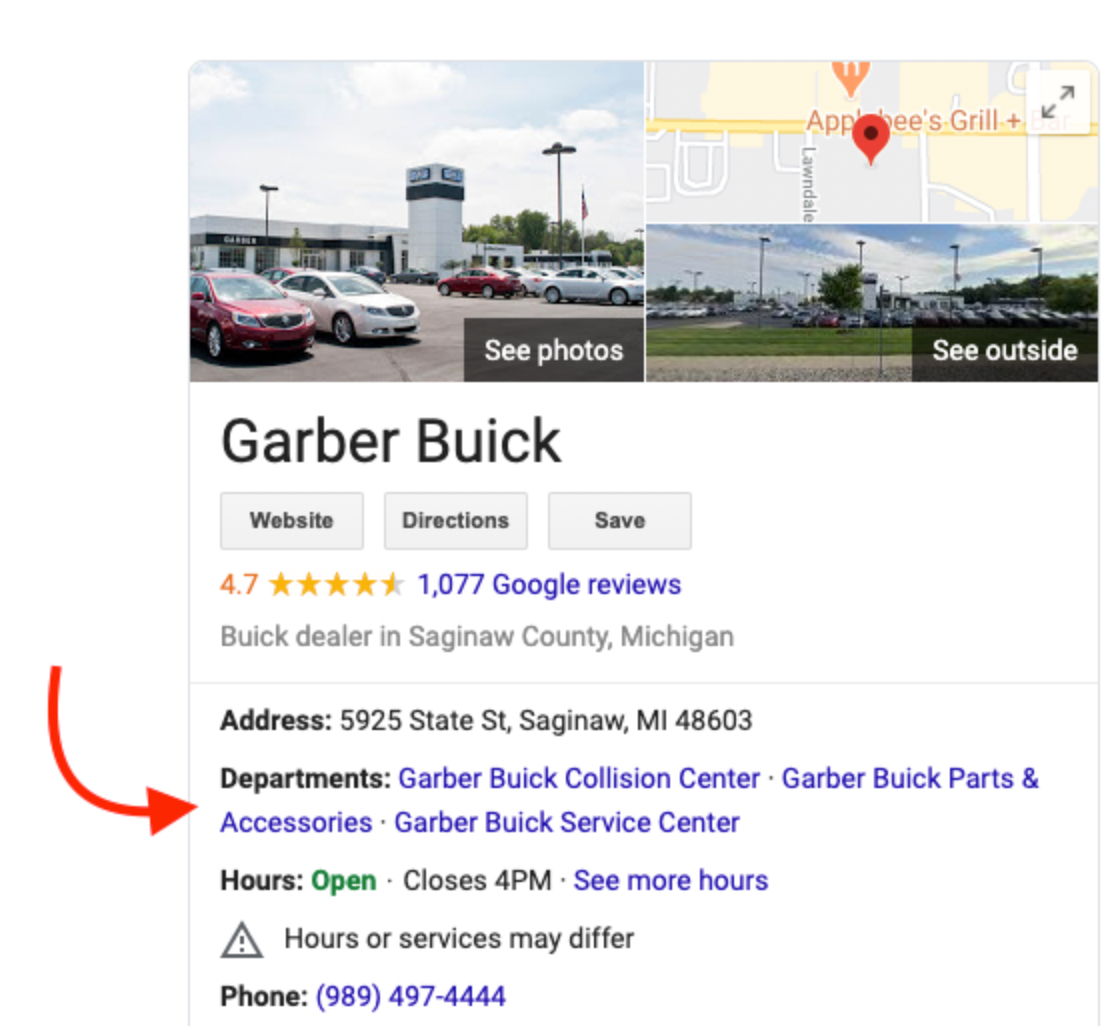 Why Does Google Permit Multiple Listings?
The idea behind having multiple listings per location is to align a dealership's sales, service and parts with the different ways consumers search. A GMB listing for a service department containing its own contact information and keyword-aligned content (e.g., "oil changes" or "collision center"), will improve the service department's visibility for local Google searches. A GMB listing for sales will make that department more visible when people are searching for cars to buy rather than service. In the above Western Slope example, the car dealership is optimizing its GMB listing for people doing searches for Ford and Lincoln car dealerships.
Related: New Data Shows Why It Pays for Auto Dealers to Publish Multiple Google My Business Listings
What Are the Benefits of Multiple Google My Business Listings?
Increased Visibility for Your Dealership
Due to the massive number of branded searches in the automotive space, having multiple Google My Business listings allows dealerships to include the specific brand into the name and primary category of each listing. Name and primary business category have a large effect on whether a listing will appear as a result of a Google search for cars. Consequently, dealerships enjoy increased visibility. Our research shows that multiple car dealership listings can result in improved GMB listing performance such as increases in views and clicks. 
Efficient Online Reputation Management
A car dealership can more effectively execute its online reputation management strategy. For one thing, a dealership can understand at a more detailed level customer sentiment for each of its brands and departments. That's because customers can leave online reviews for the appropriate GMB listing rather than under a general GMB listing, where some of the nuances of customer sentiment might be lost. If a dealership's sales department is doing an outstanding job but its service department is stumbling, the dealership can flag problems and identify strengths more easily. In addition, negative reviews for the service department are less likely to hurt the dealership's sales team because the reviews are being left on different GMB listings. In addition, This gives a car dealership more ways to encourage customer reviews, since they'll be able to leave specific feedback for service, parts, sales, etc. The importance of car dealership reputation management cannot be stressed enough. The more reviews an auto dealer receives, the higher it will appear in Google's search engine results pages (SERP).
Supports Individual Auto Brands
Many brands live under the same roof, have the same parent company, but have completely different websites. This Google change allows brands to match their GMB listings with their websites structure, as the Western Slope example above shows. Here are some more examples of dealerships that host several brands in the same car dealership under the same roof, but separate the online presence: 
Multiple Listings Better Reflect a Dealership's Hours of Operation
Sales, service, and parts departments often operate with different business hours than the overall dealership. As a result, a listing might not appear on search results because Google believes it is closed, but one of the departments is actually open for business. This limitation is frustrating for both customers and dealerships. Separating these departments into individual listings allows each department to have its own set of hours and to always accurately appear in Search.
Problems with Multiple GMB Listings (& How to Solve Them)
Having multiple listings also entails some tradeoffs as follows:
Your reviews are diluted
Having more reviews on a GMB listing improves visibility for that listing. All else being equal, the number of reviews will be lower for each separate listing than for a "combined" listing. It is easier to build a large volume of reviews using one listing rather than many. This risk can be mitigated by having an automated review requesting strategy that increases the number of reviews, especially for a separate listing setup.
Related: GMB Nested Departments for Auto Dealers
You Run the Risk of Google Flagging the Listings as Duplicates
There have been instances where Google's duplicate suppression algorithms have flagged separate dealership listings as duplicates. Once a listing has been marked as duplicate, it will not be displayed on Google Maps, and will direct to the "main" listing of the dealership. We encourage our automotive customers to follow the below best practices to minimize the risk of duplicate Google My Business car dealership listings.
What Are Some Best Practices for Multiple Google My Business Listings?
In order to maximize the benefits and mitigate the risks associated with separate listings, consider the following best practices:
Mind the basics. Follow carefully Google's instructions for

creating an automotive GMB listing

, requesting ownership of a profile, having your service department listed separately, and reviewing your verification options. 

After you claim and verify your GMB listings, inform Google when creating separate listings and request written confirmation that these listings abide by Google guidelines. This is an extra safety step to ensure documentation in case of issues. Reputation has a trusted partnership with the GMB team and takes care of this step for our automotive customers.

Use different names, categories, business hours, phone numbers, and websites for the different listings whenever you can. At the very least, three of these attributes should be different, or the listings risk being marked as duplicates. 

Automate your review requesting strategy by integrating your customer relationship management to your review requesting platform. Doing so will result in a higher volume of review for all Google My Business auto listings. You'll also lessen the risk of the reviews being left on the wrong listing.
Contact Reputation
To build your reputation online and drive more sales, contact Reputation. Outrank your competition in local search and win customers with accurate business listings, consistently great reviews and high star ratings. The Reputation platform brings it all together on one scalable dashboard.
Keep Reading: Why Your Automotive Dealership Needs Multiple GMB Listings