Why Messaging Matters to Car Dealerships
Ali Fawaz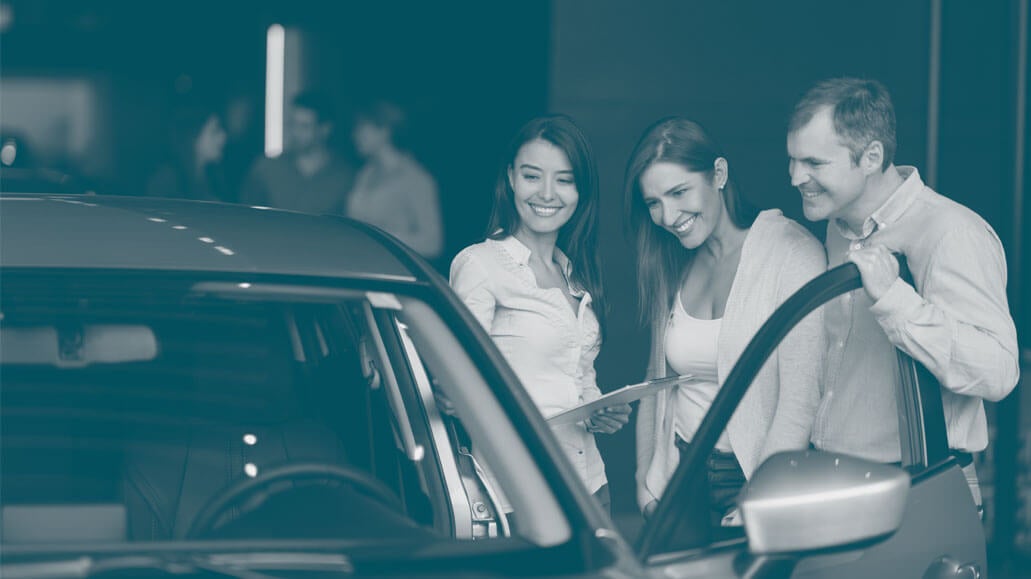 Conversational commerce, which includes messaging, is becoming more important for automotive dealerships to build relationships with customers and learn from them. The term refers to people and businesses using chat applications (such as Messenger) or voice assistants (such as Alexa) to manage tasks such as purchasing products or handling customer service requests. With 57 percent of shoppers doing the bulk of their vehicle purchases online in 2020, dealerships are paying more attention to tools such as conversational commerce as part of a broader adoption of tools that cater to the virtual customer journey. Let's take a closer look at the role conversational commerce plays in that journey.
Why Conversational Commerce Is on the Rise
Conversational commerce stands apart from other forms of communication because of its immediate, two-way nature.  Through online chat, customers can get rapid answers to their questions whether they are conversing with a bot or a human – which is a lot more appealing to a customer than dealing with a phone tree or waiting for a reply to an email – or even worse, receiving an email from a business with a "Do Not Reply" address. Conversational commerce is also appealing because chat is a natural extension of how people communicate with each other.
In addition, conversational commerce reflects a major shift toward mobile usage. As people and brands alike adopt mobile, conversational commerce becomes more relevant to how they communicate with each other. The uptake of simple mobile texting as a form of communication (even basic SMS texting) has influenced how we all communicate with each other more broadly.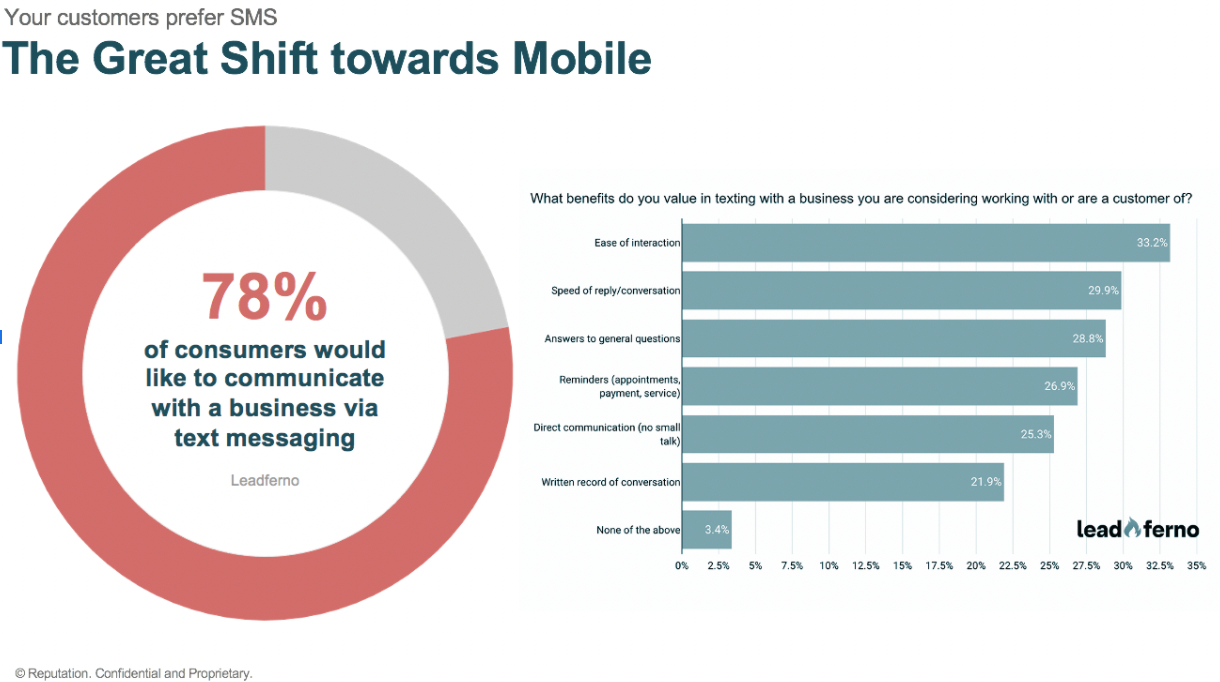 Messaging is beginning to eclipse conventional social network apps. People are using these devices that are now everywhere to communicate. This is especially true of the surging Gen Z and Millennial generations. For example:
73

percent of Gen Z ers use their internet-connected devices

primarily for texting

and chatting

.

Millennials

prefer

texting over email, phone and social media to communicate with businesses.
Companies have fallen in line – including, notably, bellwether high-tech businesses such as Facebook. In fact, Facebook has certainly influenced the rise of conversational commerce. Several years ago Facebook split out messaging from its core app. It was controversial at the time but it appears to have paid off. The most downloaded apps of all time are:
 Facebook

Facebook Messenger
WhatsApp
Instagram
Snapchat
Facebook made the right move at the right time.
Conversational commerce has also become more mainstream because of advances in technology. From 5G connectivity to data-driven AI and rich messaging features, lightning-speed communication sits in our back pockets. Businesses and brands can share rich content with each other – an example being an automotive dealership sharing details about its lot inventory to a shopper interested in learning more about different makes, models, and prices. 
Related: Auto Sales Are Up — Here's What Dealers Need to Know
As a result of all these converging forces, consumers have changed their expectations of businesses. Consider these realities:
63.9 percent of consumers

agree

with the statement, "businesses should be available and contactable via messaging applications,"

Additionally,

49.4 percent of consumers

would rather use a messaging app than a phone call to communicate with a business.
Responding to the on-demand consumer via conversational commerce creates some challenges– but also benefits.
Challenges and Benefits of Conversational Commerce
As consumers adopt conversational commerce, they're creating new challenges for brands – namely to be always on. Those challenges include:
Immediacy:

businesses need to respond to live chat requests

within 48 seconds

just to meet the industry average response time. If your business does not respond quickly enough, consumers will leave. 

Operations:

businesses can handle three concurrent chats at the same time before the experience begins to erode. 

Always on:

dealerships need to develop a strategy to respond to chat queries 24 hours a day.  Chat should be an available and active solution for customers even after hours. A dealership shouldn't rely on  an autoresponder after hours telling customers to try back during business hours. 

Forgetful:

Dealerships should be aware that chat sessions on websites lose context after the conversation closes. A website chat session will not save to the customer's phone. When they close out the browser window they lose record of the conversation. The same is NOT true for SMS chat. 
But of course, conversational commerce promises many benefits:
Immediacy:

yes,

immediacy is a challenge – but businesses that master immediacy enjoy a competitive advantage with the on-demand consumer. 

Authenticity:

it's a natural way of conversing. 

Two-way personalization

: chat makes it possible for dealerships to communicate in 1:1 fashion in a highly personalized way.  For example, a dealership might

use messaging  to reach the right person at the right time by contacting a  customer who is  due for service with a personalized service reminder message. "Hello (customer name) you're due for an oil change. Would you like to schedule your service now?"

Hybridization:

with chat, a dealership has more flexible ways of communicating — for instance, bots for answers to routine questions ("What are your hours?"); and human interaction for complicated conversations. 

Continuous Context:

chat gives a dealership a more complete view of the customer (assuming the customer is authenticated). That data enriches a dealership's customer relationship management (CRM) system. 

Frictionless onboarding:

the consumer does not need to install anything. The consumer uses the platform they're already familiar with to engage with you. There is no learning curve. 
In fact, dealerships can potentially rely on conversational commerce to create a unified in-box for all their messages.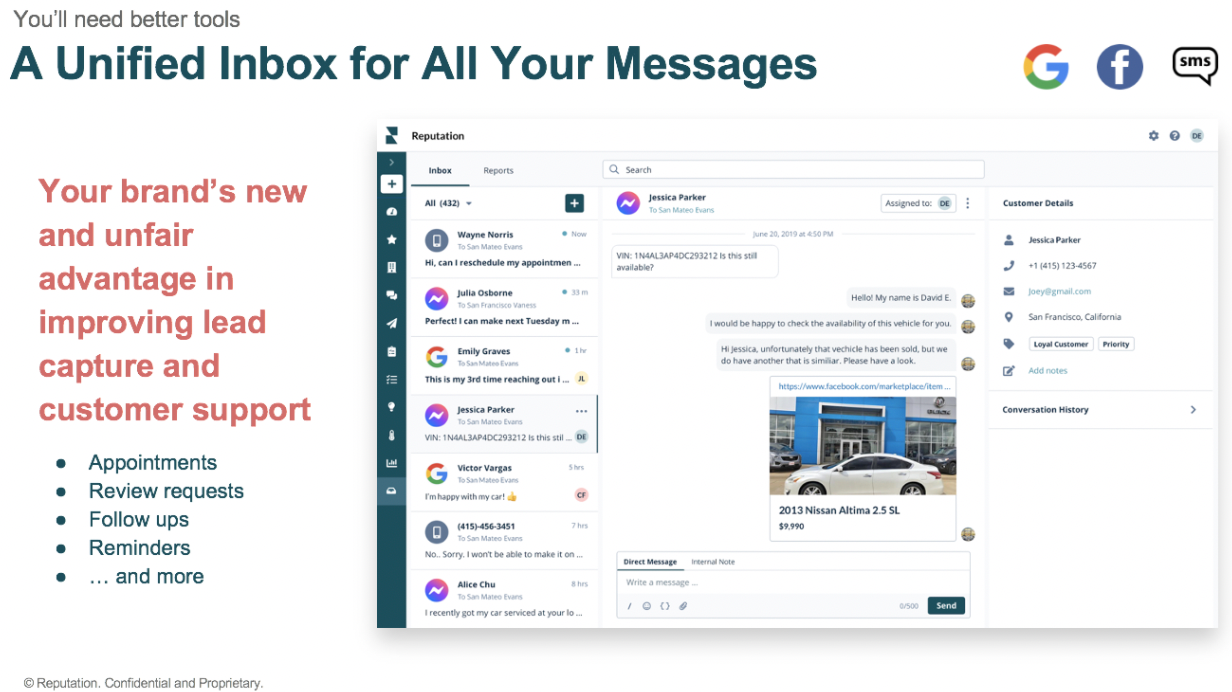 Picture a unified messaging in-box with Reputation. It unites different sources and channels of customer interactions — across Google (Google Business Messages), Facebook, and SMS. Having all messages come into a single in-box makes it simpler to improve customer experience — versus opening several point products. Your dealership can respond more quickly, respond to more inbound inquiries, and achieve faster sales.
Taking action on what you hear and see from customer feedback is how your business can ultimately get better at delivering exceptional customer experiences.  This is how top brands and dealers become the top performers. This is what separates those who are just doing these things to checkboxes versus those who use it as a strategy to gain more customers. 
Related: The Evolution of the Automotive Customer Journey
Why Facebook and Google My Business (GMB) Listings Matter

We recommend that dealerships make it a priority to adopt conversational commerce on Facebook and your GMB listings. That's because these two platforms loom larger than other touchpoints for dealerships. We reported in our 2020 Automotive Reputation Report Update that as consumer behavior shifted online during the pandemic, digital engagements on Google and Facebook drove more than 10 percent more traffic to dealer websites than in pre-Covid-19 times, and they drove 20 percent more calls from May to July 2020. Facebook and Google are also very popular sources of customer reviews, so your dealership needs to stay active with them. 
On Facebook, this means putting the chat function of your dealership's Facebook page to work responding to customers, as well as interacting with customers through Facebook Marketplace.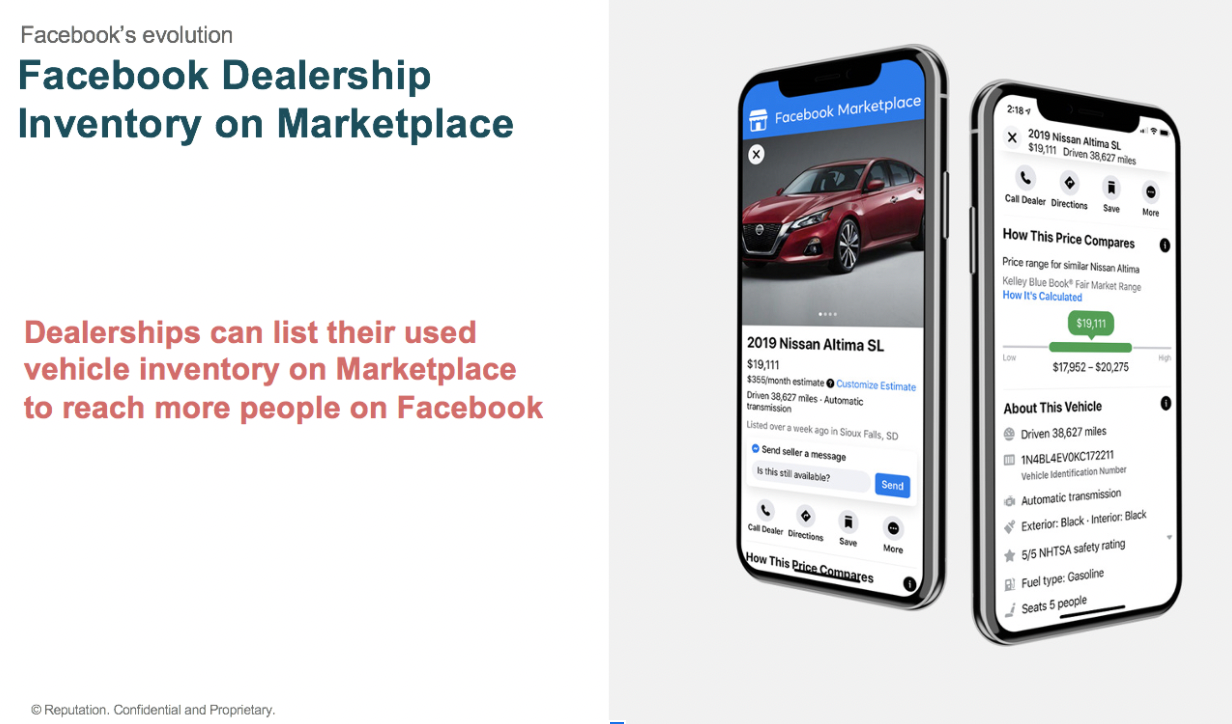 Facebook has more to say about the mechanics of Marketplace.
On Google, this means activating the Business Messages functionality either manually through your GMB or via the Google application programming interface. One of the benefits of Business Messages is that your dealership can include rich functionality. The day is coming when dealerships will be able to share their entire inventory via dealerships' knowledge panels, which they could conceivably share via Business Messages. Some dealerships are doing so already, as the feature is in testing mode.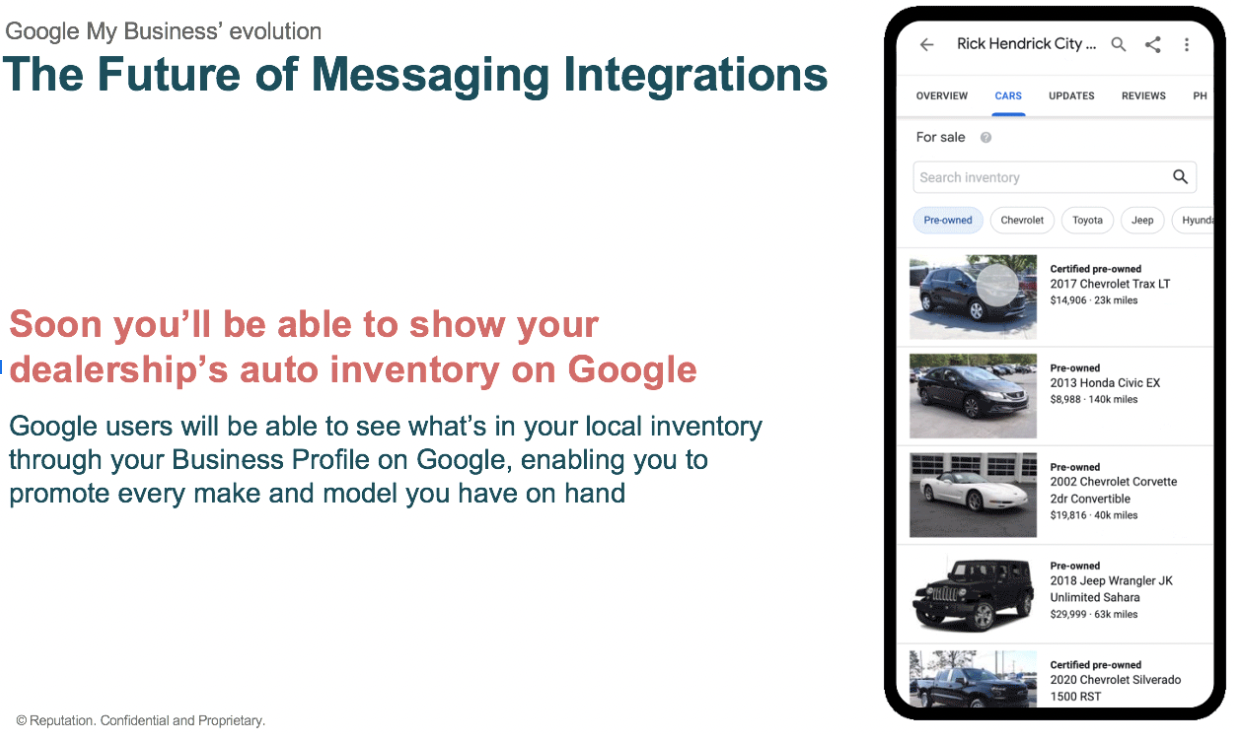 Finally, we believe conversational commerce represents a largely untapped opportunity to learn from customers. As Reputation CEO Joe Fuca said recently, as much as 80 percent of business data such as customer feedback is unstructured, meaning feedback that comes from informal communications channels such as social media posts and messages. Joe notes that seven out of 10 businesses surveyed by Forrester said that unstructured data is important in meeting customer experience (CX) goals. Businesses, including automotive dealerships, can become far more responsive and relevant to their customers by harnessing the value of this kind of real-time customer feedback. Dealerships can learn quickly what they are doing right and what they need to correct – faster than their competitors can.
Contact Reputation
At Reputation, we are using the power of artificial intelligence (AI) to help businesses learn from unstructured data. For instance, natural language processing, a form of AI, consists of algorithms that convert unstructured natural language text into structured data that a data scientist can analyze programmatically. In 2020, we used natural language processing to analyze what customers were saying about 18,000 automotive brands and dealerships in the United States, and 15,000 more across Canada and Europe, for our 2020 Automotive Reputation Report Update. We know how to do the heavy lifting to gain far more value out of conversational commerce than anyone else can. Contact us to learn more.
Keep Reading: Why Mobile-First CX Matters for Automotive Dealers