Angry Shopper Posts a Bad Review? Your Reputation is Not Beyond Repair
Adam Dorfman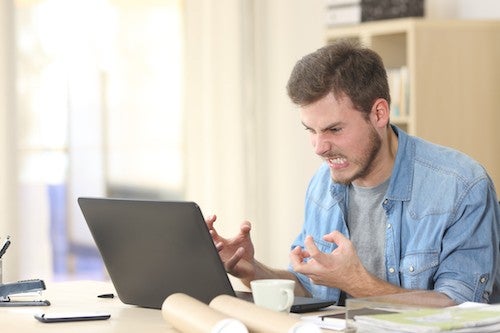 The annual retail pressure cooker — holiday shopping season — is here.
Carefully planned marketing campaigns kick into high gear, the seasonal workforce ramps up, and your websites are ready to provide a convenient online shopping experience. You're all set for Black Friday.
Here comes the glitch: one of your greenest seasonal workers argues with an angry shopper over a return. Perhaps the item is out of stock and can't be replaced immediately — or maybe the customer doesn't have a receipt but is demanding cash back.  
Inexperienced in handling a volatile situation such as this, your newbie can't get a supervisor to the scene, and the customer leaves frustrated and empty-handed.
"Angry Shopper" immediately broadcasts the bad experience on Facebook and Twitter, and it goes viral.
There it is: the dreaded one-star review you don't deserve. Could there be catastrophic damage to your holiday sales season? Maybe. But it's not the end of the world.
In fact, careful Online reputation management can help you salvage your reputation and swing the customer sentiment pendulum back in your favor. Here are some key strategies to implement, so you'll be ready should a negative review rear its ugly head.
Get Your CX Team Ready
First, reduce the likelihood that an angry customer will put a negative review up in the first place.
According to research on SocialMediaToday, most customers leave negative reviews to help others avoid having the same experience. To that end, customer service can save your reputation. Although you can't control every interaction or customer outcome, you can respond to a negative review quickly and professionally, and work to resolve the customer's issue.
Related: 6 Solid Ways to Turn Negative Reviews into Positive Reviews
Ask for feedback with customer surveys. Provide a direct line for satisfied customers to praise your company — and for dissatisfied customers to vent. Create a vehicle for customers to communicate with you, so you can work to address their concerns before they decide to post one — or more — negative online reviews.
Keep It Real, and Move Quickly
Respond to bad reviews and social media posts in real time — or risk letting one angry customer send your reputation into a tailspin at the worst possible time. Honesty is powerful, and gratitude is a game-changer.
Here are examples of appropriate and effective responses:
"We are very sorry you had a bad experience with us. A customer experience manager will be in touch with you directly, to help you resolve your issue."

"Thank you for alerting us to an important training issue. We have corrected the problem and hope you will give us another chance."
There are hundreds of review sites, and the only way to effectively monitor all of these sites is with the help of an Online Reputation Management platform. But don't wait until it's an emergency to put ORM strategies in place — you'd hate for that one angry customer's review on Black Friday to fester just as you're gearing up for Cyber Monday.
And a quick response can can have a ripple effect — in a good way. The Retail Consumer Report found that 33 percent of consumers who received a prompt response to a negative review subsequently posted a positive one, and over a third deleted their original negative review.
The Gift that Keeps on Giving
Unlike the old coal-in-the-stocking trick, negative reviews might be the greatest holiday gift you'll get this season.
Related: How to Successfully Handle Negative Reviews
Yes, we all love positive reviews, and they build and energize your loyal audience. But negative reviews shed light on hidden problems.
When you know what's being said about your company, you can incorporate that feedback into a perpetual improvement plan, which reinforces your promise of exceptional customer service, catalyzes necessary changes — and drives revenue.
Today's holiday buyers often start their journey online — whether they physically shop in your stores or virtually shop on your sites — and online reviews have never played a bigger role.
While you can't control what people will say about you, you can take part in the conversation, and own your reputation.
For more information about managing online reviews, download our eBook, 5 Best Practices for Retailers to Respond to Online Reviews.