6 Solid Ways to Turn Negative Reviews into Positive Reviews
Reputation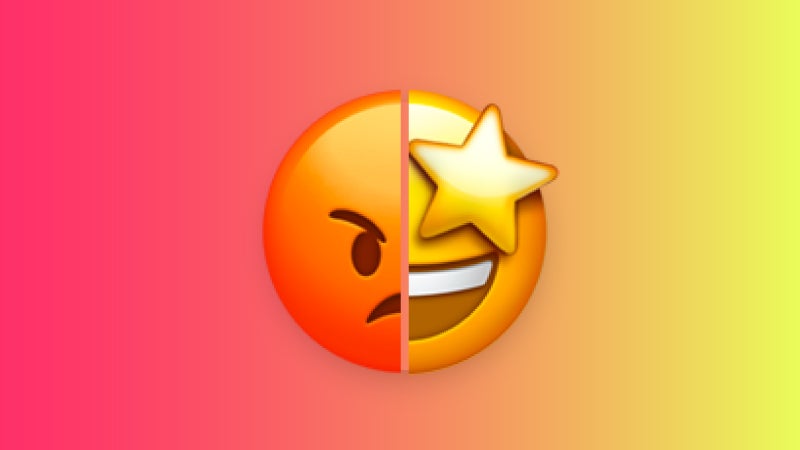 Negative reviews can feel like a slap in the face. For many consumers, review sites are their new superpower. Customers can make public complaints about the quality of the product or service. Most of the time, online reviews are fair. Occasionally, they are unwarranted or even spiteful.
The frightening thing about negative reviews is the long term impact. Before purchasing a product or service online, it's natural to look up reviews of a company. The statistics are emphatic:
9/10

Almost nine out of every ten consumers globally attempt to read online reviews before making a purchase
76%

76% of consumers trust online reviews just as they do personal recommendations
There are a lot of popular review sites. Many review sites have a particular focus. For example, TripAdvisor is great for travel-related inquiries; Amazon is great when you want to find out more about a product, etc.
The comments customers leave on review sites can be the difference between a successful business and one with few clients. So, you should be concerned if your business keeps getting a bad rap.
Why Does Your Business Keep Getting Negative Reviews?
If your business has an overwhelming number of negative reviews, your reputation will suffer. Negative reviews also turn away potential customers. That's why, if your business is increasingly getting negative reviews, you must find out what's happening and solve the problem.
In most cases, you collect negative reviews because you promise something and fail to deliver. For example, you might be offering great products, but you receive criticism about your customer service. On the other hand, you might have a problem with your products but have excellent customer service staff. Regardless of the reason, you want to solve the problem. It should be a core part of your business plan.
How to Convert Negative Reviews into Positive Ones
Negative reviews provide insights into what is not working at your company and where you need to make changes. Resolving the problem is often the first step to improving your online reputation. This guide will discuss how to convert negative reviews into positive ones. Let's walk through six steps to doing just that.
1. Identify Constructive vs Destructive Feedback
While some reviews are constructive, others are an all-out rant without much substance. Rants are often full of inaccuracies, misrepresentation, and even insults.
The best way to deal with a rant is to report the review to the platform. On google, you can flag reviews and ask Google to remove the negative comments. Yelp also has guidelines to help you flag and request the removal of an inappropriate review. Moderators can help you resolve these types of negative reviews. At a minimum, it ensures that you don't make the problem worse.
There are reviews that, although negative, provide valuable insights about your business. Constructive criticism can help you understand customer pain points and what you are doing wrong. You can use constructive criticism to improve your business operations going forward.
Related: How an Angry Customer Can Become a Business Asset
2. Choose your battles
It's essential to have a system in place to deal with negative reviews. You should send a courteous message offering to make amends to anyone who leaves a justified negative review. Always address the problem, and share relevant contact information so you can attempt to resolve the issue. Many dissatisfied customers will appreciate this gesture.
Some customers will not respond to your feedback. It's unfortunate, but it's not a problem. The important thing is you put a system in place to address any issues. You may have one or two negative reviews, but even the biggest businesses receive negative feedback.
It's not unusual for a business to have one or two negative responses. In some cases, a negative review can help a company seem genuine.
Summon up, ensure you have a system in place to address concerns seriously. You can use scheduling software to set aside time each week to address both positive and negative online feedback about your business. As mentioned earlier, you can always flag and report an unreasonable review without engaging the reviewer directly.
3. Ask questions
After apologizing and sympathizing with the reviewer, the next thing you should do is work on identifying the problem. Reviews are usually short and may not go into the exact details of what transpired. Some reviews are unclear and leave out important details. For example, what day the incident occurred and what steps, if any, were taken to resolve it.
Your job is to find out the fine details. For instance, when did they visit your business? What was the name of the staff member who served them? Details such as these will help you understand the cause of the problem, and where the blame lies.
4. Emphasize your focus on customer happiness
You've probably heard the saying: the customer is always right. Businesses exist not just to make a profit but to find solutions for customers. That's why your customers' happiness should be your priority.
When making amends to someone who has had a bad experience at your shop, let them know that customer happiness is your emphasis. Take a look at this example from a car company.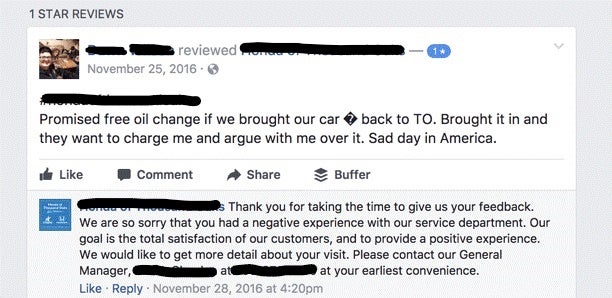 The response from the garage to the customer's complaint is brief and effective. First, they thank the customer for taking the time to write a review. This is important because it shows the customer that you are engaged with the feedback – even when it's negative.
The auto dealership goes on to apologize and emphasize that its main aim is to give customers a memorable experience. The company tries to show that they take customer satisfaction seriously. They then provide the contact details of the manager, the person in ultimate control of the showroom. It shows they are taking the inquiry seriously.
I assume this response was based on a template. However, it's a good template. A person reacts to the message, empathizes with the customer, and shows that the problem is being taken seriously. Emphasizing customer satisfaction as your priority helps customers understand that whatever happened was a deviation from your norm.
Related: Responding to Customer Feedback: The Business Imperative
5. Fix Your Mistakes, Then Broadcast Them
Just as surveys provide insights on what to improve, reviews are fodder for businesses that want to improve their service. A negative review is an opportunity to learn and take note of problems. Your job is to use the feedback to fix that mistake and make sure it doesn't happen again. You may require administrative or staff changes to make things right.
Once you have made a change, let your customers know. See how one restaurant owner responded to a negative review.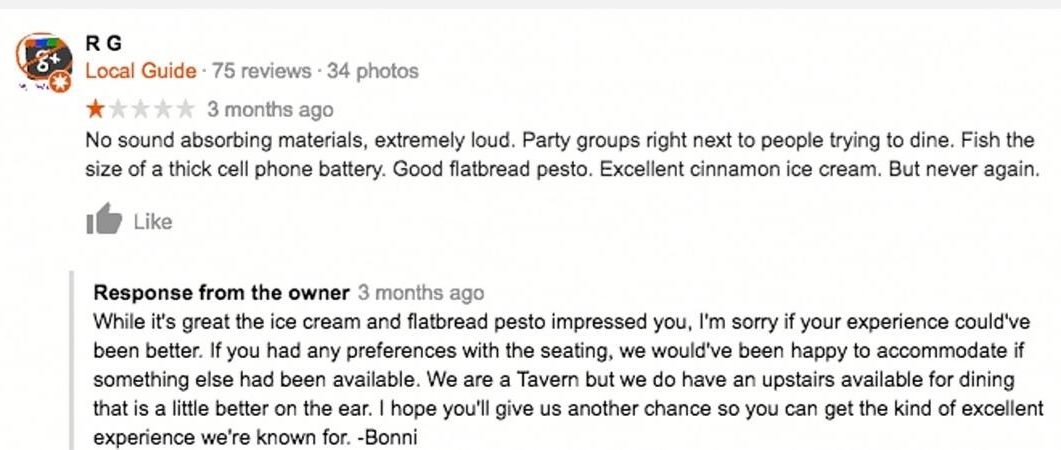 After apologizing, the owner let the customer know that they have options to suit the customer's preferences. Take a look at how the manager of a pizza restaurant responded to a conflicting review.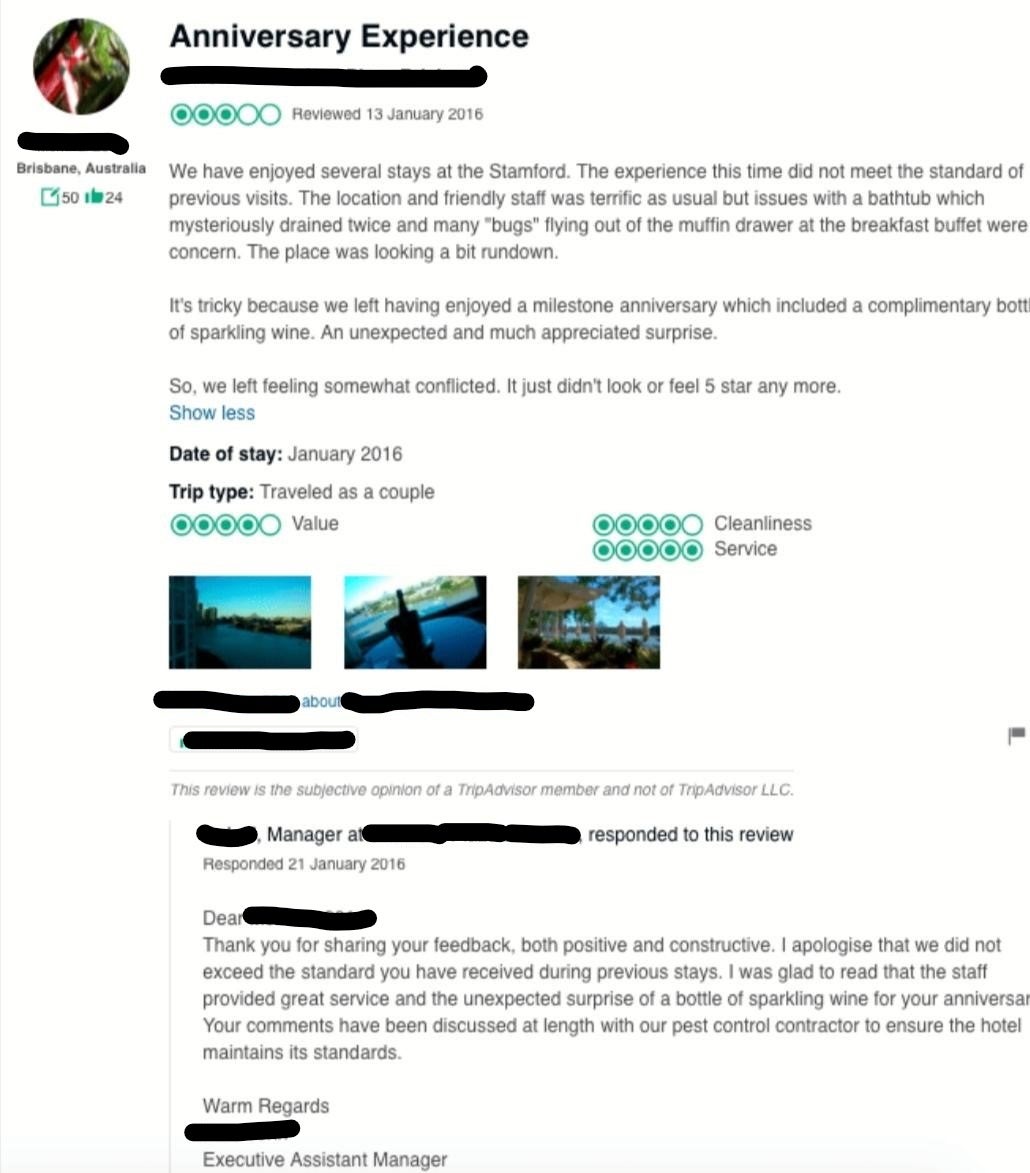 After apologizing and thanking the customer for the feedback, the manager notes that the customer's concerns have been discussed with the team, and the problem won't occur again. Such a response shows that the business takes customer complaints seriously.
6. Share Something of Value
Finally, the best way to soothe a disgruntled customer is to provide something of value. For example, if a customer had a bad experience at your hotel, you could offer a complimentary night's stay or money off the next time they visited. Alternatively, if a customer has a problem with a product or service, you could offer money off, or a discount for future purchases.
Providing something to your customers as a way of saying sorry for the inconvenience is the best way to turn a negative review into a positive review. It's easy to say that you care about negative feedback. A present is a way of showing you mean what you say. Moreover, it shows other customers that you take customer complaints seriously and always aim to provide the best service.
Wrapping Up
Negative customer reviews are not the end of the world. Handled well, negative reviews can be a prime opportunity to connect with customers and improve your business operations. That's why you shouldn't panic when you see negative reviews.
Keep Reading: A Step-by-Step Guide to Improving Your Business with Customer Feedback
---
About the author: Owen Jones is the Senior Content Marketer at ZoomShift, an online schedule maker app. He is an experienced SaaS marketer, specializing in content marketing, CRO, and FB advertising. He likes to share his knowledge with others to help them increase results.