Why Reviews Are Necessary for Effective Omnichannel Marketing
Adam Dorfman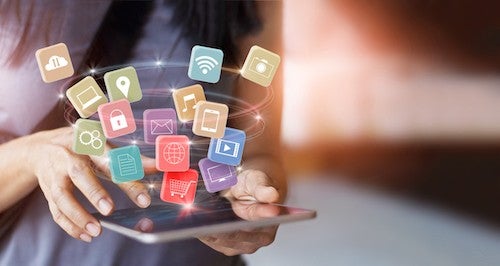 Whew! The holiday shopping rush is over. While you were out hustling and bustling, did you notice anyone pulling out their smartphones in the store? Sure, some were probably snap chatting or texting Christmas memes — but many were engaging in omnichannel shopping experiences. 
That's a fancy phrase for the process of using different channels to shop for and purchase products — at the same time.
Here's what it looks like: Rachel's new husband wanted a TV with a bigger screen to watch football on Sundays, and she set out to buy him one for Christmas. She did her research ahead of time, asking a few friends what TVs they have, and if they like them, then going online to see what Amazon had available, and what was on sale.
Rachel found several that looked good, then read reviews. Two of the five she was considering had 2-star reviews, so she eliminated those choices right away. She read several reviews for each of the three final choices, then checked out a couple other review sites for more detailed customer feedback. She even messaged some friends on her Facebook page, asking their opinions.
Finally, Rachel decided on a TV, then checked Google for a nearby electronics store to see if they carried it. She noticed that if she ordered it online, shipping was free and there was a discount, but she still wanted to see the TV herself. So she checked the ratings for the two stores closest to her, and went to the one with the highest rating.
Related: Why B2B Brands Need Reputation Experience Management
Once in the store, Rachel found the TV and asked the sales rep a few questions. She appreciated the information and the service she got, and since the price was competitive, bought it on the spot.
This shopping scenario is more and more common, and retailers who aren't able to engage with customers in a seamless manner — with strong branding, messaging and reviews on every channel — will lose business. The importance of customer reviews is something you should not overlook. 
How Omnichannel Marketing Benefits Customers
Omnichannel marketing tools put the customer at its center. It takes into consideration that the shopping experience is influenced by access to mobile technologies and social networks, and that customers now use multiple channels simultaneously to make buying decisions.
People are engaging with companies and brands at many points along the buying journey, which makes it challenging to create a consistent experience. According to Google, 82 percent of consumers read online reviews about products while in the store, preparing to buy. Some factors are more difficult for brands to control — such as whether the store has inventory to supply an unexpected spike in demand. But other factors — like creating a strong online presence with an effective Online Reputation Management strategy (ORM) — can and should be incorporated into a brand's omnichannel marketing strategy.
Why Customer Reviews and Online Ratings Matter
ORM is essential to maintaining a strong online presence across channels. When a buyer goes online to research a product, reviews and star ratings are among the first things they find. They display prominently on Google search result pages, and on store and product websites.
Star ratings — and the online reviews they link to — are perfect omnichannel marketing examples, and a critical aspect of the consumer's decision-making process — from which products to buy, to what stores to visit.
Related: How to Improve Your Online Reputation (& Examples from Transform)
SearchEngineLand reports 78 percent of local-mobile searches results in offline purchases. But retailers who lack a strong online presence that includes great reviews and high ratings on those channels will lose out to competitors.
Take Control with Your Reputation Management Strategy
Taking control of your online reviews begins with a solid ORM strategy that simplifies the process of requesting, monitoring and responding to online reviews. Here are a few tips to get you started:
Ask customers for reviews: People will write reviews when asked, and building review volume tends to raise your star ratings. The higher your rating are in those online customer reviews, the higher your locations show up in local search, and the more alluring your brand and locations will look online.

Make submitting reviews easy: Just as consumers shop using different channels, they want options for submitting reviews. Try using a mixture of text-based requesting, emails and in-store kiosks to solicit feedback.

Share and promote positive customer reviews on social channels: Grab consumers' attention with photos of satisfied customers, and provide a link to add a review. People are often quick to hop on the bandwagon and add praise on top of a good review.

Respond quickly to negative customer feedback: The occasional dissatisfied customer can be turned into a happy one if you act quickly and resolve their issue. Plus, with quick response, you'll demonstrate to others that you care about the customer experience — and that goes a long way in convincing consumers you're the best choice.
Keep Reading: An Introduction to Customer Reviews and Star Ratings