What is a Zero-Click Search (& What Businesses Should Do)
Adam Dorfman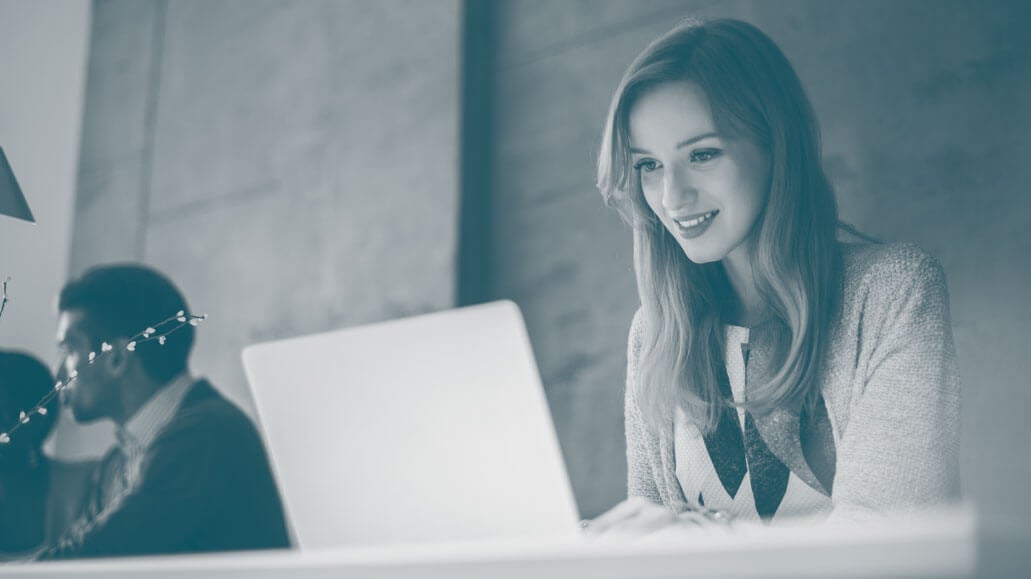 SparkToro recently caused a stir with a new report that says 65 percent of Google searches don't result in a click through to a website. In other words, when people search for something on Google, they're finding answers to their queries on Google's search engine results pages (SERPs) without needing to click anywhere else. Some industry practitioners have concluded that the popularity of these so-called zero-click searches means that Google is the digital front door to a business, and websites don't matter as much as they used to. But this conclusion is not necessarily accurate. Let's take a closer look.
What Did SparkToro Report?
For the past few years, SparkToro has relied on third-party research to assess the popularity of zero-click searches. In 2019, SparkToro said that about half of all searches result in zero clicks to websites. This chart shows what SparkToro reported for zero-click searches in 2020 – a sharp increase to 65 percent: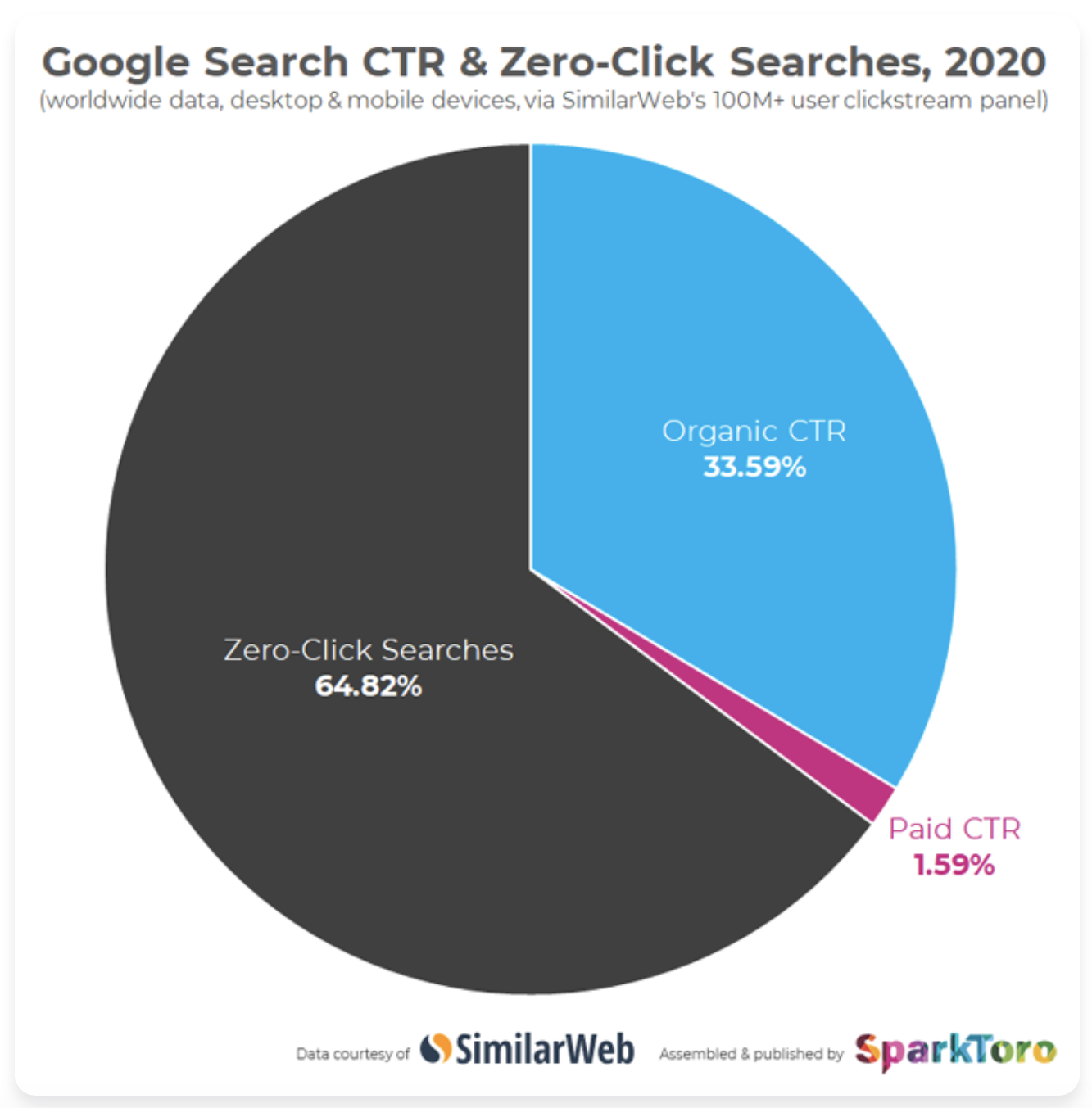 As SparkToro's Rand Fishkin noted:
From January to December, 2020, 64.82% of searches on Google (desktop and mobile combined) ended in the search results without clicking to another web property. That number is likely undercounting some mobile and nearly all voice searches, and thus it's probable that more than 2/3rds of all Google searches are what I've been calling "zero-click searches." 
For instance, let's say I do a search for "Italian beef near me" (which is an exceedingly popular search for Chicagoans):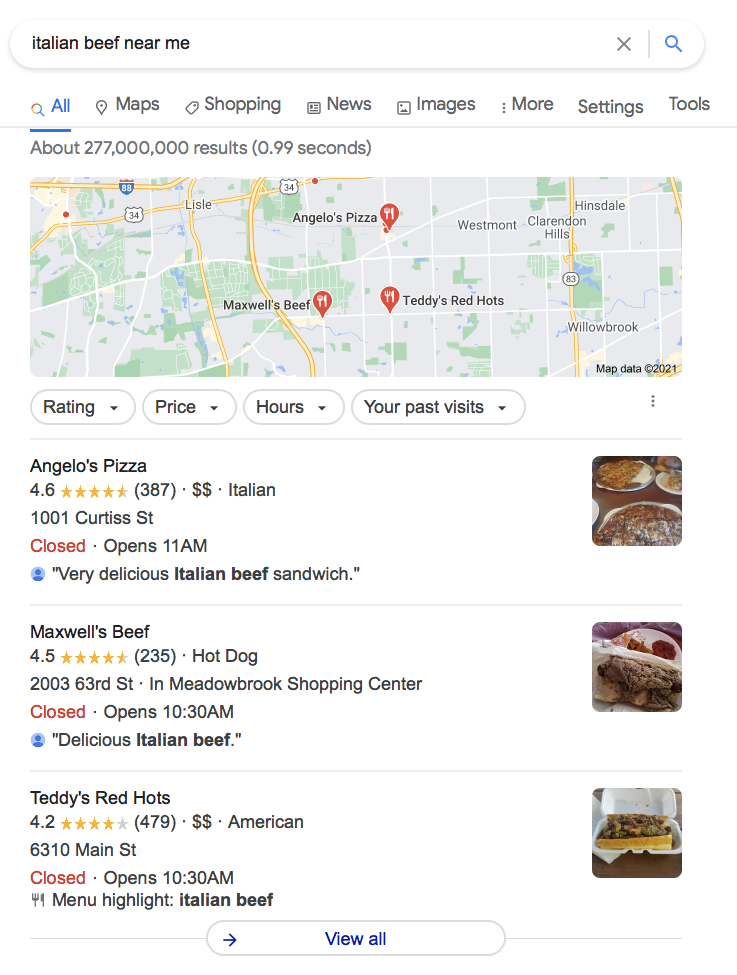 If I don't click through to a website in the local pack that displays the search results (as with the above example), and instead find what I need from the local pack itself, I have performed a zero-click search. And to be clear: a SERP may display answers to my question in a number of ways, such as a featured snippet, image carousel, Google Ad, and more – which is why Google commands such an inordinate share of search results.
What's the Reaction to SparkToro's Report?
Google is not happy. In a rare move, Google published a blog post commenting directly on the report. Google said the report is inaccurate and misleading. For instance, according to Google, SparkToro did not properly account for people navigating directly to apps. It should be noted, though, that Google did not provide meaningful statistics to counter the report.
Related: How the Google Maps Community Feed Affects Your Business
The report has also triggered some understandable speculation that Google has become the digital front door to a brand, and that websites matter less (which is probably why Google responded negatively to the report. Google can ill afford looking too dominant right now as the company faces antitrust lawsuits at the federal and state levels). But let's pressure-test the assumptions about Google and websites:
"Google is Your Digital Front Door"
Yes and no. Google is an important digital front door, but not the only one. Yes, Google is the dominant way people discover businesses. As Moz's periodic local search survey shows, a company's Google My Business (GMB) listing is easily the single-most important local search ranking signal. Any business that wants to be seen needs to prioritize its visibility on Google. But Google is not the only pathway to a business. Social media, especially as Facebook and Instagram continue to exert a dominant influence especially amid the surge in online usage since the pandemic hit. Google is the world's most popular website, but Google has plenty of company.
"Your Website Matters Less"
Wrong. Your website matters even more. You need a website, and a well-optimized one, to show up in featured snippets, local Google search. That's because Google pulls data from your site when presenting results on SERPs. You need to actively take steps to make your website the best content hub it can be, and that means optimizing your site for search. 
In addition, traditional SEO tactics like links to your website, as well as the on-page optimization of the website itself, is an important factor in the Google Local Pack ranking algorithm. So it isn't just about ranking organically, or increasing the real estate you can obtain with featured snippets. In fact, optimizing websites could boost you into the 3-pack if you are ranking too low.
Now, here's an important caveat: webmasters need to change their expectations. In a zero-click world, their goal should be using their website to drive more visibility on Google through a more powerful Knowledge Panel. Driving traffic to a website is still important, but it's not the most important goal anymore.
Related: How Google Is Developing Business Messages
What Should Brands Do?
Do maximize your visibility on Google, starting with your GMB listing. In addition, encourage your customers to review your business.

According to Google

, "High-quality, positive reviews from your customers can improve your business visibility and increase the likelihood that a shopper will visit your location." Moreover, Moz's local search ranking report

underscores the importance of reviews as a ranking factor

.

As noted above, optimize your website for search, and follow best practices for creating great content. Your website is crucial to your ability to be visible in zero-click searches. Of course, your site remains your most effective tool for sharing your brand narrative with customers, job seekers, employees, investors, influencers, and business partners.

Optimize your content for

featured snippets

, which are featured search results on Google — and are crucial to being visible in zero-click searches. According to Google, "Google's search results sometimes show business listings where the

snippet

 describing a page comes before a link to a page, not after as with our standard format. Results displayed this way are called 'featured snippets.' We display featured snippets when our systems determine this format will help people more easily discover what they're seeking, both from the description about the page and when they click on the link to read the page itself. They're especially helpful for those on mobile or searching by voice." Here is an example: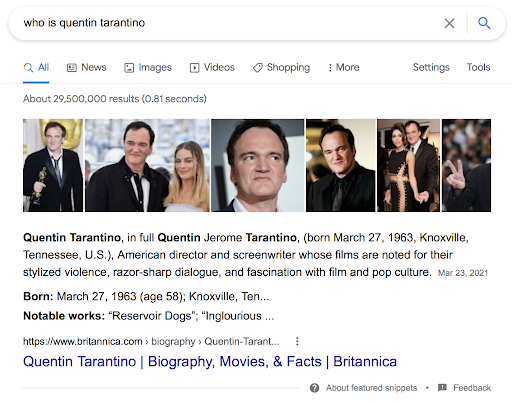 Bottom line: the rise of zero-click searches means you'll need to work harder to be visible, but the last thing you want to do is spend less effort making your website a great source of information for people – and for Google.
Contact Reputation
To make your business more visible through reputation management, contact Reputation. Our SaaS-based Reputation platform manages tens of millions of consumer reviews and consumer interactions across hundreds of thousands of touchpoints.
Keep Reading: Google and No-Click Searches: How to Beat the Odds