How to Build a Marketing Technology Stack in Healthcare
Reputation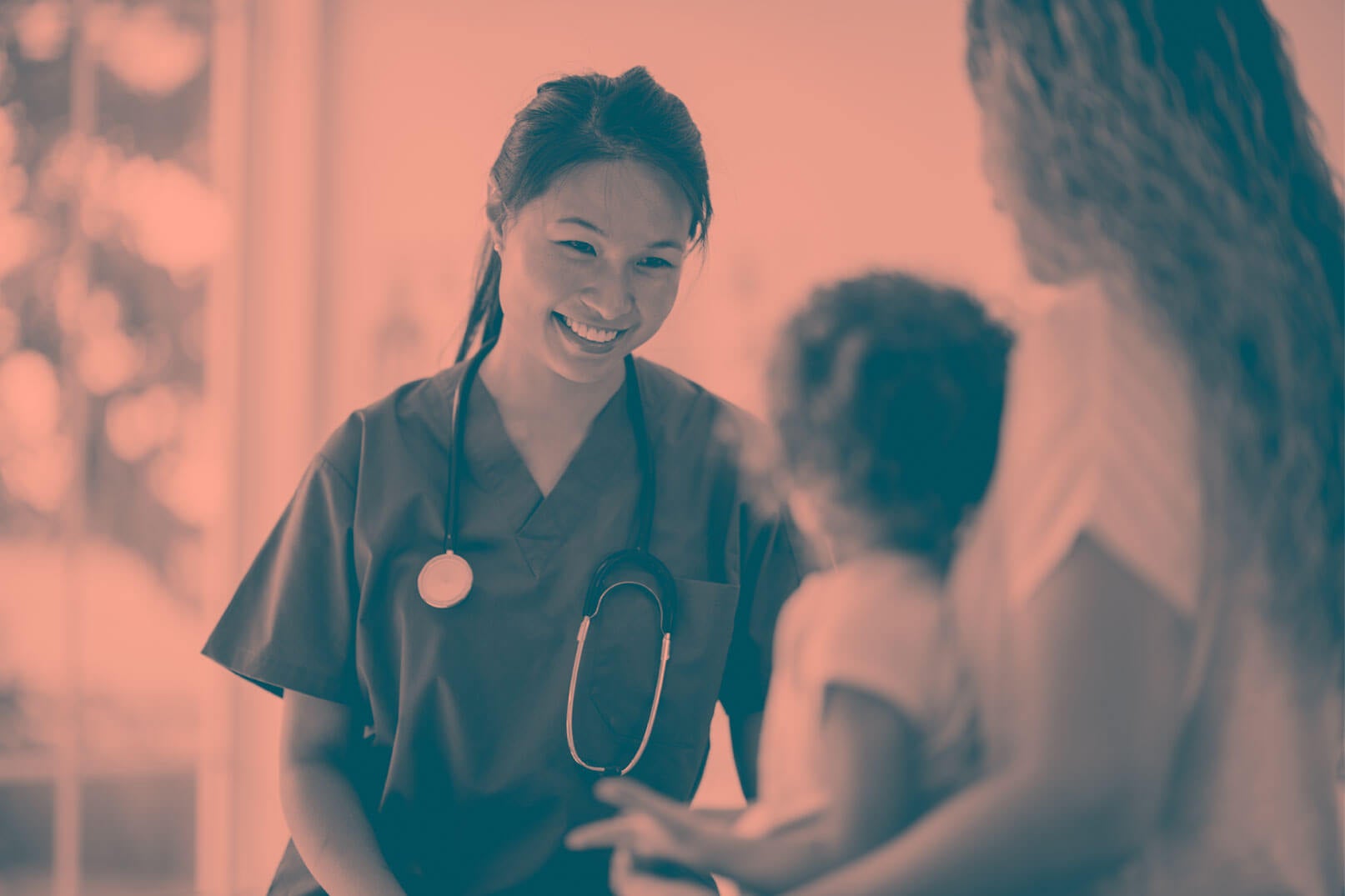 With the evolution of martech and healthtech, the healthcare marketing industry has no shortage of technology available, so why does it often seem like it's lagging behind in delivering digital experiences?
Part of the problem may be your technology stack or "techstack." Simply put, a techstack is the group of software that your organization uses to deliver a digital experience. Think about all the marketing technology examples that touch your consumer along the way of their journey. 
The martech concept is gaining momentum in healthcare for the same reason it has taken hold everywhere else — the patient journey increasingly emulates that of a retail journey. 
From the

search

for care: search engines, advertising, social media, review sites;

to care

access

: electronic medical record (EMR), online scheduling, virtual visits, mobile apps, chat;

to

follow-up

: online bill pay, surveys, messaging;

and

retention

: consumer relationship management (CRM) and reputation experience management (RXM).
The Martech Software Stack in Healthcare
In only a few years, the marketing technology landscape has expanded from a few dozen separate tools to hundreds of solutions, many of which work together. As Scott Brinker, creator of the "Martec 5000" explains in the 2020 update, "1 in 5 of the solutions on this year's martech landscape weren't there last year."
Unfortunately, the rapid proliferation of new technology has not been accompanied by a rapid growth in healthcare marketing budgets and staff. While the available software has grown by more than 5,233% since 2011, healthcare marketing teams have grown by only 150% in that same period, according to Geonetric, which publishes an annual report of Healthcare Marketing Trends.
The proliferation of technology to follow the consumer creates both a challenge and opportunity. The challenge is more software comes with an increased risk of making an inefficient spend. But on the other hand, the opportunity is that connecting those healthtech solutions effectively can guide the consumer along the journey. Understanding your marketing stack addresses both the challenge and opportunity. Leading healthcare systems are taking a closer look at the technology stack to see where they can fill gaps and eliminate redundancy. 
The consumer journey remains complicated, touching many stakeholders within an organization. Marketing, digital, IT and clinical teams must examine how each technology fits together to make the customer journey better — here's how they can do so. 
Create an Ideal Consumer Journey Map
Ask yourself the following questions:
Who are the customer personas and what is important to them? 

Where are we delivering an excellent experience? 

Where are the pain points in each of the customer  journey stages? 
Plot each step on a grid in the order it occurs. A journey map helps you detail every step of the journey, touchpoints where they may encounter your brand, and the wants and needs of the consumer along the way. For example, how important is Facebook or your Google My Business (GMB) listing? Which customer journey touchpoints are most important for your brand to encourage that consumer to learn more about you? Our recent consumer survey with YouGov, for example, found that GMB listings are a particularly influential jumping-off point for people to learn more about providers.

It's important that your journey map be as tailored as possible to the audience you are trying to target for your facility. If you're targeting Millennials, for instance, know that their journey may be slightly different than that of Baby Boomers. As reported in our 2021 Healthcare Reputation Report, Millennials are 20 times more likely to use a map app such as Google Maps than Baby Boomers to search for care. They are also about six times more likely to rely on Facebook reviews of healthcare providers compared to Baby Boomers. 
Identify Gaps and Overlaps
Audit existing healthcare technology to see which tools your team is using to support customers along the journey. Then, assess where in the journey might be disjointed or unsupported by technology. Consider if there are any areas where your team has multiple tools that perform the same function. 
Answering these questions will help you identify cost savings, break down data silos, and identify where your marketing, clinical, revenue cycle and customer service functions might collaborate more effectively to maximize value.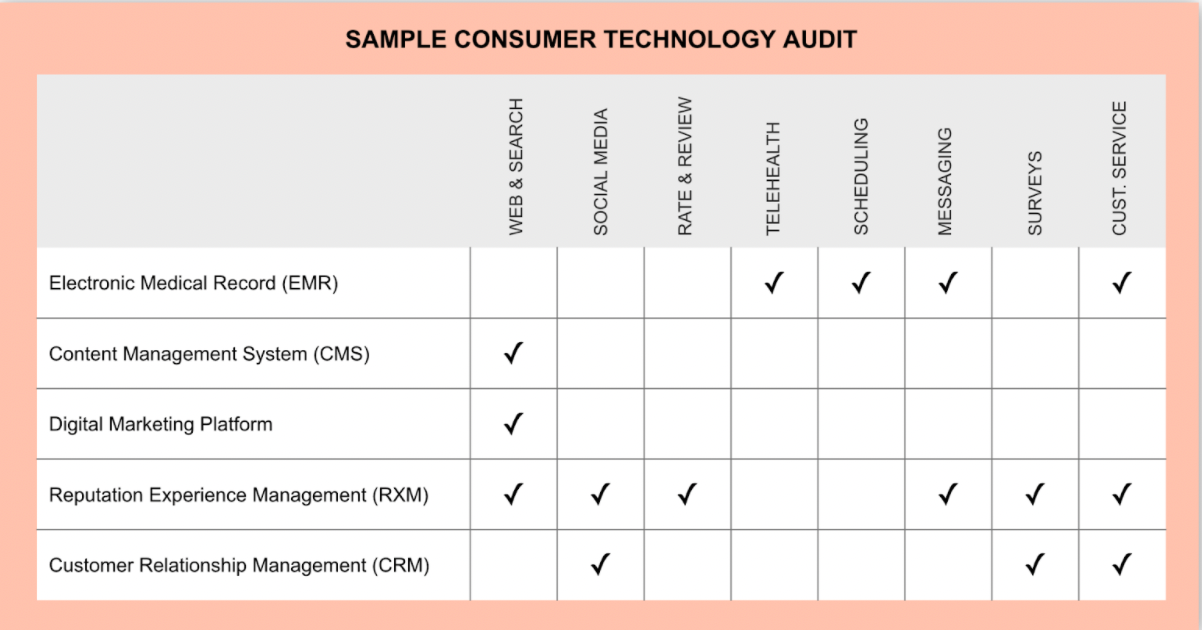 It's not uncommon to learn that various departments are using different technologies to accomplish the same task. This is a huge waste of budget, not to mention the staff resources required to maintain duplicate platforms. For example, let's say an organization found out they were paying for nine different survey tools in use across the various departments. Even more concerning, some of the tools being used by departments were not HIPAA-compliant, which is a risk to the organization. By standardizing to a single, compliant survey platform, a company can save more than $500,000 a year.
Challenge Your Vendors
The process of optimizing your technology stack can be daunting. Don't do this alone! Reach out to your technology vendors. Most technology companies have teams of industry experts you can tap for best practices, along with marketing technology examples and healthtech examples your team should implement into your software stack. Describe your challenges to your technology partners and ask for their recommendations for how to solve problems. Some questions to ask your vendors:
How are other companies solving these problems? What are the best practices?

Are there capabilities of your technology that we are not taking advantage of currently? Have you added any new features or functionality we should be using?

Are you partnered or integrated with any other technology providers to provide solutions to the problems we have identified?
Define and Measure Success
Determine what an optimal experience looks like for a patient. Then set key performance metrics that will support this experience. Some metrics to aim for might be 25% of all primary care appointments will be booked online, urgent care locations will have at least a 4.5 average star rating on Google, and 30% of ambulatory invoices will be paid online and within 15 days.
Where to Focus Your Efforts on MarTech in 2021
As the line between sales/marketing and consumer experience blurs, healthcare providers are finding that there are too many feedback sources existing in disconnected silos. Examining your technology stack is the first step to unifying data to support a great experience.If you need help improving your technology stack with marketing technology tools and healthtech solutions, we can help. Reputation offers a variety of modules that when combined provide a complete experience management platform. Learn more here.