Five Key Metrics Healthcare Marketers Should be Tracking
Reputation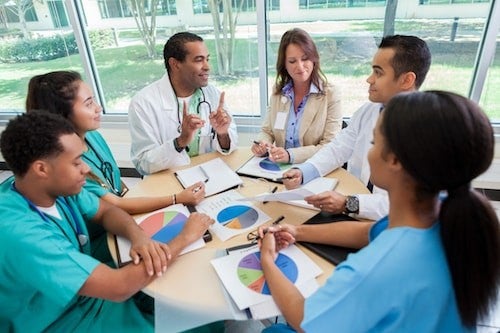 Healthcare marketers are going digital. They have to — or patients will go to competitors.
In fact, according to MD Connect, spending on digital marketing initiatives increased by 15.4% among healthcare organizations between 2015 and 2016. That number continues to rise as more consumers than ever — 41% — rely on content from digital sources such as social media networks to help them choose a hospital or treatment center.
But doing digital the right way requires more than just posting to social networks or making your website user-friendly. It involves a multichannel, multifaceted approach that enables better engagement across all customer touch points — from your website, to social media and review sites, to mobile apps and face-to-face interactions.
Healthcare marketers who have a data-driven digital strategy have a better understanding of how to engage customers via digital. They are nimble and can adjust their strategy to best meet patients' needs. They can attract and retain patients and deliver superior client service.
Here are five key metrics digital-first healthcare marketing teams track:
Completeness and accuracy of business listings. Pew Research reports that 77% of people looking for information about healthcare start at search engines. Your doctors' and locations' business listing will rank higher if they are complete, accurate and consistent across the web, from WebMD to Google. Start with an audit of all business listings, and make sure you claim any that belong to your organization. Then, verify that all information is up to date. In addition to ensuring location, hours of operation and contact information is correct, you can increase your rankings by adding photos, using the correct categories for each location, and having plenty of online reviews — review snippets are displayed in listing results on most search engines. Tracking the percentage of completeness and accuracy of business listings across your organization will help you identify what sites and doctors or locations need attention.
Total review volume per location and doctor. Reputation.com's Healthcare Consumer Survey found 79% of consumers want to read six or more reviews to fairly assess and select a provider. However, most doctors lack reviews — 41% don't have any reviews on Healthgrades, and 77% have none on Google. Doctors that do have them have an average of one or fewer on either site. Worse yet, the reviews aren't recent —  the average review age is nine months. A healthy volume of recent reviews not only satisfies consumers' requirements, but helps providers and locations rank higher, because Google's search algorithm takes review volume and recency into account. Ranking higher in search increases the chance of a consumer choosing your provider.
Average review response rate and time to response. Responding to reviews demonstrates a commitment to improving the patient experience, and helps you influence the online conversation about your brand. Reputation.com recommends responding to 100% of all negative reviews and at least 20% of all positive reviews. An Online Reputation Management (ORM) platform will allow you to create HIPAA-compliant templates to make make it easier to respond quickly and without risking patient privacy.
Star ratings — overall and per location: Your star ratings are one of the first things healthcare consumers see when they perform a search online. Google uses them to determine your ranking, as well. And, your overall star rating can be affected by individual ratings for doctors and locations. Tracking ratings for each location and doctor enables you to identify who's lagging, then dig deeper into reviews for that location or doctor so you can spot and investigate issues. You can then target your efforts to help under-performing locations or doctors improve their ratings. At the same time, by identifying locations with high ratings, you can find out what they're doing well, reward employees and standardize on those processes across locations, to boost your cumulative rating.
Percentage of reviews across third-party review sites. According to Reputation.com's Report, healthcare consumers use Google and health insurance websites more than any other resource to look for doctors online — even more than specialty healthcare sites such as Healthgrades. To ensure consumers are getting the information they need to make informed decisions about your doctors and locations, keep track of the distribution of reviews across all major third-party sites. Make sure there is a sufficient volume of reviews on Google. Online Review Management platforms such as Reputation.com make this seamless by directing patients to post reviews on the sites that need a boost.
In addition to helping manage online reviews and ensuring their even distribution across key third-party review sites, an ORM platform can help you analyze and report on these and other important metrics. This keeps stakeholders informed about the state of your organization's reputation, and can be used to make operational improvements based on insights from those reports.
Read this eBook to learn more about how ORM can help you implement operational improvements across your organization.