Why Your Business's Customer Experience Matters
David J. Deal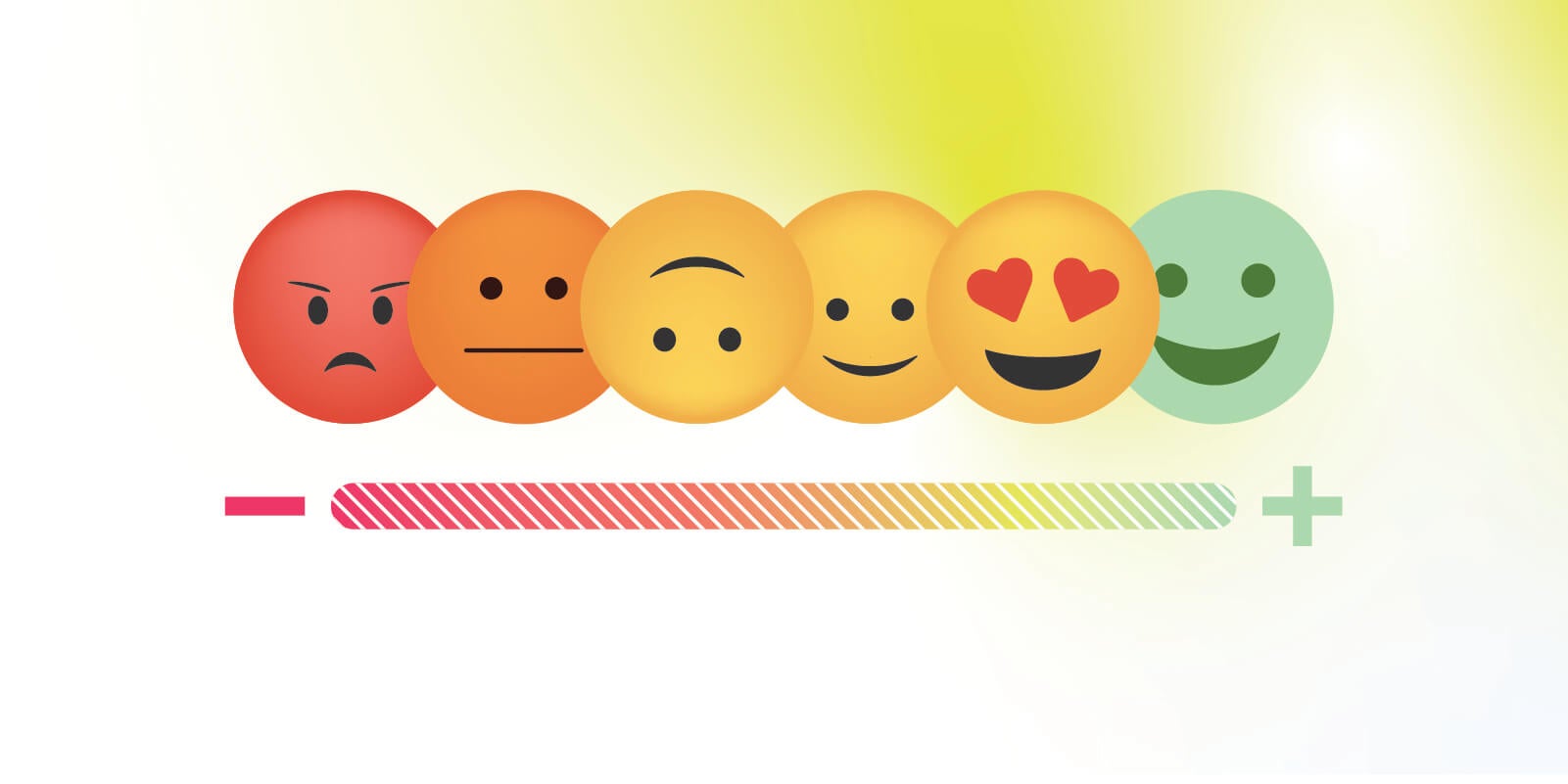 Delivering a good customer experience (CX) is more important than ever. Ninety-six percent of consumers say that customer service is crucial for brand loyalty. According to new research, 64 percent of consumers have jumped to a competitor following a poor customer experience. But it's also getting more difficult than ever to deliver a successful CX. 
Rising consumer expectations, a chronic labor shortage, inflation, and a global supply chain crisis are causing a CX crisis. Businesses need a new playbook to understand what customers want to exceed their expectations. It's especially important that businesses tap into public ratings and reviews rapidly and at scale. That allows brands to quickly flag CX issues and learn how to improve in the most efficient way possible.
Why CX Is Getting More Important in 2022 
The value of CX cannot be overstated. According to Bain, companies that excel at customer experience grow revenue four-to-eight percent above their market. That's because a superior CX earns stronger loyalty with consumers.
That means your business can turn customers into promoters with a lifetime value six-to-14 times that of detractors. It proves that loyalty matters. But your business needs to put in the work to earn that loyalty with new customers.
Related: 4 Ways Customer Satisfaction Surveys Enhance Review Data
Acquiring a new customer can cost more than retaining an existing customer. Improving customer retention by only 5 percent can increase profits anywhere from 25-percent-to-95 percent. On the other hand, losing unhappy customers can be expensive: U.S. companies lose $136.8 billion per year due to avoidable consumer switching. 
This shows that improving your brand's CX is all the more valuable and appealing in 2022. No business is safe from the economic uncertainty that looms over the general business landscape. A potential recession is on the minds of CEOs everywhere. Businesses are taking a closer look at ways they can operate more cost efficiently. More specifically, they are taking a closer look at their own CX.
The CX Problem
When CEOs examine the state of CX inside their own companies, they might not like what they find. According to recently published research by Forrester, CX is getting worse. Using a proprietary research methodology, the research firm revealed scores and rankings for 221 U.S. brands across 13 industries. Forrester says that overall CX quality in the US has fallen back to early-2020 levels, reversing gains made in 2021. Here's a closer look at what Forrester found:
Between 2021 and 2022, the average score dipped from 72.0 to 71.3.

More brands had significant score decreases than increases. 40 brands had a significant score decrease compared to 21 brands that had a significant score increase.

No brand increased its score by 5 or more points. On the other hand, six brands decreased their scores by between 5 and 10 points.

Nineteen percent of brands in the year through April 2022 saw their customer experience rating fall. This was the highest proportion to drop in one year since the inception of the current CX Index methodology in 2016. 
So, why did the CX scores drop? Forrester's Pete Jacques, co-author of 2022 The US Customer Experience Index, told The Wall Street Journal that the drop came down to problems that have impacted businesses since the pandemic. Some of the more significant problems he referred to included chronic labor shortages and the supply chain crisis.
Those issues are quickly starting to catch up to CX and negatively impacting businesses across all industries. Supply chain disruptions mean fewer everyday products available and lengthy delays to buy expensive purchases such as vehicles. A labor shortage means fewer employees such as store associates and desk clerks available to respond to customers. 
Related: How to Report on the Digital Customer Experience
As a result, just about every industry is affected. Jacques said that auto manufacturers that have been rocked by supply-chain shortages. Also, airlines and hotels trying to restabilize staffing levels also saw their industry averages drop by a significant amount. Because of that, consumers are losing patience.
Why the CX Problem Matters 
Our research suggests that companies need to pay attention to the drop in CX scores for another crucial reason — consumers talk about their experiences in ratings and reviews. The State of the Feedback Economy in 2022 stresses customer feedback is important in the effort to improve the experience for consumers.
To put that into perspective, take a look at how important consumers across all industries consider reviews to be.
In the retail

industry,

90% of consumers read a review before making a purchase

72% of retail consumers read multiple reviews

80% of automotive consumers say reviews are important when selecting a dealership.

64% of automotive consumers will travel more than 20 miles to visit a top-rated dealership. 
We also examined review volumes and sentiment over a one-year period in automotive, healthcare, retail, and property management. We found that review volumes and average star ratings fluctuated and then evened out year over year. We saw mixed results among industries — healthcare volume increased and retail decreased.
Related: The Rise of the Feedback Economy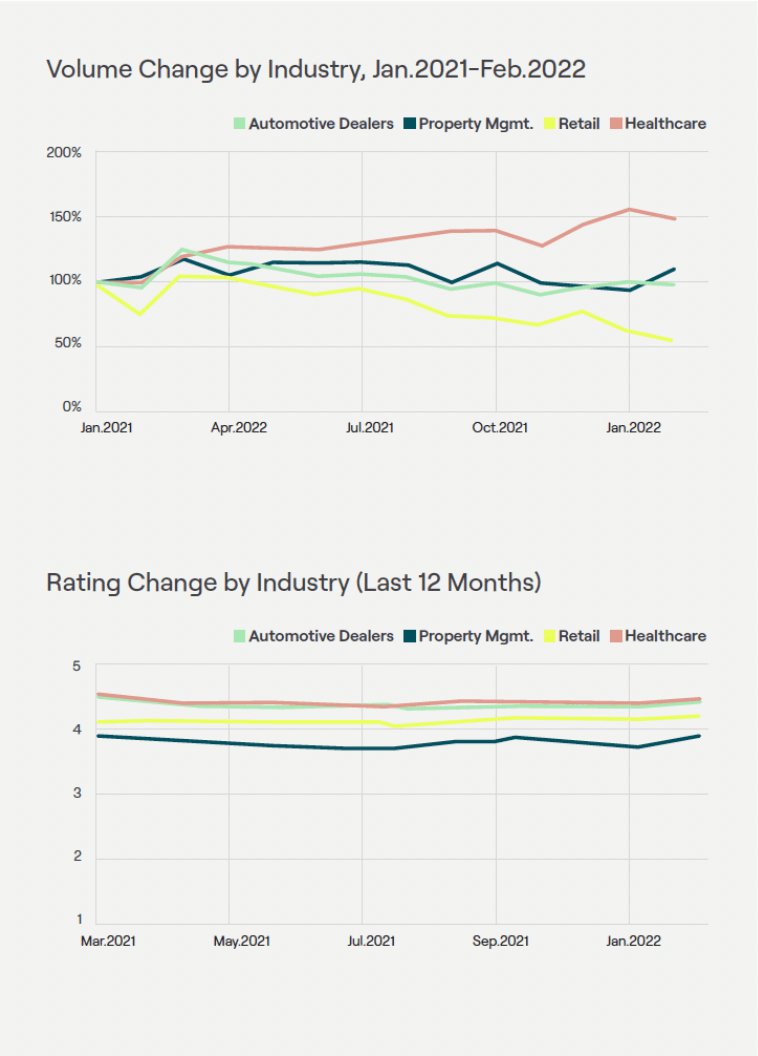 Customers' expectations and opinions of front-line employees declined throughout 2021 before improving somewhat to even out year over year. But sentiment about retail store associates dipped year over year. Sentiment about automotive staff was the highest; sentiment about retail store associates was the lowest. Our findings suggest that businesses need to ask for more reviews and listen to them to improve sentiment.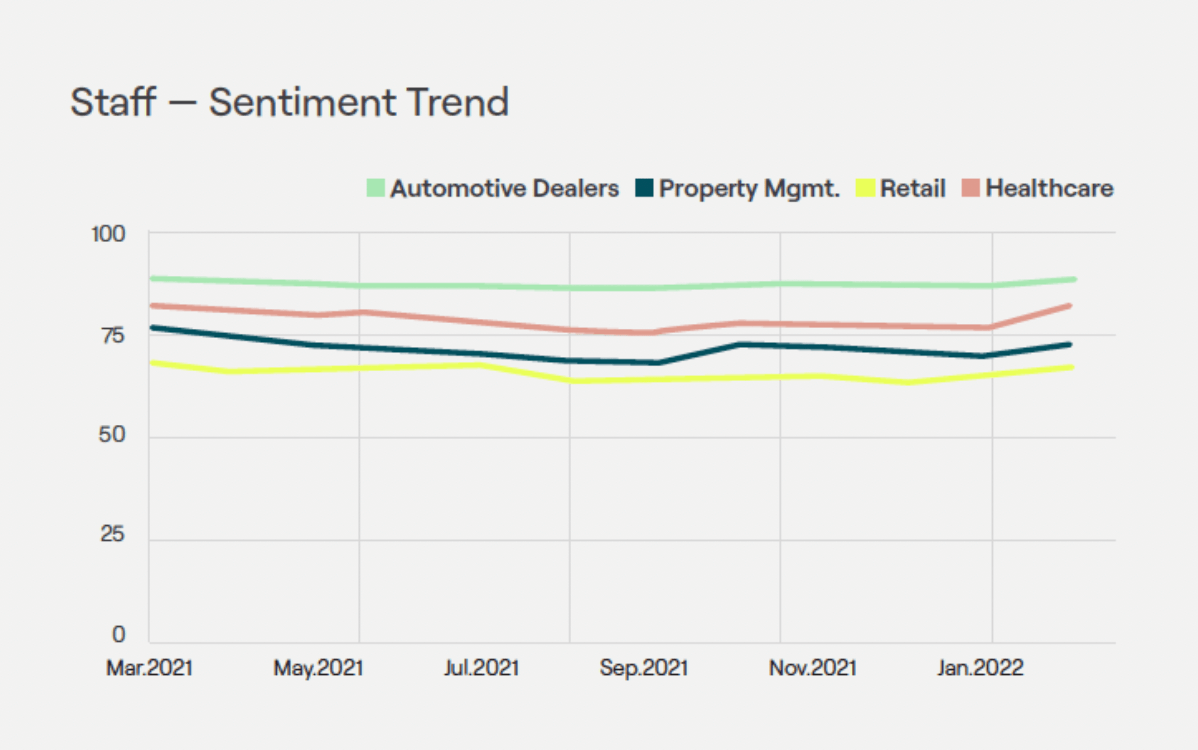 Customer reviews do more than affect the reputation of a business — they provide businesses with crucial insight to get better. Businesses often look at reviews as either a boost to their credibility or a fire to extinguish. To be sure, businesses should share positive reviews and address negative reviews. 
But they should go beyond the immediate consequences of reviews. Brands need to look to their long-term value as useful data to improve the business. Reviews offer clues as to how industries can improve by addressing the major drivers of negative sentiment. Our guide broke out the main drivers of negative sentiment for the following industries:
Automotive – The price of a car

Healthcare — Quality of services provided by administrative staff and emergency room wait times

Retail — Price,

limited inventory

, and service provided by store associates

Property management — Service of rental office and quality of residences
Asking for reviews is a great way to begin to address these issues. That's because they provide an immediate and ongoing complement to the feedback that businesses collect through formal customer experience surveys. Also, reviews that flourish on public sites such as Facebook and Google Business Profiles give businesses real-time CX feedback. 
Related: 10 Tips for Creating a Great Customer Experience Programme
When businesses use the right technology platform to collect that data, they can better monitor crucial customer feedback. That way, they can make improvements faster than their competitors can. Plus, they can improve before problems at a location mushroom into bigger ones. That means that businesses with multiple locations can transfer best practices from one location to the next. 
What Businesses Should Do
So, what should businesses do in order to improve their CX with public reviews and ratings? We suggest:
Take a systematic approach to setting up a CX program

. A consistently great CX requires a program geared toward gathering customer feedback and learning from it. This should include:

A mechanism for formally asking for and collecting customer feedback

A platform to collect public feedback

Analytics to analyze and report on customer feedback about products or services your business provides

Metrics measuring customer satisfaction. 

Centralize CX data.

It's crucial that businesses consolidate CX data into a single view to accommodate public data. This means investing in a single automated platform to collect, house, and report public and private data. That will ensure your business has the most complete picture of customer feedback. Funnel those insights to all customer-facing employees so that improvements can be made quickly. Residential property management company Cortland consolidated feedback from residents in one place in order to be more responsive to reviews. After switching to the Reputation platform, Cortland saw a 2X jump in review volume, 21 percent increase in its review response rate, and a 4.0+ average star rating.
Reputation can help your brand drastically improve your CX.
Contact us
to learn more.