How Product Shortages Affect Retailers' Reputations
David J. Deal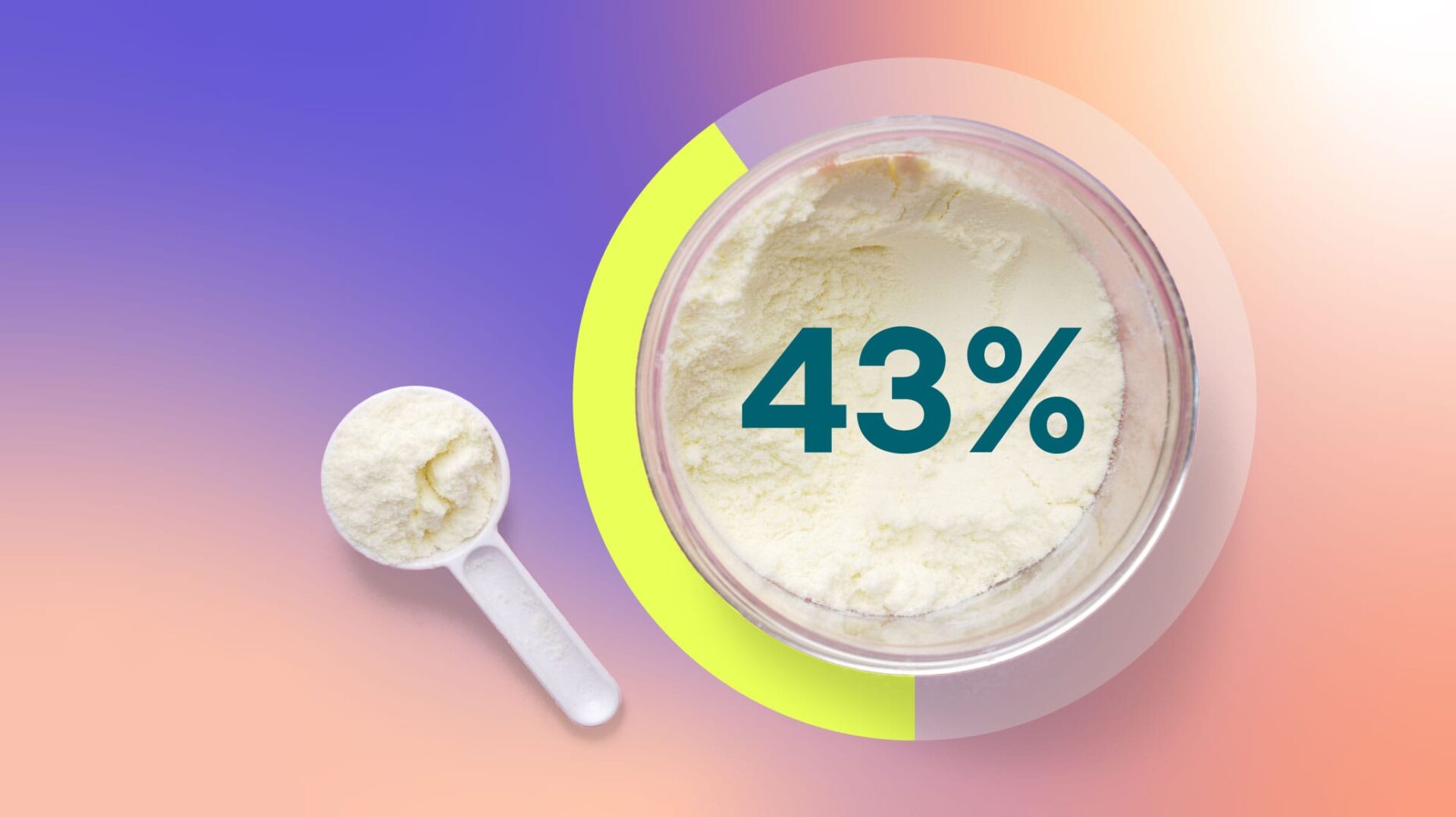 How Product Shortages Affect Retailers' Reputations
No retailer is safe from product shortages anymore. An ongoing global supply chain crisis, disruptions caused by surges in COVID-19, and occasional panic buying continue to vex the industry. As a result, retailers and their customers are enduring shortages ranging from sunflower oil to potatoes. These shortages challenge retailers to manage expectations of shoppers who are already concerned over inflation. A case in point— the baby formula shortage.
The Baby Formula Shortage Explained
Parents who rely on baby formula are grappling with an alarming problem: 43 percent of baby formula is out of stock at retailers. Parents are traveling to other cities in search of stores with available formula and joining online communities to share formula, among other measures. 
A number of factors are causing the problem. They include a supply chain disruption caused by the COVID-19 pandemic, panic buying from parents who began to stockpile baby formula in 2021, and a recall at major US baby formula supplier Abbott Nutrition. At the time of writing this article, Abbott recently reopened a plant affected by the recall. However, it will take some time before more formula hits retail shelves.
Those factors are not unique to the baby formula industry. The supply chain crisis, surges in COVID-19, panic buying, and unexpected events continue to rear their heads to disrupt the U.S. economy. For example, the war in Ukraine now threatens the global supply of wheat. Let's take a look at how retailers can and are managing their reputations amid the baby formula shortage. These tips are instructive for other shortages happening now and in the future:
How Retailers Can Manage Expectations During the Baby Formula Shortage
First, a bit of context: retailers are restricting how much formula a customer can buy at one time, both in-store and online. The situation puts retailers in a tough spot. It's one thing to restrict the sale of cleaning wipes and hand sanitizer during a shortage of those products, but baby formula is an essential purchase. Understandably, it's frustrating and downright scary for shoppers to encounter bare shelves or restrictions on their purchases of baby formula. 
Related: The Facebook Outage: How to Manage a Large Scale Crisis
And shoppers are not shy about venting, as these tweets show:
@WalmartInc @Walmart
I have two babies, yet you wouldn't honor your 5 per child per customer signs. #formulashortage #babyformula pic.twitter.com/ys7flpJWK5

— Blackmage (@BlackMage1979) May 18, 2022
This #babyformula #shortage is no joke #target #baby #formula #babyfood #supplychain pic.twitter.com/58w2kFkTEq

— Richard Yoo (@richardyoo) May 18, 2022
How can retailers manage their reputations amid the shortage? Here are some tips:
Be Transparent about Product Availability Online
Shoppers are likely searching online and buying as much baby formula as they can because it's quicker than driving from store to store. Others are relying on websites to see what's in stock before they visit a store. This is a common behavior with all shortages. Whether a store is running low on baby formula or paper towels, it's important that retailers manage expectations with accurate information to help them with their search, as Kroger does by specifying whether a product is in stock and whether purchase restrictions apply: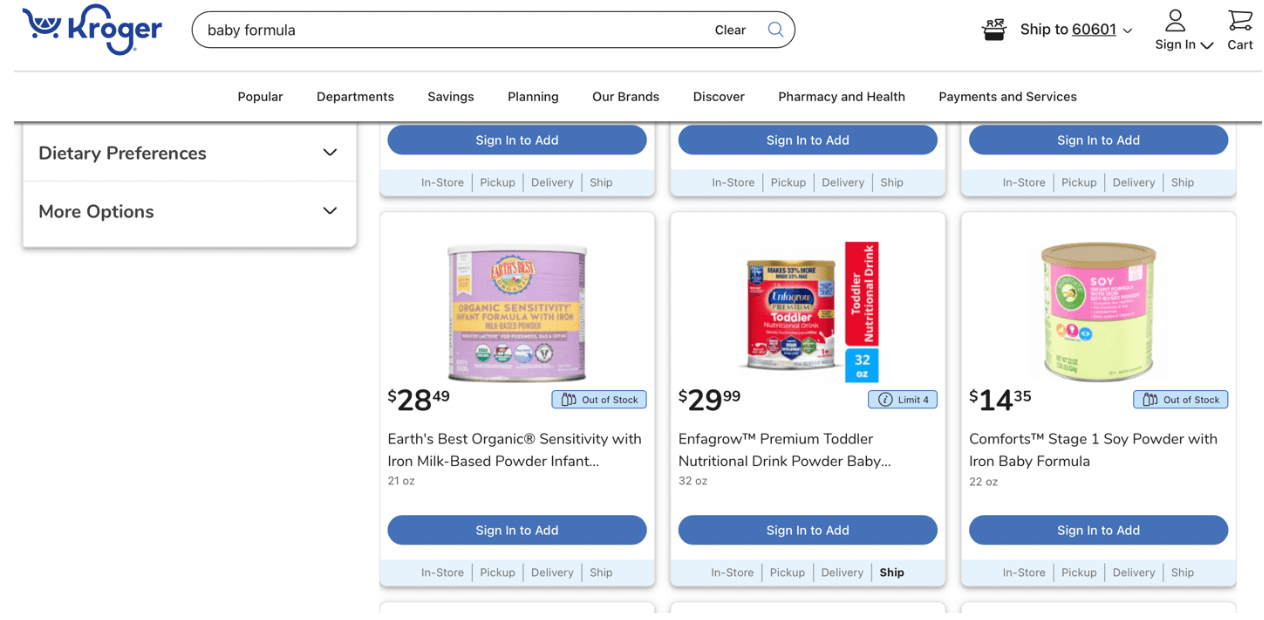 To be sure, "out of stock" messages are frustrating, but it's even more annoying and upsetting if a customer wastes a trip by driving to a store only to learn that a product they need is out of stock. 
Put Google Business Profiles to Work
When people perform a "near me" search for any product, it's likely that Google Business Profiles for different retailers' locations will appear high in search results. That's because Google Business Profiles are especially visible in Google Search. This situation certainly applies to the baby formula shortage. Retailers should put their Profiles to work by:
Updating their content to highlight highly in-demand products that are currently in stock. For example, the Chicago-area Walgreens below wisely included in-stock baby formula in its product carousel: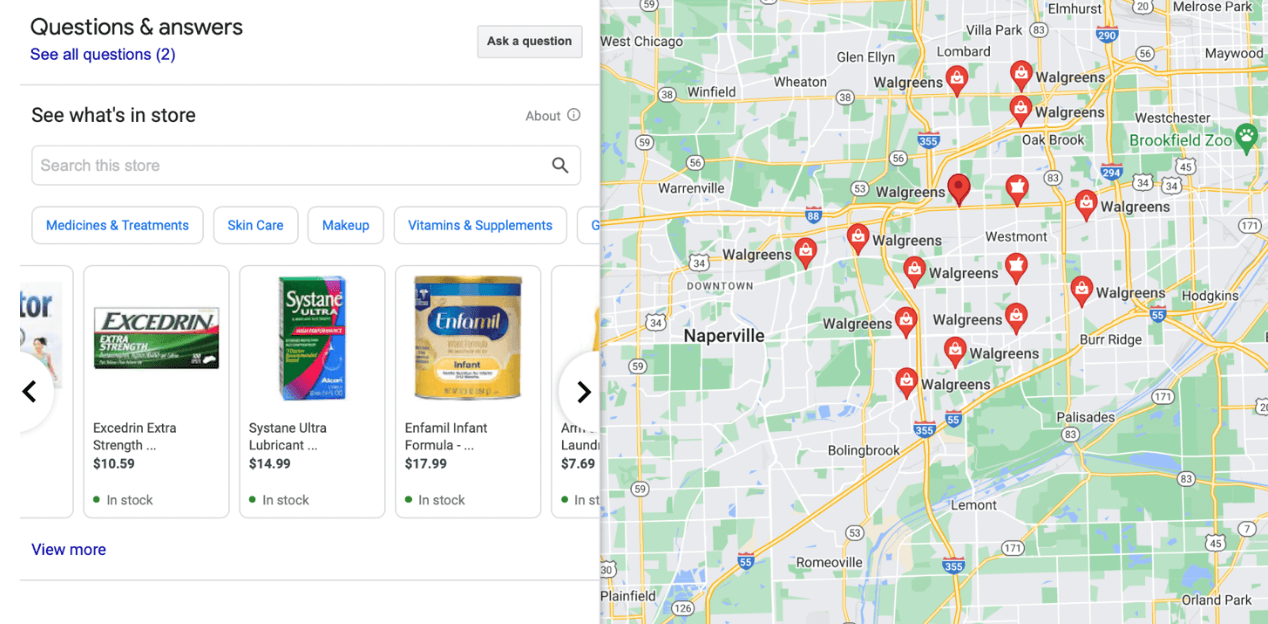 Provide any updates on product restrictions and why they are happening. For instance, a retailer might use a Profile's Q&A feature to answer commonly asked questions from customers. 
Advertise Carefully
Paid media can be effective to capture searches for baby formula, as the example below shows. In this case, retailers want to steal business from Publix by having their online ads appear in search results for "Publix baby formula"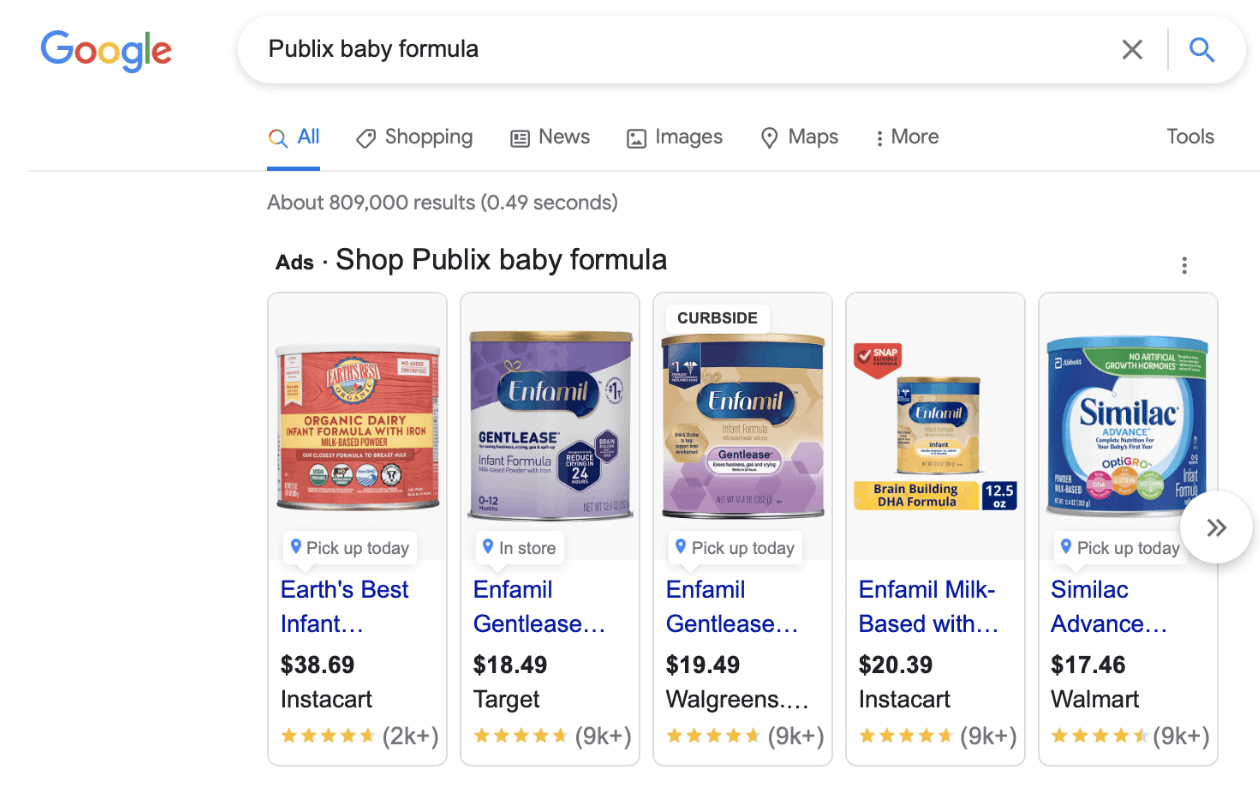 This tactic is great if it means driving traffic to sites where the product in question can be found. But advertising needs to be managed carefully. Spending on advertising during a product shortage can backfire if the ads result in clicks to sites full of "out of stock" messages.
Be Mindful of Customer Reviews and Ratings
Monitor reviews and ratings everywhere they appear: your website, Google Business Profile, Facebook page, and so on. Are customers dinging you because you lack the products they need? Are they accusing you of price gouging? Be ready to respond in an empathetic manner and with facts to dispel emotion. Explain that product restrictions happen because you don't have enough to meet demand and need to help as many shoppers as possible. Point out how your prices compare to the cost of similar products on competitors' shelves.
Related: How to Remove Google Reviews: Management of Bad Feedback
Reviews can also uncover fixable issues. What if one of your stores is charging an exceptionally high price relative to the competition? Use that customer feedback to do a course correction. Or, perhaps a review uncovers a problem unrelated to the shortage, such as unclean washrooms or cluttered aisles. Use that feedback to improve.
Monitor Social Media
When a product shortage occurs, retailers can count on shoppers to vent on social. They also might help each other by pointing out stores that have available products. This kind of feedback gives you a snapshot of real-time customer sentiment about your brand at the national and store level. With regard to the baby formula shortage, we've not yet seen any examples of brands using social media to post updates about the shortage or messages demonstrating empathy. This is an opportunity for stores to show they care about customers and are equally concerned. 
Check in with Your Store Associates
Store associates are on the front lines dealing during product shortages. Check in with them. Do they all have the tools they need to give shoppers real-time updates on product availability at their store and other stores in the area? Do they need any help updating inventory? What kind of mental, emotional, and physical stress are they experiencing as they respond to upset customers? This check-in should be done personally and through employee surveys that measure sentiment. Find out what's on their minds. Be ready to improve the employee experience based on what you hear. 
Contact Reputation
Monitoring social sentiment, managing Google Business Profiles, responding to reviews, and all the other actions that drive reputation is not always easy to do. Many retailers work with Reputation to do all the heavy lifting because our platform, coupled with our people, is designed to manage reputation at scale.