A Business Guide to Reputation Score
Reputation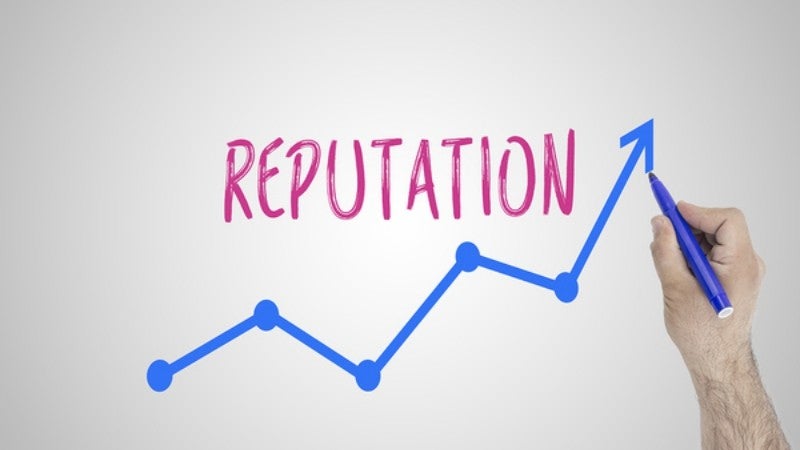 Your customers are always talking — but are you listening?
A good reputation points to a healthy brand, which means you are trustworthy and provide stellar customer experience. A negative reputation? Growth stagnation and revenue loss are inevitable byproducts.
Do you know how your reputation fares? You can't answer this question accurately without access to sophisticated customer data, because your reputation has little to do with your (biased) perception of your brand. Your customers are the ones who drive your reputation, with their online communication. With a few words, they can either bolster it or tear it down.
You have significant control over your reputation — as long as you are monitoring your Reputation Score and using the data to improve your customers' experiences.
What Is a Reputation Score?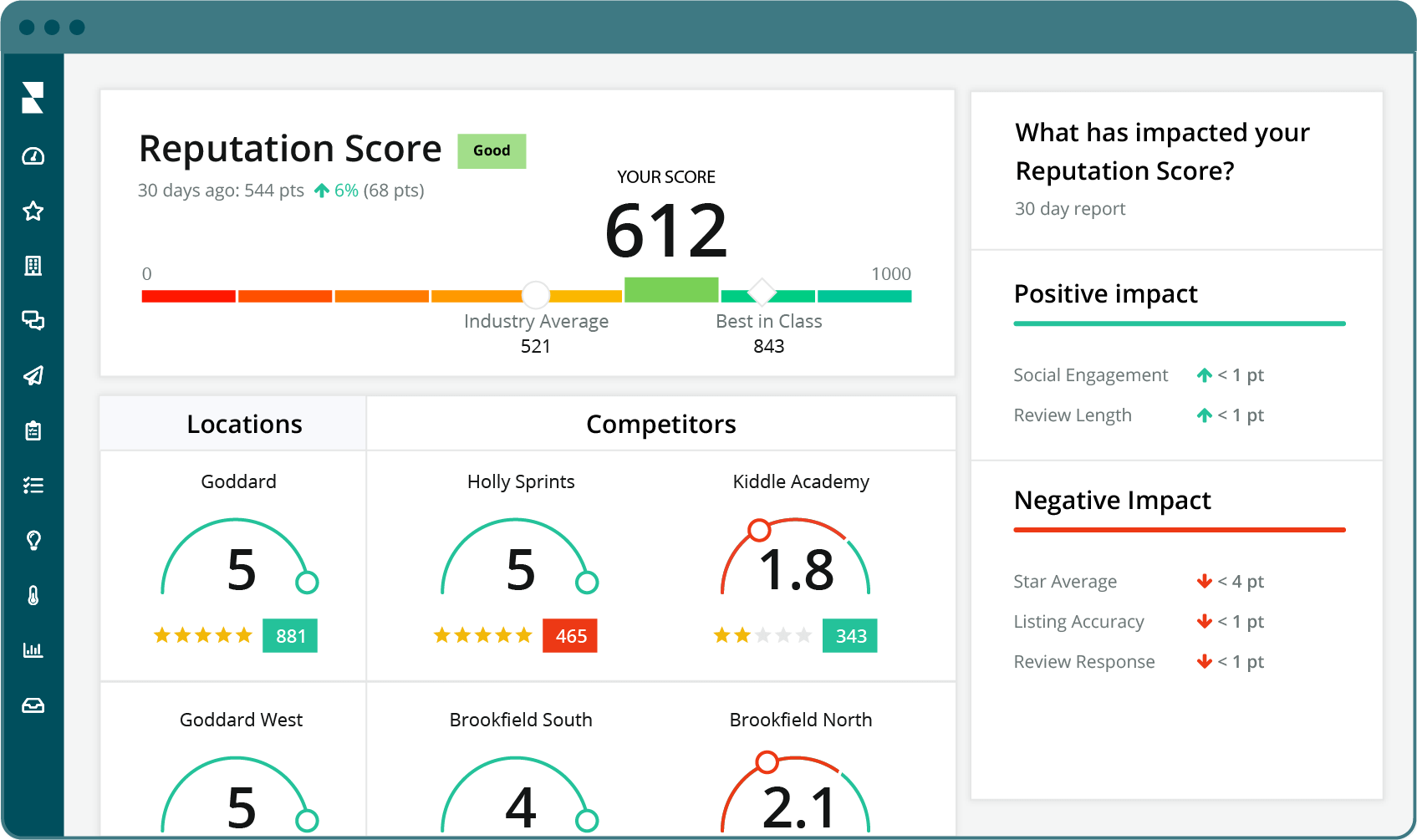 A Reputation Score is a real-time calculation — based on a 1-1,000 point grading system — that measures how your customers perceive your brand.
Your Reputation Score is more than just a badge of honor to wear at your next company-wide meeting. It offers key insights and reveals your strengths and weaknesses across nine unique metrics — data you can leverage to improve your online profile, satisfy your customers and, ideally, exceed their expectations. It also reveals how you fare in search rankings — customer sentiment is a key ranking factor in the local business search index.
How We Calculate Reputation Score: Key Factors
Reputation's industry-leading Reputation Score tool provides an accurate and complete assessment of your position in your market.
It doesn't simply measure social mentions and market cap like other solutions do — these are really just brand or sentiment snapshots. Reputation Score gathers all relevant data and provides a comprehensive view that tells the entire story of your company's online health.
Related: Know Exactly How to Improve Your Brand Reputation with Reputation Score X
Reputation is fully transparent with how we calculate your Reputation Score and evaluate your online reputation. Below are the scoring factors we consider in our calculations.
Reviews
Average Star Ratings
The star rating scale goes from 1 to 5. A strong rating (closer to 5) points to a higher quantity of positive reviews, which suggests a strong dedication to customer service. Negative reviews (or no reviews) will lower your rating and, consequently, cost you customers — 70% of Americans read online reviews and factor them into their purchasing decisions.
Conversely, generating more reviews will help you address a low star rating. For more information on how to generate reviews, download our guide on How Better Customer Reviews Drive Revenue. Prais Dental used our automated review requesting process to generate more reviews and achieved a category-leading reputation score as a result.
Simply checking star ratings, however, doesn't give you a comprehensive picture of your online reputation. For example, you may have hundreds of positive reviews, but if a few months (or even weeks) have lapsed since your last review, it could signal a problem.
Your reviews could be too short to matter, or your company search rankings could have dropped. You should address these issues promptly, so  they don't stunt your business growth and revenue. This is why we also monitor additional factors such as review volume, recency, spread and length.
Related: An Introduction to Reputation Score
Volume: The volume represents the total number of reviews (whether positive or negative). The more reviews, the higher your Reputation Score. This metric also directly impacts your local search rankings.
Recency: How recent are your reviews? A constant influx of reviews drives up your score because it shows that you are engaged with your community and actively asking for feedback. Recent reviews also positively impact your local search rankings.
Spread: How many sites do your customers use to post reviews about your business? The more sites (higher spread), the higher your score. The relevancy of the site also plays a role as reviews on industry-specific review sites boost your score (think Healthgrades for doctors).
Length: The longer the review, the higher your Reputation Score, because they offer more detail about how customers view their experience with your brand. A lengthy review also shows a customer cares enough about his experience with your brand to invest time into writing it.
Search impressions refer to how many times people view your brand in the search index. Higher search impressions are directly related to higher rankings — frequently fueled by reviews — and make it easier for customers and prospects to find you. The higher your volume of search impressions, the higher your Reputation Score.
Related: What Factors Influence Reputation Score?
Listing Accuracy
When people search for your company, your local business listing is what they see. This listing includes data such as phone number, company hours, addresses, locations and other information that encourages consumers to take action and engage with your company. Accurate listings make it easier for customers to connect with you, which increases lead volume. Inaccuracies and incomplete data lead to searcher frustration, which can drive them to your competition. These data issues lower your Reputation Score and negatively affect your visibility, traffic and revenue.
Boost Your Reputation, Grow Your Business
Your consumers are the main act in your business growth play. They shape your brand just as much as you do (if not more).
Your customers will never stop talking about you online, so it's best to have a hand in managing the situation and staying on top of the communication. And while you may not have direct control over what customers say or do online, by using the insights from your Reputation Score, you can proactively get ahead of the chatter to mitigate customer issues, bolster your reputation and turn satisfied customers into loyal brand advocates.
Concerned about your online reputation and your brand's health? Check out our free guide "What is Online Reputation Management?".