Optimize Customer Experience with Insights from Online Reviews
Reputation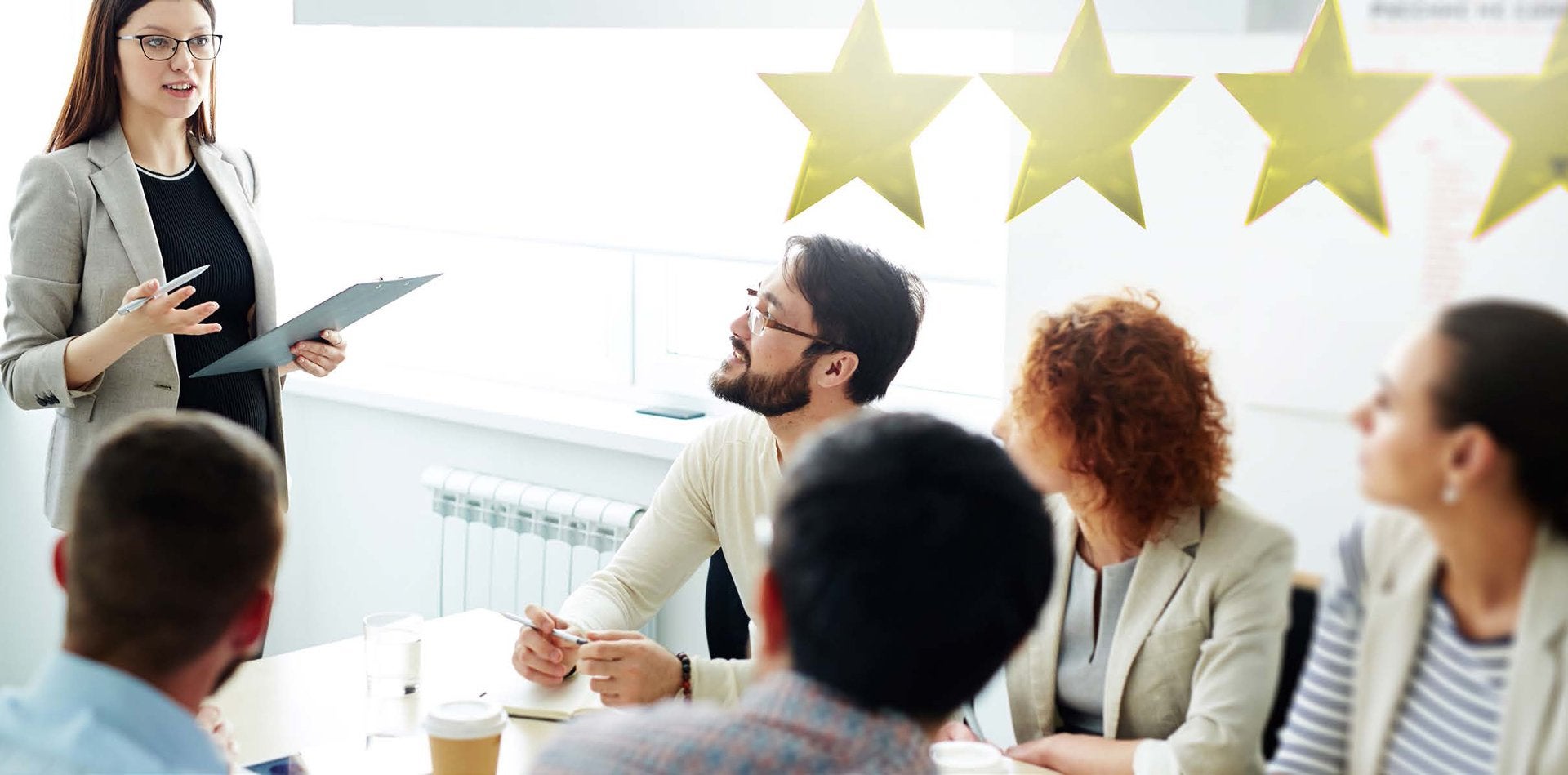 Overview
Top-performing companies continuously look for ways to improve customer experience. It goes without saying that this requires paying attention to feedback from customers, clients, employees, suppliers, vendors and stakeholders. Employee engagement is also essential.
A growing body of research confirms the link between employee engagement and customer experience. For example, Temkin Group's Employee Engagement Benchmark (2016) surveyed North American organizations with 1,000 employees or more, and found 75 percent of employees at companies with strong customer experience results were highly or moderately engaged, compared to only 49 percent at companies whose customer experience was worse than their competitors.
"About 75 percent of employees at companies with strong customer experience results were highly or moderately engaged, compared to only 49 percent at companies whose customer experience was worse than their competitors."
~ Tempkin Group
The same study also revealed companies with significantly above average customer experience ratings have HR professionals that more frequently collaborate with their operations and customer experience peers.
The tight link between employee engagement and customer experience indicates a need for training that incorporates customer feedback. In this paper, we'll examine some of the ways you can use information customers provide in online reviews, surveys and social channels to enhance employee training and development, and optimize the customer experience. We'll also explain how solid online reputation management (ORM) strategies can help you access the feedback you need to inform your employee training programs.
Employee Development with the Customer in Mind
Sharing what you've learned about your company's strengths and weaknesses during new hire orientation and training, as well as in employee development programs, is essential to maintaining and reinforcing high customer experience standards. It's critical to addressing weaknesses in your workforce as well as continuing to strengthen those areas in which you excel.
For example, a business with numerous locations may find one location is receiving more positive reviews. This is an opportunity for operational improvement. Perhaps whatever that location is doing right can be standardized across all locations. This can lead to an improved reputation across the organization. Such new standards can then become part of new hire training programs, raising the level of customer service at all locations moving forward.
Targeted Training for Teams and Individuals
Online reviews and social posts help uncover performance issues for individual employees, specific teams or locations, so you can address those issues directly with the people involved. Employees may not be aware of mistakes they're making, and the path to better feedback may be as simple as a friendlier greeting or welcoming smile.
Linking CRM systems to customers' social channels can enable you to connect feedback to specific transactions and determine which employee or team was responsible for specific feedback. That way, you can learn whether the review indicates a widespread problem or is specific to one functional area, and you can more easily determine what type of training needs to take place.
"Proactively requesting reviews immediately following interactions with customers helps pinpoint who was responsible for a review."
Proactively requesting reviews immediately following interactions with customers helps pinpoint who was responsible for a review. Customers might not always call out individual employees when giving their feedback. However, organizations can narrow down who came in contact with that customer depending on the time and location of the review. And then they can address the needs of that particular employee or team with targeted training.
Of course, positive feedback can also be linked to individuals this way, enabling incentives and rewards for people who uphold customer service standards.
Enhancing Training with ORM Insights
Effective Online Reputation Management includes systematic processes for requesting and monitoring online reviews, engaging customers via social channels and surveys, and analyzing customer sentiment using "word clouds" and other methods (see Figure 1). ORM platforms can also provide dashboards and reporting to quickly reveal review trends or summarize survey findings.
With this information at their fingertips, Operations and HR teams can tailor training programs and incentives to address shortcomings or reinforce strengths. There are numerous ways to do this, but here are a few ideas:
Use real-world examples: Review your company's philosophy and give real examples of good customer service. This information can be pulled directly from online reviews and social posts, helping to illustrate desired behavior.
Teach using proven tips: Negative reviews may reveal employee actions and behavior that degrade customer experience. Operations and HR can incorporate tips into training materials to steer employees away from damaging behavior.
Role-play common scenarios: Real customer scenarios can be taken from actual customer reviews and used for role-playing exercises in training courses.
Semantic Analysis At-a-Glance

Word clouds like this one from Reputation.com provide a visual representation of all the common review and survey phrases. The size of each word indicates its frequency or importance, and users can click to drill down into different themes.
Essential ORM Strategies for Getting Customer Feedback
Ensure operations and customer experience teams have the information they need to optimize employee training. Make sure your online reputation management platform enables you to perform these essential tasks:
Proactively request reviews: Don't wait for reviews to come in — request them. Leverage SMS technology to request feedback via mobile. Or send out quick surveys and polls over email. Have kiosks in your locations where people can easily fill out a quick review before leaving.
Respond to ALL reviews — quickly: Make sure your online reputation management platform curates reviews from numerous sources. Google, Facebook, directories and industry-specific review sites, alert you when new reviews surface. Some providers offer Review Response as a service, to lighten your workload.
Engage customers through social channels: Stay in touch with your customers and influencers through social channels to create online advocates. That will drive site traffic and get the word out about positive reviews and feedback. You can also use targeted ad placement on social sites to raise awareness about your brand.
Use surveys to gain insight: Surveys gauge how customers experience your products or services, revealing trends and areas of concern. Send out brief, readily accessible surveys that can be submitted via tablets, mobile apps or online forms. Look for an online reputation management platform with reporting capabilities for sharing insights and statistics gleaned from surveys, to support your training activities.
It's All Good
Don't forget to share the good along with the bad. Sharing positive reviews boosts staff morale and employee satisfaction. Positive customer reviews demonstrate to employees their actions have a beneficial impact on the lives of their customers. And that can be very motivating.
You can spread the word about a positive review in numerous ways — hanging it up in the break room, sending out a team-wide or company email or calling out the employee during a team meeting. Acknowledging a person or team for positive reviews sets the bar higher for others. And it provides incentive to continue to provide excellent service.
Also remember that negative reviews present great opportunities to demonstrate how your organization responds to customer concerns and solves problems.