How to Get Healthcare Teams On-board with Online Reputation Management
Reputation

Introduction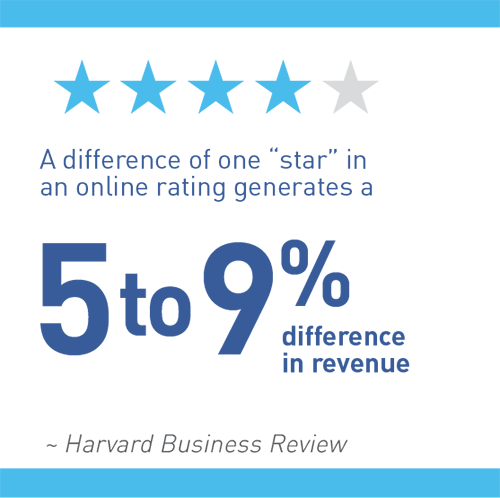 Managing reviews and social commentary across the web is increasingly essential to your organization's success, as more and more healthcare seekers turn to online reviews and social media for information.
In this eBook, we'll explore the importance of building internal partnerships to simplify and speed the implementation of an effective Online Reputation Management (ORM) program across your organization.
Why Do You Need Online Reputation Management?
The benefits of ORM for healthcare organizations are numerous:
Responding to online reviews and social comments builds your online presence and raises awareness about your quality of care.
Automating business listings management (for example, how your doctors and locations appear on search engines) saves time and money, and ensures patients can find you easily.
Feedback from current and past patients can help your organization improve the patient experience.
Analyzing patient sentiment in reviews and social media can uncover the need for service, facility and operational improvements.
The importance of managing your online reputation can't be underestimated. According to SoftwareAdvice, nearly 80 percent of consumers report using online reviews as a first step to seeking a provider, while 16 percent use them to validate the choice of a doctor they've chosen.
[widgetkit id="261″]
Consumers have choice, and are more involved in decision making around their healthcare. They'll choose a provider who is strongly endorsed by patients, and has a strong and favorable online presence. And as healthcare seekers turn to the web for information, advice and recommendations, only health systems and physicians who implement ORM will continue to be competitive.
Who's in Charge of Online Reputation Management?
ORM initiatives are usually spearheaded by a health system's marketing or communications teams. Although they're experienced in social media strategies and creating consumer-facing websites, they frequently have limited direct interaction with patients or the operational and clinical side of the organization.
So, while they're trained in HIPAA compliance, healthcare marketers don't live and breathe it like clinicians do. They may be worried about making mistakes when communicating with patients online. Some health systems may forbid them from communicating with patients online at all.
Setting up key internal partnerships eases this worry. Marketing can act as the front door for patient feedback, but they must partner with other internal teams who can take action on patient feedback to facilitate improvements to the patient experience.
Key Partnerships
Depending on what aspects of the ORM platform you're implementing, partnerships with the following stakeholders are essential for launching a successful ORM program in your hospital or clinic:
Operations/Patient Experience Teams
Operations leaders are the guardians of patient experience and typically maintain close working relationships with front line staff. They're responsible for ensuring clinical care is delivered in an efficient and effective way. They also have insight into locations' physical space in terms of its layout, cleanliness, parking, signage and so on.
Other members of this group include patient representatives who may act as mediators or liaisons between patients and medical providers. These employees deal directly with patients, understand their concerns and have processes in place for responding to and addressing patient feedback.
A robust ORM platform can help identify trends and recurring issues that point to problem areas, whether about the physical space at a location, wait times, staff friendliness or other factors that influence the patient experience. As the first line of defense, marketing can capture this information, then pass on feedback to operations staff, who can then initiate changes and improvements.
Legal and Compliance
Although ORM platforms often provide request and response templates, those templates should be customized for various scenarios. Best practice is to ask your legal team to review the templates before launching an ORM program.
Involve legal from day one to ensure all request and response templates are HIPAA-compliant and void of Protected Healthcare Information (PHI), and that they reflect the organization's legal views and interpretations.
A Physician Champion
In many organizations, it's extremely helpful to have one of your physician leaders be an advocate for ORM and for the reasons reviews management is increasingly more critical to the success of an organization. This doctor should be a respected leader in the organization, one who understands the future of healthcare and one who can help lead transformational efforts.
Your physician champion can help ease the tension between the teams implementing ORM and the physicians who may be resisting it. Provide talking points and data to support why ORM is a necessity and meet with this physician regularly so you can have conversations about barriers and how to overcome them together.
Defining Roles and Responsibilities
Once you have identified and established key partnerships, determine the following:
Who is responsible for which aspect of review monitoring and responding.  At many organizations, the marketing or social media team takes the lead on monitoring new reviews, passing reviews along to operations staff and responding to reviews. A robust ORM program will make review monitoring and responding a simple, turnkey process. When a new review appears on the social web, an email alert is sent to the designated review responders. The review can be shared and assigned to the appropriate person in operations, and a pre-loaded, pre-approved response can be chosen from a drop-down menu.
Who will take the lead on using patient feedback to make operational improvements. Typically the operations team handles this task. Operations staff have strong relationships with other departments that interact with and contribute to the success of your patient's experience — nursing, food services, housekeeping and billing, to name a few.
Who will report on progress and results. It's important to disseminate your ORM findings to key stakeholders. Appoint one individual or team to be responsible for this task.
To eliminate concern about exposing sensitive patient information via email or other communications, choose an ORM solution that allows you to:
Assign multiple users.
Assign tasks and reviews to specific people within the platform.
Track the progress of review monitoring and responding.
Alert people to a new review or assignment via email, while keeping all review details and PHI within the platform.
Gather Actionable Insights
A comprehensive ORM platform arms health systems with effective tools for gaining operational insights from online reviews, so they can identify trends in patient feedback, and create and share useful reports with leadership.
Word clouds, for example, provide a dramatic visual of the words most frequently found in your organizations' online reviews. You can drill down by clicking on a word to read the full text of the online reviews containing that word. Such insight enables you to pinpoint the root cause of its negative online reviews and take action to fix the problem.
Taking it a step further, competitive benchmarking tools such as Reputation.com's tornado chart provide a more holistic view of patient sentiment and a deeper understanding of how a system is performing relative to competitors. A tornado chart identifies key components of the patient experience in the free text patients provide in reviews, and breaks that data into key categories you can benchmark and analyze to improve performance.
Handing off actionable insights to operations teams helps elevate the patient experience. It puts into motion a virtuous cycle — one in which happier patients feel compelled to leave more positive reviews. Ultimately, this results in new admissions and appointments, and the opportunity to provide exceptional patient care to more consumers.
Get Started with ORM
Implementing an ORM strategy and platform opens up opportunities to develop strong organizational partnerships and help improve the overall patient experience your organization delivers. Learn more by watching one of our demos, or contact us to discuss how Reputation.com can help you successfully implement Online Reputation Management across your organization.