Effective Online Reputation Management for Senior Living Facilities
Adam Dorfman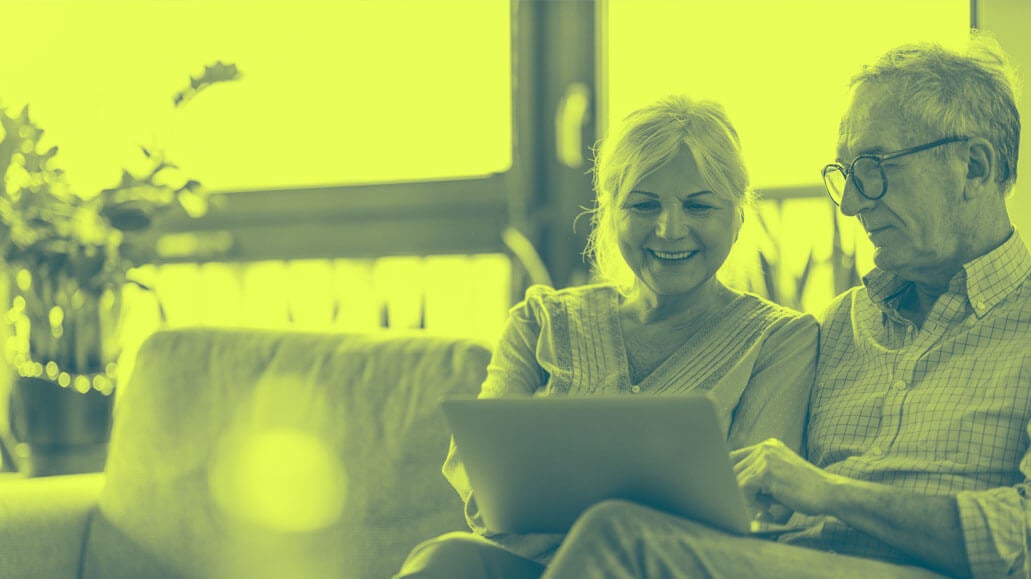 The Market for Senior Living is Heating Up
Demand for senior living facilities and communities has been increasing steadily over the past five years, and growth in the industry is not likely to slow down.
As Baby Boomers age, demand will continue to rise. According to 2017 U.S. Census data, there are approximately 47 million seniors in the U.S. By the year 2030, the entire Baby Boom generation will be over 65, making up 21% of the population.
Today in the U.S., 30,200 assisted living communities compete for business — and that number is growing to meet increasing demand. From 2014 to 2019, the senior living facility industry has grown 3.8% annually. With more facilities competing for business, residents and their families will have many more choices — and attracting business will come down to brand awareness, reputation and resident experience.
In this ebook, we will explore:
The impact of online reputation on a senior living facility's ability to attract and convert new business.
Steps to take to optimize your facility's online presence.
How to leverage data from online reviews and social commentary to improve the care, service and accommodations you deliver.

Using Reputation Management strategies, senior living facilities can help people make the right decision for their loved ones.
Why Your Online Reputation Matters
The importance of managing your online reputation can't be underestimated.
In addition to personal recommendations, a facility's online presence and reputation are the most critical factors influencing people's choices for senior living. Facilities that showcase reviews and star ratings from current and past residents and families — alongside amenities and caregiving services — give families the information that they need to feel confident about their decision, and have peace of mind that their loved one will be happy with the choice.
Strengthening online reputation helps seniors find and choose your community. The stronger your online reputation, the better your website will perform in search engine rankings, enabling prospective residents and their families to find you, learn about your facility and schedule a visit.
Telling Your Story
Let's consider some of the challenges you must face as you build your facility's online presence.
For most, choosing a senior living facility represents a considerable expense and often involves emotionally charged decision-making. A facility's marketing team must become adept at telling the facility's story — what it's like to live in the facility and what newcomers can expect.
Prospective residents and their families want to know about the range of care options offered, your relationship with other facilities and hospitals, various care modalities and other accommodations. These are all critical aspects of your reputation and should be prominent on your Google My Business (GMB) listing and website.
However, simply showcasing amenities and services is no longer enough — families and future residents want to hear from existing residents about how they enjoy living there.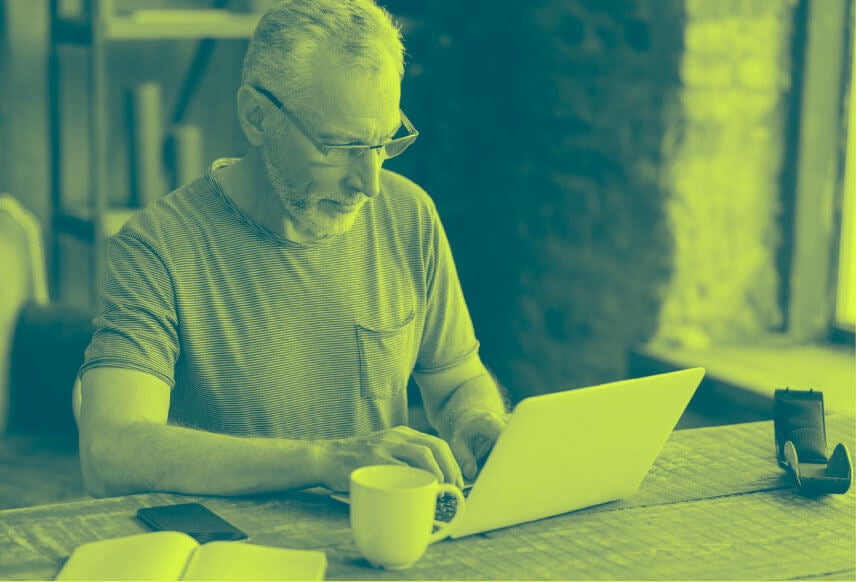 With more facilities competing for residents, what used to be attractive amenities are becoming table stakes. The only real differentiator today is experience.
Consider Your Audience
Your primary audience is the family of a potential resident.
Most of the time, residents aren't researching a senior living facility. Often, it is the adult children of your prospective residents who are looking into options rather than seniors themselves.
As a result, marketing your senior living community must also address the emotional impact of the event on a family. Consider that sometimes, the decision for assisted living has to be made rapidly, and the individuals researching your facility may be grappling with finding funds, moving their loved one's possessions and communicating the change with other family members. The more information you can provide, the better — it can help speed decision-making and take some of the pressure off.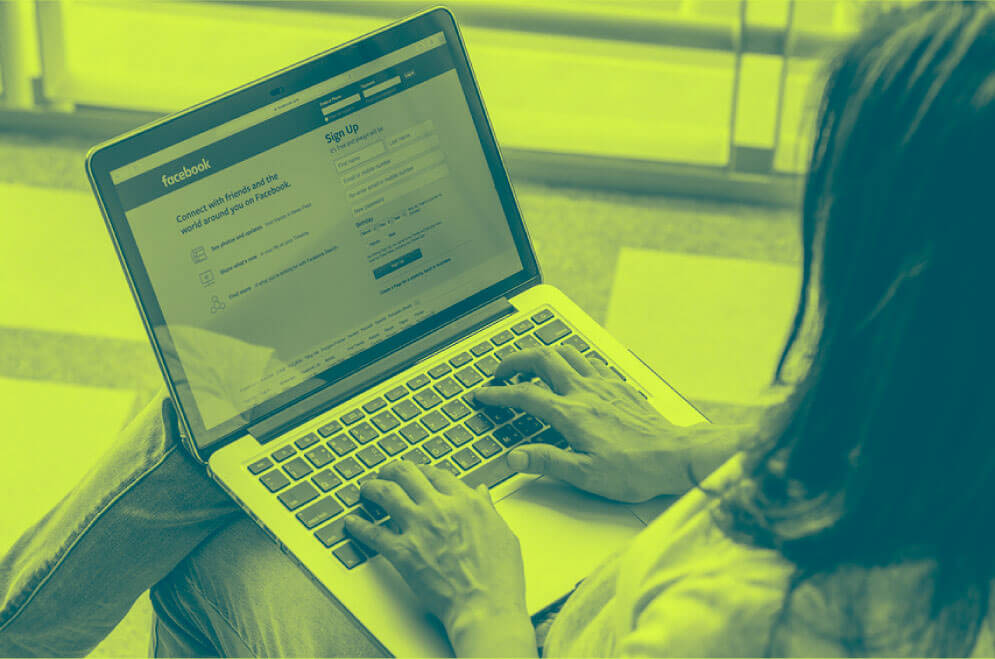 Ideally, you want to provide enough information on your Google My Business and other third-party sites for prospective residents and their family to book a visit.
Build and Optimize Your Online Reputation
Optimizing your online presence for families and future residents requires a focus on the key elements of online reputation management: Online reviews, business listings, customer satisfaction surveys and social media management.
Online Reviews
Online reviews from current residents and their families are perhaps the most important factor in setting your facility apart from competitors.
Reviews can offer a positive first impression and validate an in-person referral or recommendation. Seniors and their families use Google, Caring.com, and other directories and social media platforms like Facebook to learn about senior living options. The more reviews your facility has on these channels, the more accurately your overall ratings will reflect the great service and living experience you provide.
Encourage customer reviews by asking residents and their family members for them, and by making the process of leaving a review easy. A Reputation Management platform can help you ask for reviews via email, text message or in-office tablets and make sure you're represented equally across all leading review sites.
Also, some Reputation Management platforms enable you to stream reviews right to your facility website. Doing so shows a commitment to transparency, and a steady stream of reviews helps boost your site's search engine ranking, so more people will find and visit your website.
OF AMERICANS TRUST ONLINE
REVIEWS TO HELP THEM CHOOSE AMONG LOCAL BUSINESSES OR SERVICES.
When Emotions Run High, Experience Matters More
The heightened emotional nature of a bad or good experience in this industry can increase the likelihood of people leaving reviews. While you can't prevent them, how you handle negative reviews is extremely important. Having a strategy for doing so ensures that no negative reviews go without response, and that you don't let emotions override your professionalism. Respond promptly and offer to talk to the reviewer one-on-one offline, ensuring you comply with all HIPAA laws.
The right response to a negative review can turn the experience around for the person who left the review, or even strengthen customer loyalty. The overwhelming majority of unhappy customers will return to a business if their issue is resolved quickly and efficiently. Furthermore, consumers sometimes remove their negative reviews after having their issue addressed courteously and professionally.
Business Listings
Help seniors find and choose your community.
Your business listings on third party sites such as Google, Apple Maps and Bing are the virtual doorway to your facility and have the power to attract new residents and their families — or send them to a competitor. Any incorrect location information can leave a bad impression and impact a family's or resident's experience before they ever enter your facility. That's why ensuring your listings are accurate and complete is critical.
Follow these steps to ensure your listings are helping families and seniors find and choose your facility:
Claim, audit and update your business listings. Make it easy for people to locate and contact your facility by ensuring they have the right information such as address, phone number and website. An Online Reputation Management platform can automatically audit your listings across search, maps and business directories for accuracy.
Select the right categories. If you don't choose categories most relevant to your business, you'll limit your location's visibility — and you might not display on the results page at all. Select appropriate categories such as "assisted living facility" or "senior citizen center" for each location you have listed.
Add photos, videos and other content. Seniors and their families are looking online for clues to your facility's culture and environment. Photos and videos go a long way toward communicating what words can't and will give them a feel for what it's like to live in your community.
Add credibility with reviews. Many sites, such as Google, include review snippets with your location listings. Be sure those sites have enough online reviews to accurately reflect the experience you deliver. A large volume of recent reviews also help your listings rank higher in search results.
START WITH GOOGLE.
THE MAJORITY —
— OF INTERNET SEARCHES ARE
COMPLETED ON THIS LEADING SEARCH ENGINE.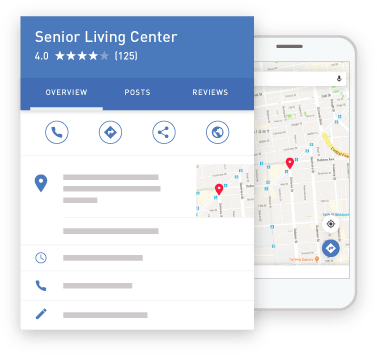 Join the Conversation on Social Media
Keep a pulse on customer sentiment across major review sites such as Google, Facebook and industry-specific sites, and weigh in with valuable guidance.
A strong social presence has numerous benefits:
Increased Brand Awareness: Social media is a cost-efficient method of increasing the visibility of your brand, enabling you to engage with a broad audience of potential residents and their families.
More Inbound Traffic: Social media channels serve as gateways to your website and content, driving leads and actions such as clicks to call or click-throughs to your website.
Improved Search Engine Rankings: Promoting your content on social media can generate authentic, high-quality links to your website from influencers, increasing site authority — an important ranking factor in Google's search algorithms.
Brand Loyalty: One-to-one interaction with customers and more immediate response to their concerns via social demonstrates your dedication to improving customer experience, builds trust with your audience, and humanizes your brand.
LIKELY TO RECOMMEND A BRAND TO OTHERS IF THEY HAVE A POSITIVE EXPERIENCE WITH IT ON SOCIAL MEDIA.
Be Proactive about Maintaining Your Social Media Presence
Real-time monitoring and responding to online feedback is essential to identifying problems and resolving them quickly, before they have a negative impact on your brand and your ability to attract residents. Practice these activities:
Engage with the community and individuals who express interest in your facility.
Build community by sharing relevant content and news about your facility.
Promote your brand with tactful social advertising.
Act on Insights from Customer Feedback
Improve the resident experience with customer experience surveys.
Surveys are a way of efficiently gathering candid feedback from residents and families to help inform staff training and elevate the resident experience. You can use surveys to inform staff training, streamline administration and facilities management, and deliver an exceptional experience to your residents.
Analyzing survey responses helps to identify and act quickly on any problem areas and standardize on what's working across your facility.
When conducting resident surveys, consider the following:
Keep surveys short and to the point. Make sure each question is easy to understand and only asks one thing. This will improve completion rates.
Include one or two open-ended questions. Open-ended questions are designed to elicit an opinion that is written in the respondents' own words, and they can be a great source of testimonials to use on your website or in social media. Negative comments alert you to issues before your customers complain online.
Use multiple platforms. Sending surveys by email has been the norm, but other platforms can increase engagement. SMS-based surveys are immediate, actionable and engaging. On mobile, surveys can be tailored to ask different questions depending on customer responses, making the experience highly conversational and customized.
Integrate surveys with reviews. Surveys provide an ideal platform for requesting online reviews. Follow surveys with a quick text asking for a review. Include a link to the review site to make it fast and easy for the recipient.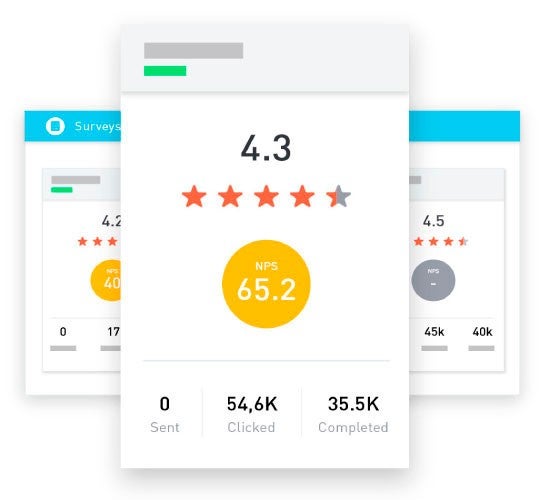 Take a Holistic Approach to Reputation Management
More options in senior living facilities are available, so it's more important than ever for facilities to optimize and continue to focus on their online reputation. Reputation Management can help your senior living facility succeed in this highly competitive market by streamlining these key activities:
Build review volume to increase overall ratings and rank higher in search.
Automate business listings management to save time and money, and ensure patients can find you easily.
Respond to online reviews and social comments to improve your online presence and raise awareness about your quality of care.
Leverage feedback from current and past residents to improve the resident experience, and better serve their needs.
Analyze customer sentiment in reviews and social media to gain insights about your facility's strengths and weaknesses, pinpoint potential issues and take immediate action.
Reputation.com offers the most comprehensive suite of tools and services for building and maintaining the strongest online reputation, helping clients reach the top of search engine rankings while improving review ratings and generally raising their online profile.
For more information, visit https://www.reputation.com/ industries/senior-living/