Using Technology to Achieve an 'Outstanding' CQC Rating
Paul Modaley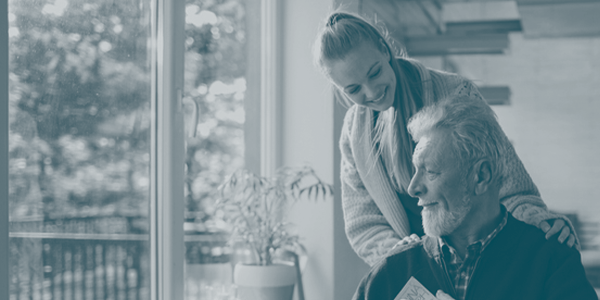 The UK's health and social care providers are under pressure like never before. Amongst these pressures are scrutiny and inspection from regulatory bodies such as the Care Quality Commission (CQC), Care and Social Services Inspectorate Wales, or Scotland's Care Inspectorate.
The CQC, whose Fundamental Standards framework outlines the standards which English health and social care providers must demonstrate, inspects providers to 'make sure health and social care services provide people with safe, effective, compassionate, high-quality care and we encourage care services to improve.'
Naturally, care providers strive to deliver the highest quality of care possible to residents and patients by aiming for continual improvement and reaching for the CQC's 'outstanding' inspection rating. 
At Reputation, we understand the challenges faced by care providers and our technology enables care providers to drive improvements in standards and achieve 'outstanding' CQC ratings.  
The Challenges of CQC Inspection
Meeting and exceeding the Fundamental Standards is demanding. For some care providers, demonstrating robust systems to meet particular aspects of the standards, namely 'Complaints', 'Staffing' and 'Good Governance', may prove particularly tough. 
For example, the standard for 'staffing' demands that health and social care staff 'be given the support, training and supervision they need to help them do their job'. In a busy care setting, identifying training needs and optimising training opportunities could be potentially tricky for managers. 
Meanwhile, implementing and maintaining a robust system of recording and acting upon complaints presents further challenges as does demonstrating 'good governance'. Regarding the latter, the CQC insists that providers "must seek and act on feedback from people using the service, those acting on their behalf, staff and other stakeholders, so that they can continually evaluate the service and drive improvement."
To prepare for CQC inspection, Skills for Care makes numerous recommendations from good and outstanding care providers. This includes making use of surveys to gain stakeholder's views on key areas such as staff retention practices; food and nutrition; comments, compliments and complaints; and quality improvement, innovation and sustainability.
Related: Mastering the Marketing Technology Stack for Healthcare
Technological Solutions
Many of the challenges presented by the CQC's Fundamental Standards can be better tackled using innovative technology to gather information, centralise data and make it actionable. 
For instance, by adopting a digital solution for surveys, health and social care providers can automate everything from the deployment of a survey to the analysis of the data contained therein. What's more, is that digital surveys enable multi-location care companies to deploy surveys at scale, standardising them and cutting costs in the process.
Of course, surveys are not the only tool that can be digitised to drive improvements across a care provider's locations. With Reputation, health and social care providers can also garner reviews from stakeholders. Online reviews provide insight into the views of service users and their families and enable managers to make targeted improvements to care services based on the data contained within reviews. 
Without a sophisticated yet user-friendly platform to analyse review sentiment trends, care home managers can be left floundering trying to make sense of data. Reputation's platform combines Artificial Intelligence (AI) and Natural Language Processing (NLP) algorithms to analyse reviews and provide senior leaders at health and care facilities with sentiment maps – graphical representations of what stakeholders are saying about you online. Armed with such accessible data, senior leaders can target initiatives to where improvements are needed most thus demonstrating they "act on feedback".
How Care Homes Drive Improvement With Reputation
Leading UK health and social care provider, Barchester, partnered with Reputation to gain a centralised view of its 200+ care facilities, improve its review volumes, and produce high-level reports about performance. 
Barchester's results using the Reputation platform were phenomenal with the care provider boosting review volumes by 410% and transforming sentiment from negative to positive in a number of key areas, including 'Bedside Manner', 'Safety', and 'Staff Friendliness'.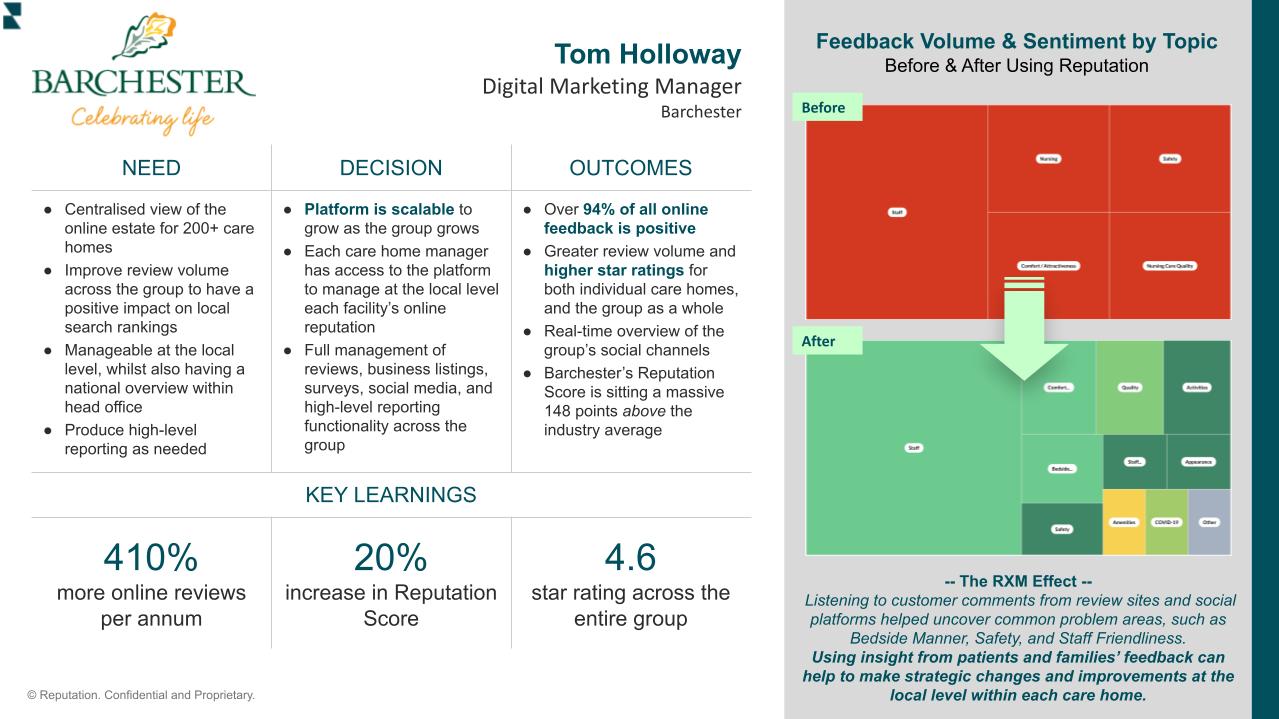 Related: Quick Take – Reputation Experience Trends in the UK Senior Living Market
Achieve 'Outstanding' With Reputation
Barchester's success in driving positive trends in stakeholder review sentiment manifests itself at a location level as improvements in overall standards of care. Clearly, Barchester strives to demonstrate to the CQC, and indeed its residents, its ability to seek and act on feedback from its stakeholders.
It seems there is no silver bullet when it comes to accomplishing the top CQC rating. However, a technological solution that enables survey deployment, review requesting and analysis, and outputs this data into something actionable, can certainly help in casting some light on areas where improvement is needed. If knowing your weaknesses is half the equation when it comes to getting better, surely having the tools to identify deficiencies and implement initiatives to improve them is the other half.
Contact us today to discover how Reputation can drive improvements at your health and social care company.