How to Win in the New Feedback Economy
Adam Dorfman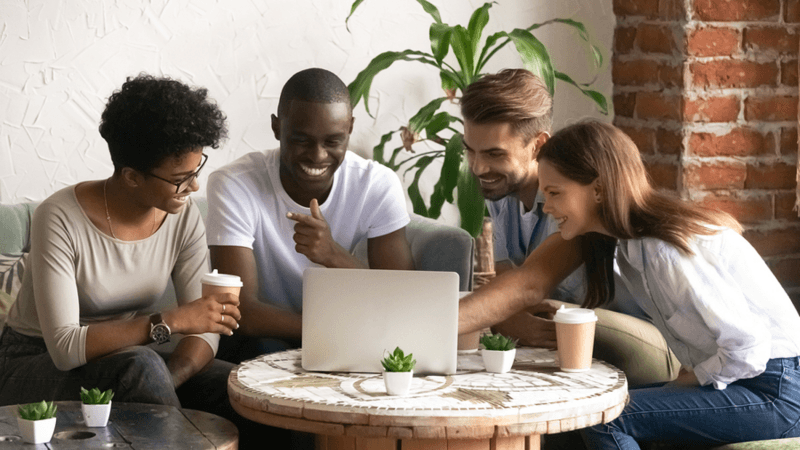 This article was originally published on LinkedIn. Click to follow Reputation on LinkedIn.
Reputation has always been really important to the success of any business. In fact, 97% of business owners say online reputation management is important. But how that reputation is made, shared and used has undergone a radical evolution in this century.
In this article, I'm going to take a look at that evolution, what's changed with respect to how consumers evaluate and choose businesses, and the rise of what I'm calling the "Feedback Economy."

The Rise of Reputation Management
Reputation.com's founder, Michael Fertik, pioneered reputation management several years ago, and in 2015, he wrote The Reputation Economy. With his work, he raised awareness among enterprises and businesses everywhere about the importance of paying attention to consumer opinion and sentiment, and actively managing their reputations.
Since Michael's book was released, things have changed in a few big ways:
Consumer behavior has evolved. People use voice and mobile search as a primary means of finding businesses. They expect to ask Siri or Alexa a question and get not only an immediate answer but the right answer. They expect technology to do the grunt work for them and point them in the right direction. Today, 16% of Americans own a smart speaker — that's about 39 million people.
Consumer trust is waning. We used to simply pour tons of money into billboards and TV ads, and we'd capture market share. You could put Scarlett Johansson on an ad for perfume, or Matthew McConaughey behind the wheel of a new car, and sales go through the roof. But 78% of younger consumers are completely unimpressed and unmoved by celebrity endorsements. The majority — 93%— look to consumer reviews for information before making a purchase. And this group is big! They're 91 million strong and account for more than $1 trillion in U.S. consumer spending. As businesses, we need new ways to gain consumer trust.
We don't have control. Information is traded, shared and consumed at lightning speed over social media. How consumers think about us can change in a few minutes, and all the money we've poured into brilliant campaigns and promotions is wasted.
In this new environment, feedback is everywhere and readily available, and it's the driving force behind all purchasing decisions. Now consumers have an active role in shaping a business's reputation — meaning reputation is more heavily influenced by what's happening outside the organization than what the organization is telling the public to believe.
Related: 3 Real-World Customer Feedback Success Stories
Feedback Exchange Moves Beyond NPS
Today, feedback is created, collected, communicated and consumed across many, many sources — not only by businesses, but by consumers, too.
Consumers provide feedback publicly, via reviews and social media. Brands and marketers aren't the only ones seeing it anymore. Consumers have entire conversations about brands online — and you may or may not be a part of those conversations, depending on how closely you monitor those channels. That's all feedback. Competitors see that feedback, too. Feedback about your business can help them improve. This is unprecedented — and a far cry from old Net Promoter Score (NPS) surveys.
It used to be you sent an NPS survey via mail or email. It was private and had three questions, max. The recipient provided their answers directly to you. What did you do with those answers? Probably not much, because there was no insight into why the respondents answered the questions the way they did.
Then came reviews — we ask people to describe their experience. Reviews provide deeper insights into what customers think, and maybe also ideas to improve the customer experience.
But what about brand perception? Asking for detailed customer feedback is a good start, but it only scratches the surface. What they tell you directly may be very different than what they say about you in conversations with friends and colleagues. Without access to all of the unstructured data out there on the web, do you really know how your brand is perceived by the public at large? How do you understand and use perceptions and conversations to drive and convert new business? If you're accidentally cherry-picking data streams, you're ignoring other sources of truth.
Related: Responding to Customer Feedback: The Business Imperative
And this level of insight and understanding is critical to being found and chosen by consumers. Your reputation — as defined by star ratings and various review signals — determines your ranking and visibility in search. Businesses with higher ratings and good reviews rank higher — it's that simple. So to even be found by consumers, you need a strong reputation. (Incidentally, this is the impetus behind our deep partnership with Google that offers many benefits to our customers, including the ability to increase lead volume and sales.)
You've heard, no doubt, the importance of marketing across channels. We call it "omnichannel marketing." It's no different when it comes to building your reputation. To succeed in the Feedback Economy, you have to collect, understand and act on feedback from all sources — true omnichannel feedback. That's the basis for building, understanding and strengthening your reputation.
Reputation Management evolved as a means of looking at all the data out there about your brand. Our platform is the only unified platform collecting omnichannel feedback — from reviews, surveys, social, in-store — everywhere. We are the only platform with the ability to apply AI and machine learning to enable unprecedented insights into that data. Those insights help businesses improve their reputation and the customer experience, increase star ratings and rankings, and make operational improvements to run more efficiently.
Tracking Your Performance in the Feedback Economy
Because of the amount of omnichannel feedback we can collect and all the actionable intelligence we can now derive from that feedback, we need a way to understand how we're performing and act on the data to do better. That's where Reputation Score comes in.
What is Reputation Score? It's a real-time calculation of your online performance across all consumer touch points.
It takes into account all factors affecting your reputation — star ratings, online reviews, business listings, social engagement and more — for a 360-degree view of your brand's performance.
It's expressed as a number on a scale of 1-1,000.
We use patented algorithms developed by our data science team, led by Brad Null.
It provides search and experience insights at the hyper-local level.
With Reputation Score, Reptuation is the only company that can help you position yourself within the Feedback Economy. Reputation Score has been a feature of our platform for a long time, but we haven't really made a lot of noise about it. I'm changing all that, because I think it's a really useful tool for our customers, and the one thing they can use to really hone in and optimize their reputation across all feedback sources.
To that end, I'm happy to announce that I'm working with our data science team to evolve Reputation Score, and we're looking to announce Reputation Score 2.0 later this year. This will enable even deeper insights and even recommendations for how you can improve your performance.
Keep Reading: 4 Ways to Use Customer Feedback to Enhance Employee Engagement