4 Takeaways from Transform 2017
Reputation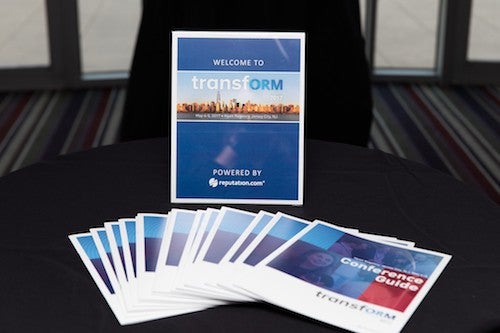 As a healthcare marketer, you're challenged to optimize your online marketing efforts in an environment of rising consumerism and rigid (but necessary) regulations and processes.
It's not an easy balancing act, but it's vital to your organization, especially if you want to continue to connect the right patient to the right provider — through accurate business listings, high search rankings for your locations, and increased positive online reviews.
In fact, online patient feedback is driving massive shifts in the healthcare ecosystem and in digital marketing. And, online reviews and star ratings can prompt potential patients to visit you, instead of another healthcare provider.
But beyond attracting new patients, data from online reviews can lead to important operational changes, greater transparency and visibility in search, and a stronger marketing strategy.
These were some of the topics covered at Reputation.com's annual healthcare marketing conference, Transform 2017. If you didn't have a chance to attend, here are four key takeaways to help you launch or refine your marketing strategy:
1. Google continually prompts users to provide reviews for services and locations — even if you won't 
The search giant is constantly mining feedback from users to build data that can improve Google products — mostly in the form of online reviews. Google pulls in review data to add dimension to reviews and star ratings that appear in search results. But they need more information.
During his presentation, Reputation.com CEO Shrey Bhatia explained to Transform attendees how Google prompts Android OS users — who make up 52 percent of smartphone users — to review the service, ambiance, staff and other aspects of the patient experience.
The goal is build up review volume on Google and customer sentiment for locations, to help consumers make informed decisions about patronizing a business, as well as to keep the user in the Google ecosystem.
This is important to healthcare providers, because if your staff is not proactively requesting feedback from all past patients, Google will build that review volume for you. And if left to chance, those reviews may not reflect the quality of patience experience.
Take control of your online reputation by using an Online Reputation Management platform to automate review requesting using a tablet or SMS message, right after a customer visit.
2. How to get buy-in and adoption for ORM
When it comes to launching an ORM program, healthcare marketers may encounter push-back from physicians and upper management.
The reason: Some in the organization would rather remove a negative review —  which isn't feasible —  than address the concern.  
"One of the doctors wanted to sue a past patient because of a negative review," recalled Kirsten Saint Clair, director of business development at InmmediateClinic, who was one of the panelists for the "Best Practices for Review Responding" discussion at Transform 2017.
"Of course, we let him know that he can't sue patients for bad reviews and that we had to reach out to them," she added.
Negative reviews can raise the hackles of any healthcare professional; however, this feedback can lead to vast operational improvements.
One of the panelists, Amanda Henson — the director of online reputation at Kindred Healthcare — recounted how she overcame initial push back and drove buy-in in her ORM program.
Henson initially set up Kindred's program to "reduce negative reviews and capture more reviews that were more indicative of the patient experience."
By monitoring Kindred's reputation and surfacing both negative and positive feedback, the locations were able to drive operational improvements that reduced negative reviews and improved the organization's Reputation Score.
This success prompted her team to expand the goal so the C-suite had more skin in the game.
"Our hospital location's Reputation Score now shows up on our balanced scorecard so it directly impacts our CEO and CCO's bonus. So they're heavily invested!"
Now the Kindred team has the full support of locations and changes the program goals every year, with the input of operations and risk managers, to drive operational changes.
3. Healthcare consumers want more transparency 
One prevalent theme during Transform 2017 was that potential patients have become better healthcare consumers, and are looking for increased transparency from providers.
Patients continually read online reviews first before visiting a physician organization. They look at all aspects of online reputation to inform their choice of location and provider.
Sarah Landsman, senior director of branding at Lenscrafters, spoke to the opportunities her organization identified to increase transparency and visibility for their doctors.
"We wanted to change the perception of our doctors … and we very tactically wanted our doctors to be more visible, " Landsman said.
"We had a broad spectrum of what we can work with. With 80 percent of our doctors being independent [meaning they rent the space in Lenscrafters and are not employees of the company], we had some doctors that are really engaged and were very active on social channels. And we had others who did not do that, and had very limited transparency."
Lenscrafters implemented an ORM program to increase transparency and visibility, and address the fundamentals in search engine optimization (SEO). The team created SEO-optimized landing pages with a Lenscrafters URL, and developed Google My Business pages so locations had correct listings. Doing so improved each location's search rankings.
And when Lenscrafters began monitoring and responding to reviews, they experienced a lot of early success "because the fundamentals" were already in place.
By improving search results for their optometrists, then building review volume for each location, the company was improved transparency and, ultimately, the public's perception of its doctors.
4. ORM can give early insight into HCAHPS scores
HCAHPS has long been the barometer for how hospitals understand the patient experience. However, there's a way to get insight into the results before they survey is completed.
Reputation.com's CMO Mark Lange and Chief Data Scientist Brad Null analyzed two years of HCAHPS hospital survey data from medicare.gov, across more than 4,800 hospitals, including their online reviews, ratings and rankings
They found that HCAHPS survey results provide early insight into issues that may have an impact on the patient experience. When such issues are identified in online reviews, hospitals can address them earlier.
For example, HCAHPS asks nine specific questions about the patient experience, but in the analysis, three themes stood out as factors that influence the patient experience:
Communication/coordination

Parking, wait time or administration
Billing or insurance
​​Issues relating to these factors can be addressed prior to obtaining survey results if hospitals monitor their online reputation more carefully.
By continually monitoring, managing, requesting and responding to reviews, a healthcare organization can head off negative feedback that may show up in survey results.
Additionally, improving online sentiment improves HCAHPS rates by a third of a star year-over-year, according to our research.
These takeaways are just a small sample of the insights that came out of Transform 2017. Stay tuned for more content from our second annual healthcare marketing conference.