When Healthcare Meets Retail: Walmart and Amazon Take On Medical Services
Adam Dorfman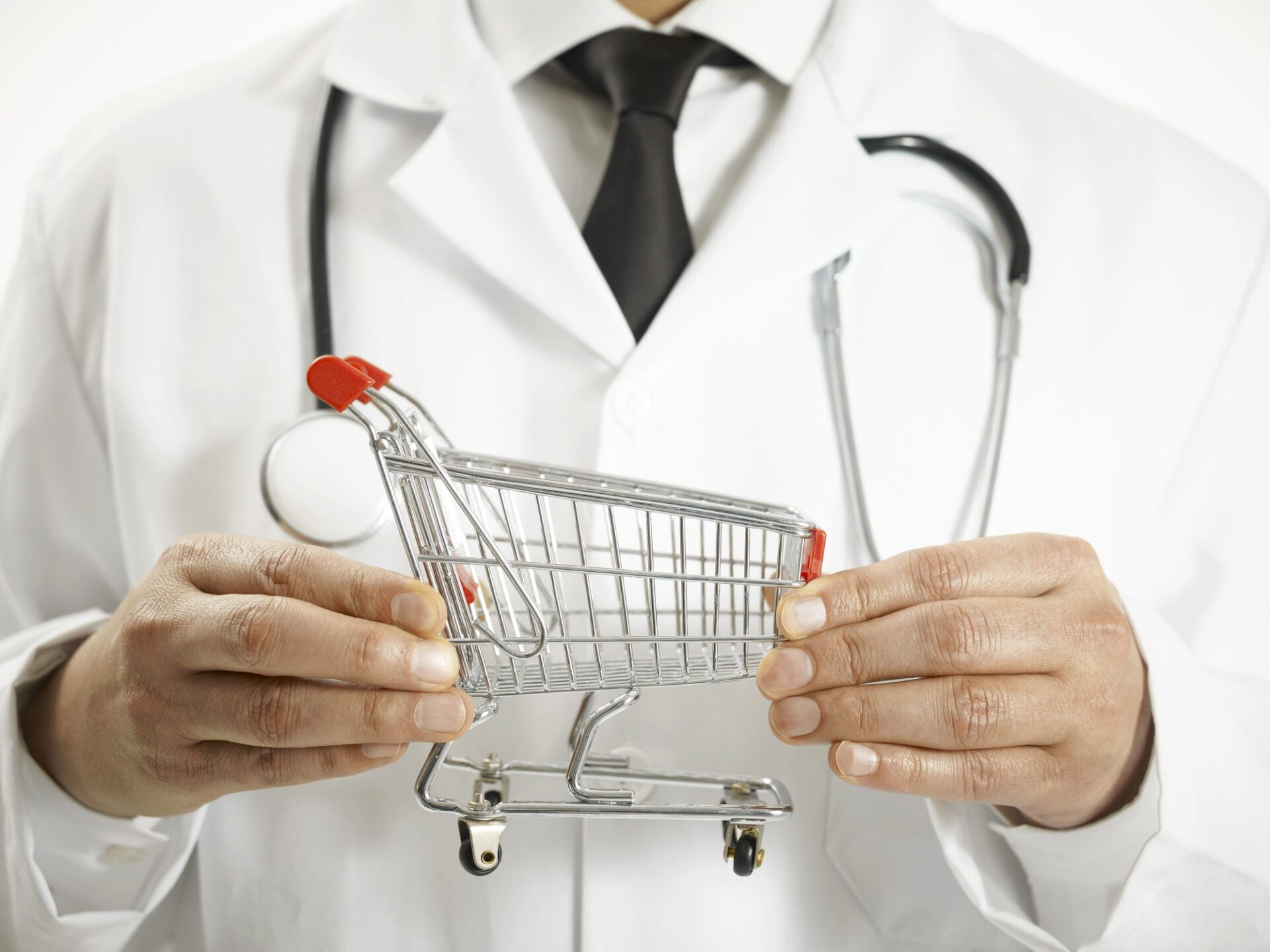 When you hear Amazon and Walmart mentioned in the same sentence, usually the discussion centers on the future of retail. But lately these giant brands have also been making noise in healthcare – a lot of noise.
Walmart
Like many big brick-and-mortar stores such as Target, Walmart has offered basic health services such as eye care for years. Customers can get vision care at 3,000 in-store vision centers and health screenings at Walmart's 4,700 locations. Because of the company's size and power, Walmart's own forays into health services carry more weight. And Walmart is getting more aggressive. For example:
Walmart recently signed an agreement with insurer Anthem to funnel more

Medicare enrollees to buy over-the-counter medications and health supplies at Walmart stores.
Walmart is considering opening health clinics in "

town centers

" that would be built in Walmart parking lots. The 5,300+ Walmart stores across the United States are typically surrounded vast parking lots with unused space, creating inefficiencies. The town centers would essentially be open-air malls with a mix of businesses,

including healthcare services

.
These developments occur in context of Walmart recently appointing Humana executive Sean Slovenski to lead its health and wellness division. When the appointment was announced, Greg Foran, CEO of Walmart U.S., said, "Because of its strategic importance, we've decided to put more focus on our Health & Wellness business in the near term" – a statement that says a lot about Walmart's aspirations.
These moves make a lot of sense for Walmart. Healthcare services are not only profitable but also create cross-selling opportunities as consumers inevitable shop in a Walmart after receiving outpatient care. As more medical centers encourage patients to manage their own health and avoid costly medical room visits, we can expect Walmart to expand its health services. For example, Walmart is moving into urgent care, with a select number of stores providing both routine and urgent care as well as lab tests and immunizations. A long-rumored acquisition of Humana, it if actually were to happen, would give Walmart an even bigger foothold, especially for senior citizens eligible for Medicare.
Amazon
Amazon never stands still, especially where its rival Walmart is concerned. The world's top-ranked brand (per Interbrand) has been moving into the healthcare space on its own terms. For instance, on June 28, Amazon announced the acquisition of online pharmacy PillPack, part of a reported move into providing broader pharmaceutical services. PillPack organizes and delivers packages of medications for consumers and is licensed to ship prescriptions in 49 states. When the announcement was made, the stock price of pharmaceutical retailers such as CVS Health plunged. As CNBC reported,
The move is the strongest indication yet of Amazon's intent to push further into the health-care industry. It threatens to remove one of the few distinguishing factors pharmacy chains have relied on to fend off Amazon, the sale of prescription drugs. Retailers like Walgreens Boots Alliance, CVS Health and Rite Aid have seen their so-called front of store sales threatened as shoppers increasingly buy household staples online or from convenience stores.
The acquisition expanded Amazon's presence in pharmaceuticals and related products. As CNN reported, in 2017, Amazon launched a line of private-label medicines, Basic Care, manufactured exclusively for Amazon by Dublin-based Perrigo. Amazon's Basic Care page now offers products ranging from ibuprofen to allergy medicine.
Amazon later made a more dramatic move. On November 27, Amazon announced the launch of Amazon Comprehend Medical, which will use machine learning to improve the way patient medical records are mined. As Amazon noted in a blog post, Amazon Comprehend Medical "allows developers to process unstructured medical text and identify information such as patient diagnosis, treatments, dosages, symptoms and signs, and more. Comprehend Medical helps health care providers, insurers, researchers, and clinical trial investigators as well as health care IT, biotech, and pharmaceutical companies to improve clinical decision support, streamline revenue cycle and clinical trials management, and better address data privacy and protected health information (PHI) requirements."
With Amazon Comprehend Medical, Amazon made a bold foray into clinical treatment by supporting healthcare providers with better records management. In doing so, Amazon now goes head to head with a different set of competitors such as Apple and UnitedHealthcare Group's Optum. Amazon is making a calculated bet that it can build upon its strengths in artificial intelligence and web hosting with the medical domain knowledge required to compete in the digital health field. To that end, earlier in 2018, Amazon hired Taha Kass-Hout, the former U.S. Food and Drug Administration chief health informatics officer. Kass-Hout is now a senior leader for Amazon's healthcare. Amazon is also partnering with medical providers such as the Fred Hutchinson Cancer Research Center in Seattle to apply machine learning to try to prevent and cure cancers.
Assessing Amazon and Walmart
Both Amazon and Walmart are playing to their own strengths:
In the area of pharmaceuticals, Amazon is staying in a narrowly defined lane that capitalizes on the company's strengths in rapid product fulfillment and ease of ordering online. In addition, as Amazon penetrates more homes with its Echo smart speakers, ordering and reordering pharmaceuticals should become even easier for Amazon customers. With digital health, Amazon is building upon its already robust machine learning and web hosting operations.

Walmart is capitalizing on its large network of brick-and-mortar locations to provide healthcare as a value-added service especially for well care, prescriptions, and urgent care. It's not as if Walmart needs to buy more real estate to open clinics – the start-up costs have already been sunken into its retail stores. And as noted, healthcare services also provide an excellent cross-selling opportunity.
From a reputation management standpoint, both companies have challenges. Amazon's reputation for online ordering and efficient product fulfillment is already solid. Prescription fulfillment is not a stretch. But digital health is another matter. Amazon has a lot of work to in order to build a reputation with medical records management, which is where alliances with medical centers are so crucial. (Amazon suffering a data breach on the retail side of its business only days ago certainly is not the kind of news that will build the kind of reputation Amazon desires.) Meanwhile, Walmart has a challenging job building a reputation for health services given that Walmart's brand is more firmly entrenched in a different industry, retail. But so far, Walmart is succeeding, probably because the company is taking a measured, thoughtful approach and choosing services such as eyewear and routine medical treatment that are as convenient as shopping at Walmart.
Bottom line: both Walmart and Amazon are growing by leveraging their already established assets. For now, Walmart has strengthened its brick-and-mortar beachhead against Amazon. Amazon will certainly watch Walmart closely especially as Amazon looks to maximize the value of its Whole Food network of grocery stores. As these two giants reinvent themselves, brick-and-mortar retail will become transformed.