What Your Reputation Score Says About Your Business
Reputation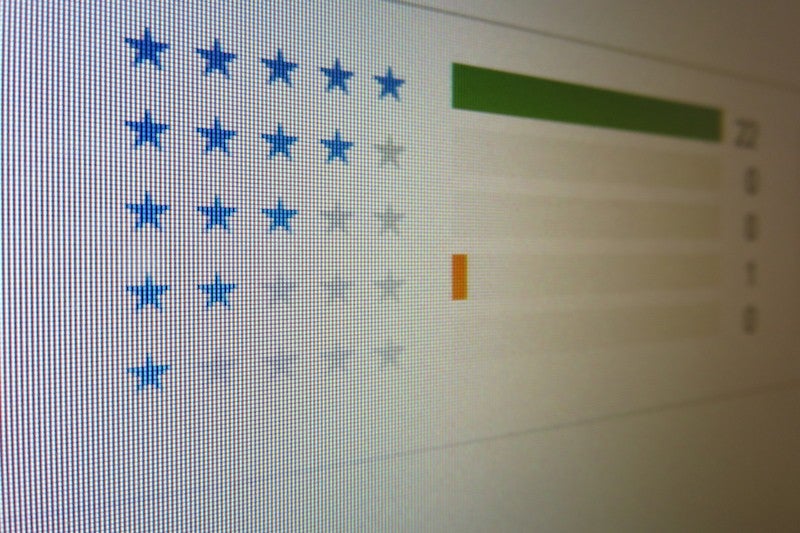 Before the internet took off, your business's reputation was solely built on word of mouth. Now opinions are shared and amplified all over — on Google, on specialty review sites, and in social media. About 90 percent of people say that online reviews influence their buying decisions — so your online reputation can help or hurt your chances to grow revenue.
This makes understanding your online reputation key to growing your business. In order to help you assess customer sentiment across all of the review sites and social media platforms, we've decided to develop a systematic standard — the Reputation Score.
Your Reputation Score — based on a scale of 200 – 1,000 — represents a comprehensive index of how consumers perceive your business online based on factors, such as your overall star rating, review volume, among others.
This figure is a powerful indicator of the health of your business and is a great metric for benchmarking yourself against your competitors and industry.
Here's a closer look at the factors that impact your organization's online presence and how you can improve each one to boost your Reputation Score:
1. Star Ratings. Your star rating is vital to your score. The fastest path to a better star rating is to generate more reviews. More feedback gives the review sites more data points, creating a more accurate representation of your business online.
How to manage it: To boost your star ratings and your Reputation Score, you'll need to get more reviews. Ask all of your customers to submit feedback. You'll reach positive or neutral clients who simply need a light nudge to share their experiences.
2. Review Volume. A healthy score depends on how many reviews your business has garnered. The more the better.
A five-star rating is meaningless to prospective customers if you only have two reviews. The more reviews you have, the more people can trust that what they see online is an accurate depiction of your business.
How to manage it: You can increase your review volume by building a solid review requesting system that frequently asks past customers to submit feedback. Read our tips for building a review requesting process.
3. Review Spread. Your Reputation Score is also calculated based on the number of relevant sites where your services have been reviewed.
How to manage it: All review sites aren't created equal. Don't rely on just one. You'll want to target the sites that are the most well-known to get a better boost.
For example, if you're a healthcare provider, target Healthgrades as well one or two more general consumer-oriented review sites.
Pick two or three major review sites to steer your customers to after successful interactions. As your reviews become evenly distributed, you'll reach more people who are researching their options.
4. Review Length. Your Reputation Score takes the length of reviews into account because they're deemed to be more useful and more specific about the customer experience.
How to manage it: Encourage customers to provide detailed feedback in reviews and on your social media channels.
You can even prompt them with starter questions like, "What was the most memorable part of your experience with us?" The more specifics a person gives in a review, the more credibility you build with prospective customers.
With just a bit of effort, you can show online customers the kind of experience they'll have with you in real life, while improving your Reputation Score.