What Makes Reputation.com Unique in Online Reputation Management and Analysis
Reputation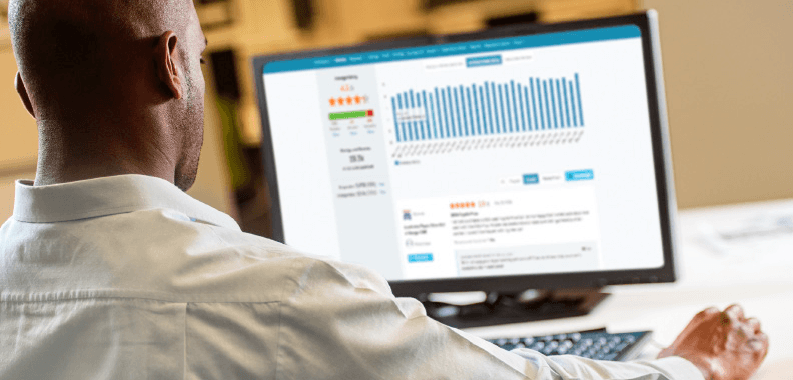 Your online reputation is a powerful revenue driver. When you delight new customers, they're more likely to become vocal brand advocates, who help the flywheel of your business spin faster and faster.
If this sounds exciting to you, we're delighted to introduce ourselves, our unique offering and the powerful difference we can make in your business.  
Reputation.com is a Market Leader
Reputation.com is the industry leader in Online Reputation Management.
We created the category 10 years ago, and set the standard of excellence for any player in the space.

Our platform manages more than 22 million online reviews and more than 1 million social posts.

With over 22 patents to our name, Reputation.com has more than 100 enterprise customers and deep vertical expertise across 77 industries.
Our Comprehensive Platform
Reputation.com is the industry's most comprehensive Online Reputation Management platform.
Only Reputation.com integrates six key pillars of Online Reputation Management: reviews, surveys, business listings, social media, flexible reporting and operational improvements. What's more, we're the only platform that enables businesses to request reviews by email, kiosk and SMS, all from a single system.
Reputation.com collects more customer data in the form of online reviews and surveys than any other vendor on the market, supporting operational improvements through data-driven analysis.
Improve Your Reputation Score
Our Reputation Score offers the industry's most detailed and comprehensive measurement of your online presence. We analyze every aspect of your online reputation, from star ratings, to review spread and volume, to search results and business listing accuracy.
Reputation.com is the only vendor that enables you to delve as deeply as you want into granular data for superior benchmarking in your industries.
Glean Actionable Insights
Only Reputation.com combines review management, direct customer surveys, social media management, business listings and customer experience analytics into one simple, powerful and fully integrated dashboard. We're unparalleled in our ability to deliver insightful and highly prescriptive guidance through our reporting and analytics.
Through thematic analysis, our platform enables businesses to make operational improvements that drive efficiency and revenue.
Grow Revenue
Reputation.com helps you harness customer feedback to  act as a catalyst for business growth.
Lower total cost of ownership: A single, intuitive dashboard integrates customer reviews, surveys, business listings, social media monitoring and publishing, reporting and big data insights.

Increase efficiency: Deploy our solution across several thousand business locations in three to 10 days, while avoiding complex cross-vendor integrations, which can introduce error.

Delight customers: Engage customers by combining surveys and reviews in a single workflow, without pinging customers multiple times via email or SMS.

Take action: A single repository of customer feedback across online and offline channels provides a 360-degree view of your online reputation and enables you to improve customer experience.
Learn more about how our comprehensive platform can help you succeed with the six pillars of Online Reputation Management.