Q&A with Wes Yee: The Intersection of Marketing and Reputation
Reputation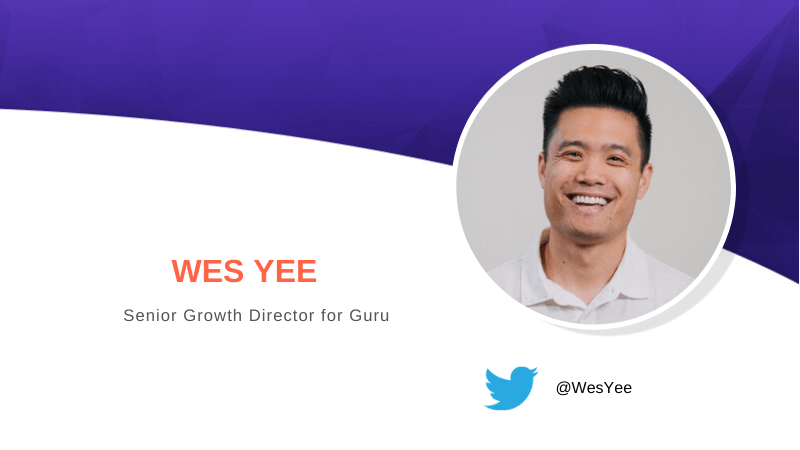 Wes Yee is the senior growth director for Guru, an information management platform based in California. According to colleagues, Yee is a seasoned growth marketer, an exceptional people leader, and a strong cross-functional collaborator who built a growth marketing function from scratch at Guru.
Tell us a little bit about yourself.
I currently lead the growth marketing team for Guru. My team is responsible for inbound and outbound marketing for the company. I've always been interested in the art of persuasion and, specifically, the technical aspects of marketing. When I started, marketing automation was just bursting onto the scene, and I was able to get really familiar with those technologies and how to help companies adopt them, so that's something that's always been really interesting to me.
How does Guru work?
Guru is what I would call a modern version of a knowledge management system. It's meant to be there for knowledge workers — people who sit in front of computers — to be able to have the information that they need readily available to them when they need it and presented to them proactively. It's like a company's memory.
For instance, one of our customers, Shopify, has thousands of customer support reps, and they all have to be well-versed in how their vendors need to use their platform. They need to know if vendors are using different aspects of their software and which features to recommend to different customers, which is a lot to know.
So Shopify stores this information inside Guru, and when the reps get a question from a customer, they can type it into Guru. A card pops up on their screen and tells them what they need to know to answer the question.
Lots of different companies use Guru, so that their employees have access to information about the company, such as how to file an expense report or what the company policy on personal time off might be. Instead of asking another employee and taking them away from their assigned work, the employee can ask Guru and get the information they need.
How does Guru improve customer experience?
We work very hard with companies to create better experiences for users of our tool. One great thing about Guru is that it's made to work on top of other systems rather than in place of them, so we have a lot of integrations with other platforms and systems to make it easier to use. We also use AI to improve recommendations as people search for information. We just released a voice feature that can listen to phone calls and start pulling up information relevant to what the software "hears" in the conversation.
What can companies get from Guru that they can't get by building a database of company information or by using the web to find information?
If you hire enough engineers you can certainly build your own database, but we have already built a system that is usable by just about any company.  Why spend all that time and money building your own? It's not easy to do what we've done, and there's even more that we want to do that we aren't doing yet. So it's going to get even better as time goes on.
As far as the web, it does contain some information that we use; we use Google to find some information, but most of the information companies include in Guru is proprietary information that you just can't find on the web. Even the information from Google is much better organized in Guru for more effective searches that produce just the information you need.
How is data collection important for marketing?
It's super important. If you don't know where your customers are originating, how are you ever going to find them? I spend a lot of time on a daily basis looking at our numbers, finding out where people are coming from, and what our campaigns are delivering. All that is critically important for our marketing and for how we make decisions about where we make investments and allocate resources on the marketing side. We look at data all the time; it's essential to our methods and strategies.
What technologies are important for cutting-edge marketing?
For our staff, it's actually pretty simple. We have a CRM, and marketing automation is also essential to what we do. Personally, I use Asana as a project management tool. We use Slack for messaging, and we use Guru very heavily internally. We work with our sales teams in Guru; we share information about our different campaigns and events right within the tool.
Our tools help us scale and take us beyond what any of us could do manually, and Guru is an important part of that for us. It's really nice to be able to market a tool that you use, as well. It gives us a different level of understanding and appreciation for it.
Beyond that, each company is different in the tools they use. At last count, there were about 3,500 different tools for marketing, and it's growing all the time.
Is reputation management an important part of marketing? Why or why not?
We think a lot about the brand and our reputation. So much of what happens in sales and marketing can seem like a very impersonal experience, but we really do think about brand as not just consistent graphics or consistent messaging, but as the way that we behave and the way that we engage with our customers across sites. All of that rolls up into what our reputation is, and managing that is essential.
Reputation comes from how a brand can serve customers, how it represents itself when it talks to customers, the reliability of the product and the customer service it provides.
Reputation management is as essential for us as any criteria we consider when we make decisions. Does what we're doing fit with what our brand promise is, and does it fit with the type of company reputation we've built with our customers and with our core values? Those are extremely important considerations.
This interview has been edited and condensed.
For more information about reputation management today, download our Getting Started with ORM ebook.