Virtual Care and Patient Experience Strategy
Adam Dorfman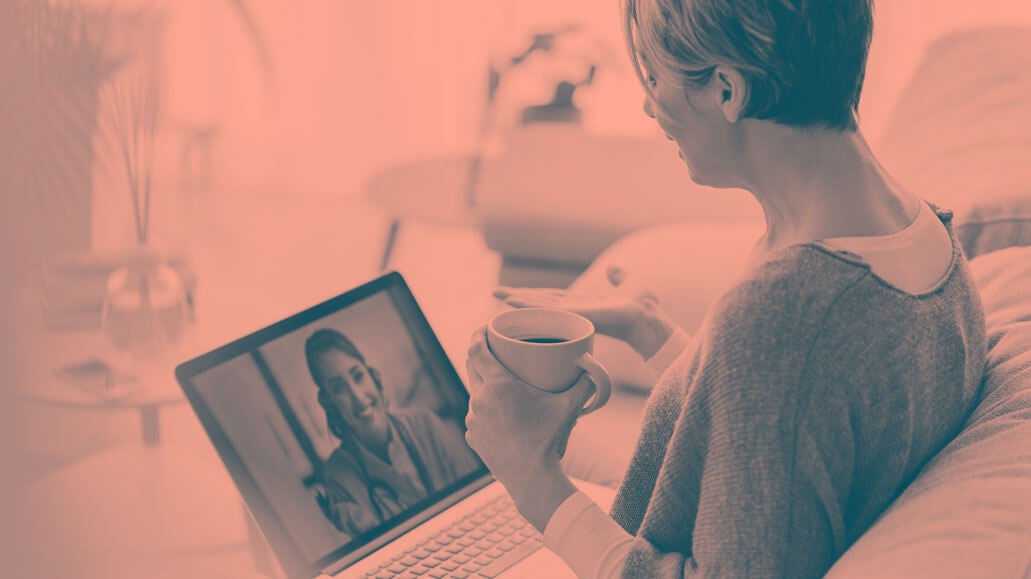 Healthcare is changing faster than ever, and consumer focus is a priority for most organizations. In fact, a recent survey of healthcare executives by Kaufmann Hall found that 81% have identified "improving consumer experience" as a high priority for their organization. However, only 11% of healthcare executives feel that their organization has the capabilities to deliver on a positive consumer experience.
This focus on the consumer was already critical in recent years, but the COVID-19 pandemic accelerated the need for transformation, as consumer expectations have become more focused on receiving safe and positive healthcare experiences – both in-person and online via telemedicine.
To support this changing dynamic, healthcare brands must think beyond the clinical encounter. Every touchpoint matters – from the experience of booking an appointment to the ease of the mobile app. So how does this consumerism and the rise of digital technology change the way we think about the patient experience? To start, we have to think about the way consumers access care. Increasingly, this means building an experience that connects the digital and clinical experiences – from search to sentiment, and action. 
Patients Want a More Convenient Healthcare Experience
In the past, most healthcare visits were far from convenient. The provider scheduled a patient's appointment, and the patient then traveled across town, only to be asked to wait multiple times before seeing a doctor or other specialist.
Many healthcare brands offered virtual care options prior to the COVID-19 pandemic. Consumers who tried online options typically expressed a high satisfaction rate, but the education curve prevented widespread adoption of virtual care by the majority of patients. This changed when primary care and specialty clinics closed offices due to COVID-19. More patients turned to digital options, and healthcare organizations had to scale their virtual care programs to meet increased demands of up to 3,000%. Delivering telehealth services isn't a question of technology; that was readily available. Now that providers are increasingly adopting these programs, there are also opportunities to improve the patient experience.
Related: Why We Need to Keep Women In Medicine
As new providers and patients choose telehealth services, there will be concerns about the quality of the experience. These tools introduce new challenges to the provider-patient relationship. Here are some tips.
Look the Part
Even though they may be delivering some online services, healthcare providers aren't your typical telecommuters that get to hide behind a keyboard throughout the workday. When patients sign onto a telehealth app, they want to see a professional-looking healthcare provider.
Body language also conveys through a webcam. Clinicians can learn to instill confidence by looking into the camera and ensuring that there aren't any distractions in the background environment.
Be Prepared
More can be accomplished than people realize with telehealth services. With the right tools on hand, providers can listen to a patient's heart and lungs as well as look into the back of their throat. Being prepared also means being on time so that patients aren't stuck sitting in a virtual waiting room, which is likely to cause frustration and dissatisfaction. If a visit cannot start on time, use text updates to keep the patient informed of their expected wait time.
Collect Feedback
The addition of technology brings with it more potential for friction along the way. For example, did the online visit app load on the page too slowly? Was the user interface easy to navigate? Did the patient get a complete diagnosis? Whether you are offering virtual doctor appointments, chat or SMS text interaction, or an AI-driven symptom checker, the experience is a reflection of your brand. This means a consumer is expecting to have an experience that is as good as what they would have within a clinical setting. And there is only one way to know if your virtual care channels are working — ask.
Feedback can be collected at various virtual patient experience points, such as:
Digital experience survey – Add a feedback link on your website or within your symptom checker app.

Quick feedback – Request for a patient to rate her experience using online chat on a 1-5 star scale.

Online reviews – Send a SMS text message asking a patient to leave a Google Review after a virtual visit with his doctor.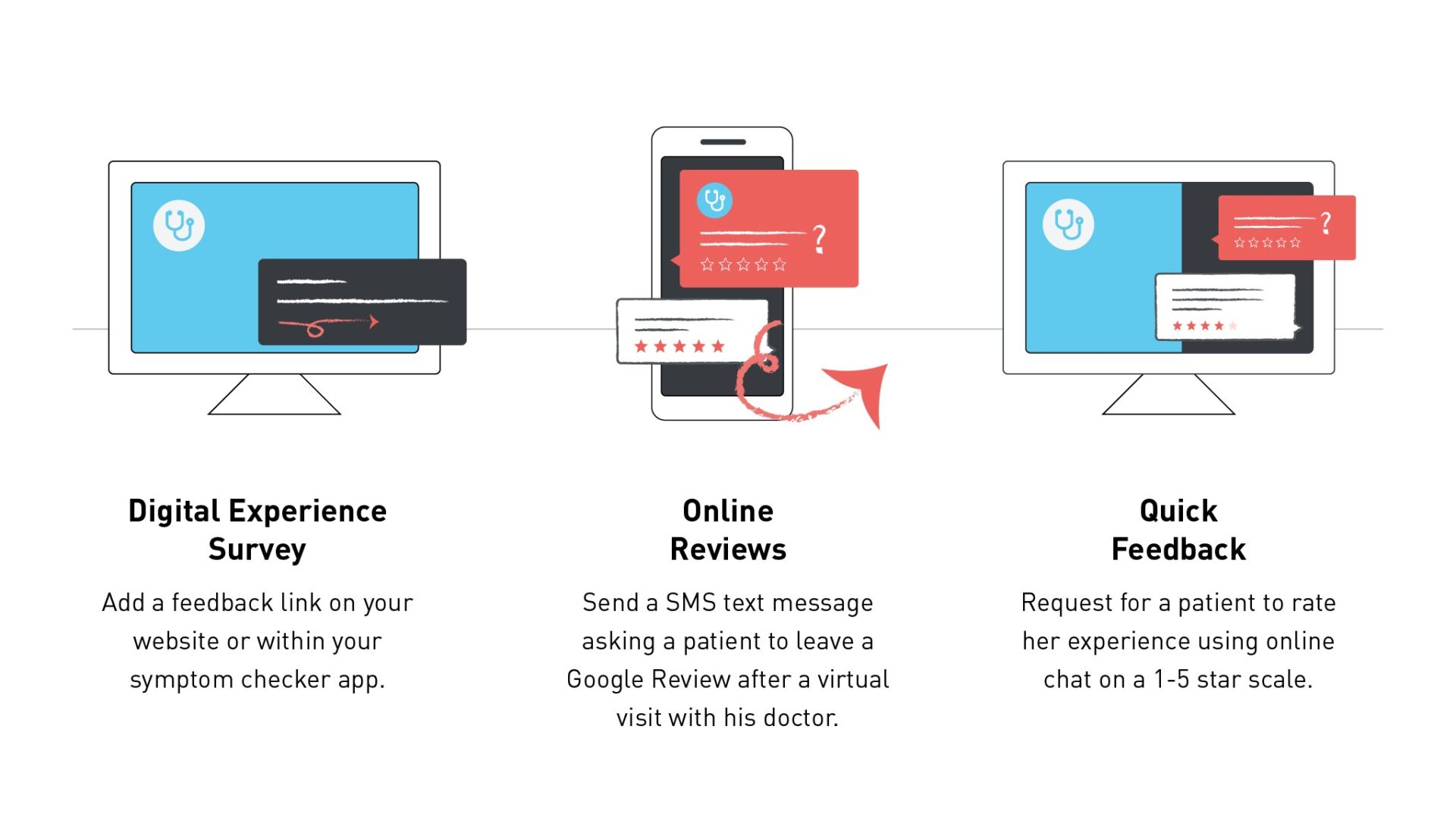 Just as with in-person visits, satisfied patients are going to leave online reviews, which can enhance your practice's reputation.
Reputation's integrated reputation and experience management platform enables healthcare brands to get found and chosen for care, and get better through feedback.
Want to learn more about reputation management for healthcare providers? Download our 3 Trends Impacting Healthcare Marketers in 2020. 
Keep Reading: Why Healthcare Reviews Matter More Than Ever