Elements of a Great Social Media Post
Reputation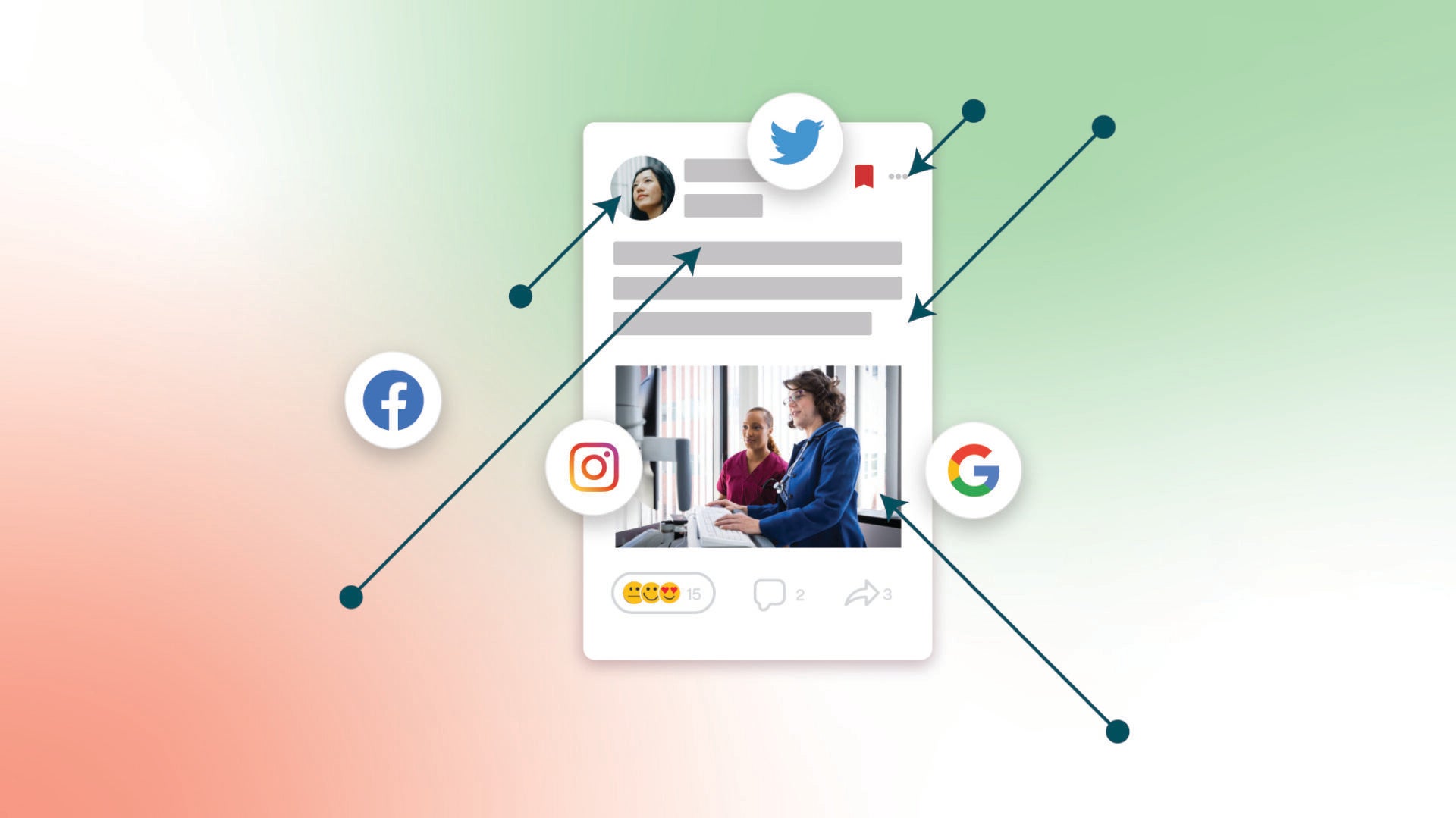 By: Timi Chu, Director of Product Management at Reputation, Alyse Finlayson, User Experience Designer of the Social Suite at Reputation, and Katie Wei, Senior Manager of Social Media Operations at Reputation
The ingredients of a great social media post are simple — take a  compelling image or video, add concise caption, and top it off with a clear call-to-action. However, getting to this point might not be as easy as it sounds. Everything included in your post needs to be relevant to your brand and drive engagement back to your company's website. Here are some tips for crafting the best social media post to connect to all segments of your audience. 
How to Connect With Your Audience
Your social media posts won't go anywhere unless they grab your audience's attention. Here are some elements that you should include in posts to catch any user's eye. 
Find Influencers

: Collaborate with popular, yet relatable, influencers and brand partners to create a diverse collection of content.

Introduce an Employee Spotlight

: Your team members play a major role in creating a great customer experience. Introduce employees to your community so that customers know who is behind the scenes. For example, you can record a Q&A series with high-exposure individuals to reach a broader audience. 

Create Geo-Specific Social Pages

: If your brand is global, this is a vital step to take. This ensures content can be tailored to those regions in the topics they touch on, influencers they partner with and the products they promote

Include User-Generated Content (UGC) in Your Social Strategy

: UGC  helps build up community and relatability between the brand and social users. These are generally images and videos that are contributed by your frontline teams as they engage with customers.

Use Product Tags

: These tags allow users to easily purchase products directly on social media posts with just a few taps.

Leverage Calls-to-Action (CTA)

: Include a clear CTA with a link for customers to know how to purchase, make an appointment, learn more, contact you and become a customer.

Stop the Scroll

: Invest in eye-catching "thumb-stopping" creative that stops social media users as they scroll. Social is all about the visuals, so take the time to work with an in-house designer, agency, or leverage your own skills to ensure your brand's social media feed stands out. 

Consistent Content Strategy

: Utilize a platform like Reputation to curate and save a content library, plan a social content calendar, and approve posts before they go out from your brand. Think of each social media post as a carefully placed book in a well-organized library. 
Examples of Great Social Media Posts
Here are some exemplary posts that we rounded up from our favorite brands. We break down what makes each individual post stand out from the noise on social media.
Related: The Most Important Social Media Metrics to Track
GoPro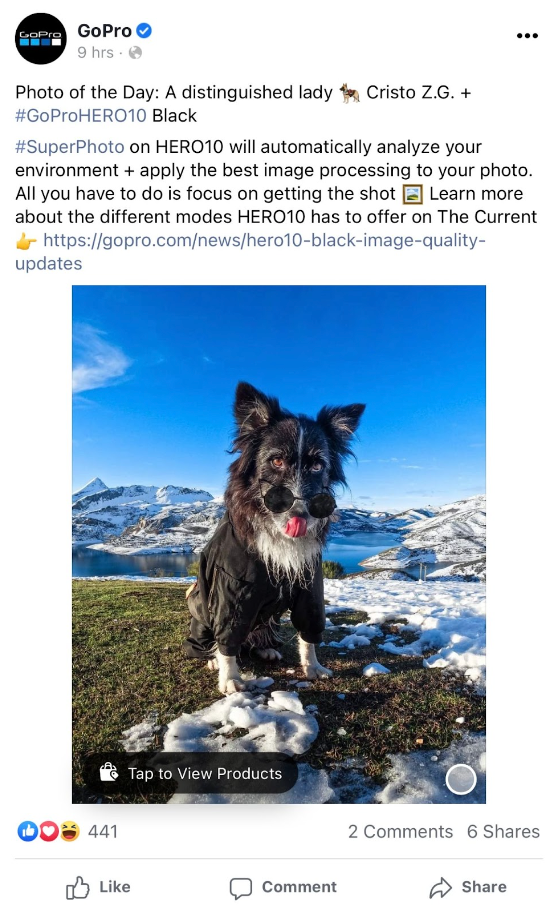 User-Generated Content

: GoPro used an image of a pet dog, which was submitted by a community member, The photo was clearly taken in the moment and gave the community member an opportunity to step in the spotlight. When that GoPro fan sees an image of their dog on a prominent social media account, they'll be more likely to share on their own pages. 

Call-to-Action

: GoPro invites the user to learn more about their latest image processing technology by providing a link to a news article that highlights their new development.

Product Tags

: They provide a quick link on the image to tap and view products. This is a great way to generate sales because customers always want the latest trendy item.
 The North Face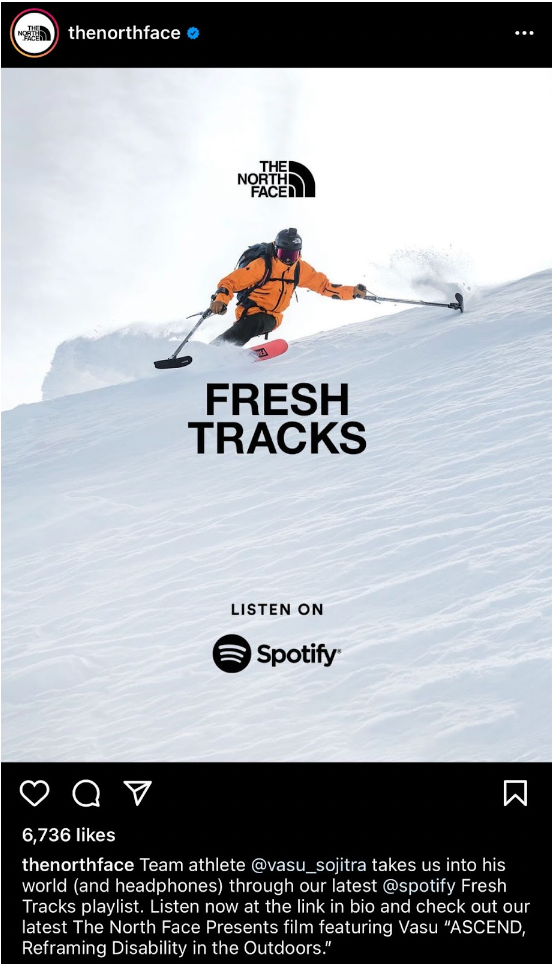 Influencers

: The North Face collaborated with one of their athletes to record and promote a new playlist and film. They leveraged the athlete's social media following to reach a new adjacent audience for their brand.

Call-to-Action

: The brand invites you to listen to the athlete's personal playlist by using the link in their Instagram bio. This strategy is a particularly effective way to direct users to action on Instagram, due to the limited linking abilities in posts. However, keep in mind that there are many services available for creating an organized list of links for your followers to navigate through.
Related: How to Create Engaging Automotive Social Media Content
Levi's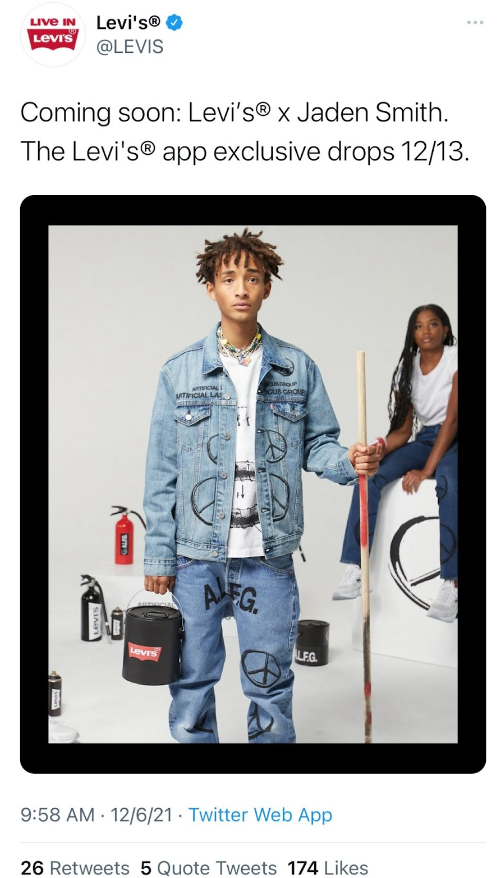 Influencers

:

Levi's collaborated with a star known for his unique sense of style — Jaden Smith. Incorporating this household name into their campaigns helped to connect with their viewers and to expand their reach. They created a new product line intended to appeal to his followers. Additionally, Levi's gave their mobile app users exclusive access to the new clothing line. This methodical move encourages followers to download their mobile app.

Call-to-Action

: Levi's subtly promotes their mobile app by promising to reward app users with exclusive access to the new clothing line ahead of other customers. The brand knows that once customers have their mobile app downloaded, they have a reliable way to push notifications to customers.

Product Tags

: Although they can't tag the product because it was not released yet, Levi's manages to inform the user that it will be available exclusively in the app. Looking closely at the photo, several of the products are featured as a teaser for the upcoming launch.
Buffalo Wild Wings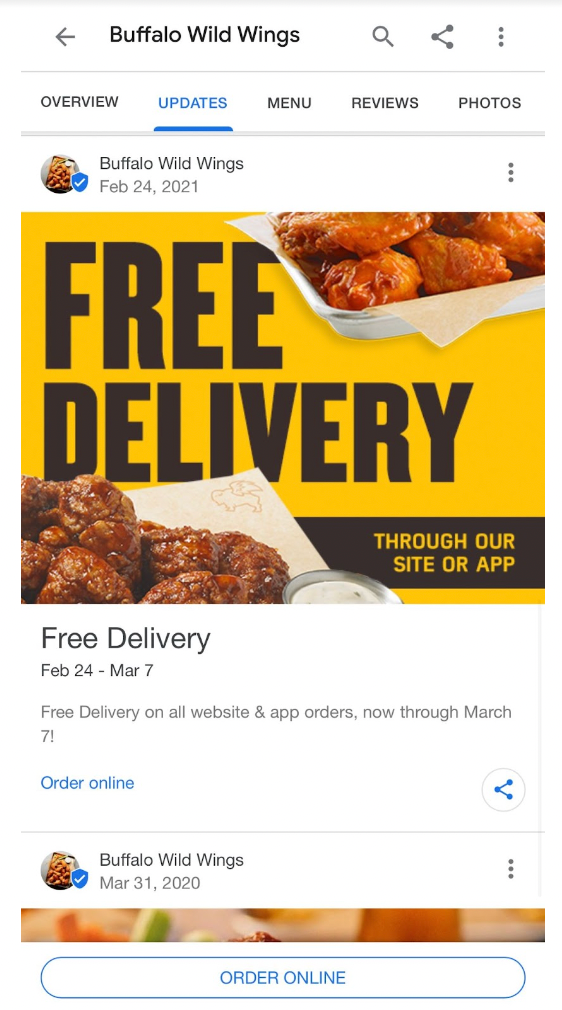 Call-to-Action

: This Buffalo Wild Wings location provides the user with a button to order wings from their website. Coupled with an offer for free delivery through the site or app, it's an affordable and quick option that likely appealed to many customers.

Geo-Specific

: These offers are only available on this particular Google Business Profile, not for all Buffalo Wild Wings. Google Posts are an easy way to market regional or limited offers without confusing customers outside that specific market.
Related: 7 Steps to Build a Social Media Management Strategy in 2022
Ready to Reach Your Customers on Social Media?
The Reputation Social Suite can help you take your business's social media management to the next level. Publish content to thousands of business pages across top social media networks in a single click. Engage with your customers to create a great customer experience.
Fine-tune your social media strategy using real-time metrics and insights. Let us handle your social media strategy. Reputation offers Managed Services for Social Publishing and Social Community Management.
Learn more about the Reputation
Social Suite
and request a demo.