Sell a Car? Capture and Share the Moment to Media
Reputation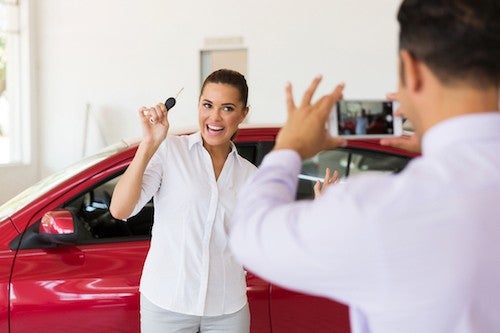 Most dealerships promote cars for sale on social media to help move inventory and attract new customers. But what about after the sale is made?
Why not tell the whole story by capturing the moment when your smiling customer has new keys in-hand, and sharing the photo on your social media channels?
Posting a photo or video featuring a satisfied customer gets the word out faster than waiting for the customer to write a review. Plus, you're is likely to share it, maximizing reach and impact.
Connect with Car Buyers Where They Hang Out
A 2016 article in the Chicago Tribune referenced statistics from J.D. Power's Power Information Network that states millennials — now the largest generation in the country — make up 28 percent of the U.S. new car market. Collectively, they purchased four million cars and trucks in 2015.
These consumers spend a significant amount of time on social media — and they're not the only ones. At least 90 percent of new car buyers used the Internet to research cars before making a purchase decision in 2015.
And when they find you on social, they want to see images. A recent Forbes article reported on the growing preference for visual platforms like Instagram and Snapchat. Seeing photos or happy customers on a dealership's website elicit emotion and help a prospective buyer picture herself in a new car, too — at your dealership.
Finally, posting pictures and videos of your happy car buyers gives you a reason to stay engaged with the local community of car buyers. It also humanizes your dealership and reinforces your commitment to a positive customer service experience.
Make Social Media Integral to Your Selling Strategy
As the number of social media sites proliferates, monitoring, managing and posting to all of them for all your locations can be unwieldy. Yet that's where your buyers are — it's essential to stay on top of the online banter.
A robust Online Reputation Management platform can simplify the process of staying tuned into social media — and even provide social media management services that ensure you stay engaged in the conversation and build local advocacy.
Look for a platform that enables you to proactively:
Manage social media sites, enabling you to join and lead conversations about the right approach to car sales and customer service.

Build your dealership's reputation as trustworthy and committed to customer service with customer reviews and photos of car sale successes.

Target social media posts and ads to extend your brand and lend credibility to your marketing message.
Learn more about ORM and test drive our solutions.