Retailers: Here's Why Millennials Matter
Reputation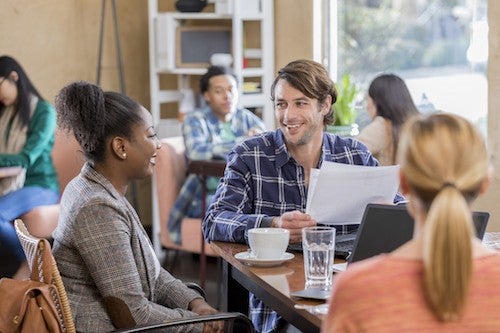 For many marketing veterans, the thought of consumers under the age of 35 — some as young as 14 — driving brand perception for retail companies seems far-fetched. After all, many of us have kids that age. What do they know about branding?
In fact, they're shaping your brand right now. Millennials — people born between 1982 and 2003 — make up about 25 percent of the buying public, accounting for $170 billion in purchases each year. There are 91 million of them, as opposed to only 61 million Gen Xers and 77 million Baby Boomers, and by 2025, they'll constitute 75 percent of the U.S. workforce. Millennials are the first native digital users, and they're more socially connected than any other age group in history.
What's more, millennials are more likely than any other group to share retail experiences via social — and they rely heavily on online reviews to make buying decisions.
A Different Kind of Consumer
Here are a few reasons why millennials are disrupting traditional purchasing patterns:
They're discriminating:

Unlike their star-struck parents, more millennials — 68 percent, according to

Adweek

— are completely unimpressed and unmoved by celebrity endorsements. In fact, 93 percent say they look to blogs and consumer reviews for information before making a purchase. Because they're

encumbered with more debt

than previous generations, they're very careful about how they spend their money.

They expect seamless experiences:

Having grown up with digital technologies, millennials expect a smooth and satisfying experience in-store and online. And with so many choices available through online retailers, they want added value. International cosmetic vendor Sephora, for example, is wildly successful among millennials because the store rounds out its offering with makeup workshops, trend tutorials and a seamless digital-to-in-store experience.

They share information:

Research shows the  

81 percent of millennials now on Facebook

have an average of 250 friends and check their mobile devices an average of

43 times a day

.

Fifty-nine percent

make product recommendations to share highly positive or negative experiences, and 41 percent pass those recommendations to friends and family through social networking.
Given their social media prowess and discriminating nature, the opinions of millennials matter — a lot. News of one bad experience with a retail establishment can spread quickly through a variety of social channels, causing significant damage to your brand.
Earn Millennials' Business by Optimizing Your Online Reputation
Traditional marketing doesn't work anymore with the millennial crowd; your success with this critical market segment depends on the quality of your online reputation. The good news? Through proven Online Reputation Management strategies, you can optimize your brand image online, demonstrate a commitment to creating engaging and satisfying customer experiences, and win over this cautious, tech-savvy group of younger shoppers. Here's how:
Monitor and respond to reviews:

Customer reviews — positive or negative — should always be taken seriously. Acknowledging reviews is a way to demonstrate your commitment to the customer experience and mitigate issues that millennials may be inclined to share on multiple social sites, if left unanswered. Reputation.com recommends responding to 20 percent of positive and 100 percent of negative reviews.

Request reviews to increase volume:

The more reviews you have, the higher you'll appear on search results pages. It takes just 10 reviews to move a business from page 2 to page 1, and 50 or more reviews increase click-through rates by 266 percent. Make it easy for customers to rate you or submit a review through multiple channels, including mobile apps, social networking sites and text messaging.

Create advocacy through social engagement:

Engage with your customers and influencers via social to create advocates, drive site traffic and get the word out about positive reviews and feedback. Strategic, targeted social advertisements can help raise brand awareness, as well.

Use surveys to uncover trends and preferences:

Send out short, easy surveys — ideally using SMS, to improve response rates — to collect information about how customers experience your products or services. Use that data to identify what you're doing right and uncover problem areas so you can fix them.

Leverage feedback to improve operations:

Customer feedback can be a gold mine of information useful for training staff and optimizing the shopping experience. Some Online Reputation Management platforms offer tools to help you analyze customer sentiment and drill down into words commonly found in reviews about your business to get to the root of an issue or concern.
For more information about how to optimize your online reputation to capture more of the millennial market segment, download our success kit or watch a demo.