Reputation.com Employee Spotlight: Tony Tang
Reputation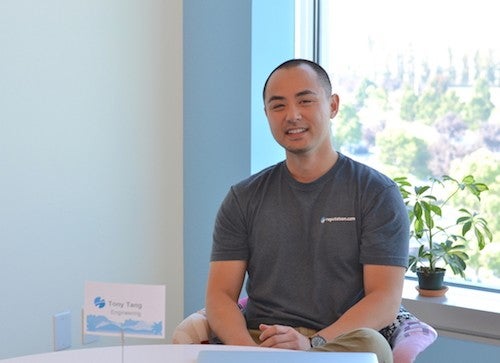 A great software product isn't possible without great software engineers. And Reputation.com has more than its share.
We recently interviewed one of our stellar software engineers, Tony Tang, to learn more about his position, background and aspirations, and how Reputation.com has enabled him to explore new career options and realize his goals of becoming a coding guru.
Q. What's your role at Reputation.com?
I work as a front-end software engineer on the Core Platform team, coding front-end interfaces for emails and public APIs.
Q. Why did you choose to work at Reputation.com?
I was referred by a friend, and it was perfect timing. I was looking to get out of manufacturing and into high-tech, and I saw the potential Reputation.com offered.
Q. Where were you working before Reputation.com?
I started here in 2011. Early on, I worked as a teller for Bank of America in San Diego. But I found pushing credit cards on customers a bit unethical, so I began looking for other opportunities outside of banking. I moved into manufacturing, operating CNC machines for precision instrumentation.
I wasn't hired at Reputation.com as an engineer. I started on the sales operations side as a Specialist doing lead generation activities. My first responsibility was to Google people's names. One time I found a princess of Saudi Arabia, who later turned into a Reputation.com customer!
Although I graduated from UC San Diego with an economic degree, I've always aspired to becoming a software engineer. Reputation.com gave me that opportunity. I left the company for a short time in 2015 to attend Dev Bootcamp, where I learned to code. When I returned to the company, I was hired as a technical solutions manager on the Product Operations team, then later promoted into my current engineering role.
Q. What do you enjoy most about your job?
I like the people I work with. Everyone's really smart and outgoing, and willing to help.
Q. What's the most exciting project you've worked on at Reputation.com?
I've done many interesting projects here. Most recently, I was tasked with building a dashboard for an auto dealership to display their recent top reviews on TV screens around their showroom. I had the opportunity to manage the entire project cycle including design, development and implementation.
Q. Where are you from originally, and where do you like to visit most?
I grew up in San Jose, then attended UC San Diego. I came back to the Bay Area after college, because there were more employment opportunities here. But I love San Diego — the landscape, the scenery, the ocean, the weather! I visit often. In fact, I was just there last weekend.
Q. How do you unwind?
I like to golf and fish. I started fishing when I lived in San Diego. Once I caught a marlin in Mexico — that was a thrill! I'm also a Netflix junkie.
Q. What's the best book you've read this year?
I recently finished Batman's' Hush. Do comic books count?
Q. If you weren't a software engineer, what would you be?
I've always wanted to design and own my own clothing brand.
Check out our careers page to learn more about the people who work at Reputation.com.