Reputation.com Employee Spotlight: Jacqueline Moreno
Reputation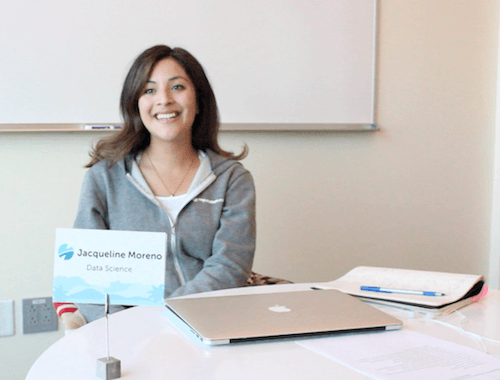 Jacqueline Moreno is a business analyst in Reputation.com's data science department. In her role, she owns several core business intelligence projects, designs and completes marketing analyses, and resolves issues for teams across the organization.
We recently had the chance to talk to her about her work, her experience, and her hobbies, and here's what we discovered:
Q. Where are you from?
I come from Antelope Valley, a desert area in Southern California.
Q. Where were you working before Reputation.com?
I was working as an assistant legislative deputy to 1st District Los Angeles County Board Supervisor Gloria Molina (an elected official). I led the county website team for all content on the 1st District. No one person on staff really owned Supervisor Molina's tech-related projects, so I saw an opportunity to become the "tech person" on staff, helping with the website and social media content informing constituents about legislative policies affecting their communities.
Q. Why did you choose to work at Reputation.com?
In 2015, when Supervisor Molina announced her retirement, I was given a transitional job in the county CEO's office, but decided to go to graduate school for computer science instead. I wanted to go deeper than website or social media management could take me. I learned to code in Java and was admitted to Mills College's post-baccalaureate computer science program in Oakland.
My first summer as a graduate student, I reached out to Reputation.com's HR team, asking if any departments had any openings for an engineering intern with Java skills. They connected me to the data science department. My experience working for NASA as a researcher when I was still an undergraduate years ago helped me during the interview process.
After becoming an intern, I was sent to study abroad in Budapest, Hungary. But the team had further projects for me, so I became a "remote intern." When I came back from Europe in the summer of 2016, Reputation.com offered me a job as a junior data scientist. After various projects with marketing, and working on the data science team's tagging and benchmarking projects, I'm now the team's business analyst.
Q. What do you enjoy most about your job?
I enjoy working with other departments, especially marketing!
Q. What's the most exciting project you've worked on at Reputation.com?
I enjoyed being involved with conducting the recently completed national healthcare survey. The project enabled me to listen to consumer feedback and reviews about a very important topic — their healthcare experience.
Q. What's your favorite place you've traveled to?
I loved living in Budapest, where I spent four months working remotely for Reputation.com. It was an amazing experience — I didn't even know the language — and I was grateful for the freedom my job afforded me to experience a foreign country and its culture.
Q. How do you unwind?
My friends and I watch outdoor films in my backyard. We hang a white sheet of paper up and project movies onto it — enjoy a feature film and eat snacks.
Q. What's the best book you've read this year?
Who Thought This Was a Good Idea?, a memoir by Alyssa Mastromonaco, former deputy chief of staff for operations for Barack Obama. I love memoirs written by women about their careers. I learn a lot hearing about the ambitions of women older and more experienced than I am.
Q. If you weren't a business analyst, what would you be?
My dream job would be creative director for a fashion brand.
Check out our careers page to learn more about the people who work at Reputation.com.