Reputation Score: The Power of Positive Feedback (with Examples)
Reputation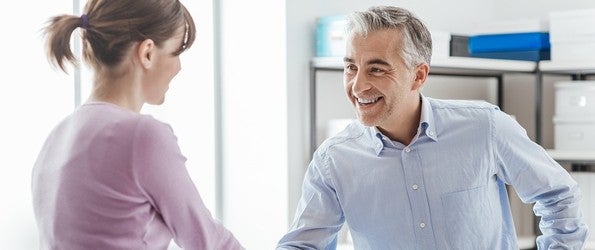 Gathering and acting on customer feedback is good for a business's reputation. In fact, customer reviews are an important factor in the calculation of you brand's
Reputation Score
. A higher review volume will boost a company's Reputation Score for several reasons.
Basic statistical theory says that larger sample sizes (in this case greater review volume) result in more accurate mean values and reduce margins of error. In terms of reputation, the more reviews a business receives, the more likely those reviews (and average star ratings they generate) are to reflect the reality of the customer experience.
Here are three examples of businesses that reaped the benefits of increased review volume.
Dental Practice Solicits Reviews, Boosts Reputation Significantly
A dental facility in London had a growing list of happy clients, but their online review volume was low. This made it harder to attract new clients and optimize their SEO. Working with Reputation.com, the practice developed a reputation improvement plan that included taking steps to gather more patient reviews.
To do this, they used their practice management software to automatically ask patients to write a review based on their experience. Asking was all it took. Soon the number of reviews increased dramatically, and this alone helped improve the practice's ranking in local search results. Moreover, with more reviews, the average star rating shot up to 4.9 out of five stars.
Self-Storage Company Raises Star Rating, Reputation Score
A multinational self-storage company wanted to boost its online reputation, but company leaders weren't sure how to raise their average star ratings. Working with Reputation.com, the company developed a systematic approach to requesting and responding to reviews. This required providing managers at each location with tools and training. Managers were also given templates to for responding to reviews, and trained on how to use them.
Download our free Online Reviews and Ratings 101 guide.
Not only did online review volume skyrocket by a factor of over 200, the proportion of positive reviews increased by 10%. This had the effect of improving the average star rating from 4.4 stars to 4.8. Consequently, the company's Reputation Score shot up to an impressive 727.
Automaker Improves Reputation, Increases Sales
One of America's Big Three automakers with over 1,800 dealerships discovered for themselves that improving their Reputation Score also increased unit sales. One of the key steps the automaker took to boost their Reputation Score was to increase the volume of car dealer reviews by consistently asking customers for them.
It worked. Review volume increased by 325%, and negative review sentiment dropped by 30%. The company's average star rating went up from 3.5 to 4.5. Perhaps the most impressive result was on the bottom line: The company booked a 6% increase in average seasonally adjusted sales after only six months.
How to Get More Customer Reviews
If you want to increase your review volume, there are several steps you can take right now:
1) Create business profiles on review sites, starting with Google My Business. Set up profiles on Google Local, Angie's List, Yelp or any others that are relevant to your business.
2) Consistently ask customers for reviews, and do so promptly after doing business with them. The more customers you ask, the more reviews you'll receive.
3) Make it easy to leave a review. You can put direct links to your review profiles in follow-up emails, on your website, in your newsletters or on receipts.
Don't be afraid to ask for reviews. Sure, not every review will be positive, but the more reviews you get, the more your overall ratings will reflect the actual customer experience. Additionally, as your review volume increases, your SEO efforts will pay off more.
To learn more about Reputation Score, what it means and how to improve yours, download our free guide to How Reputation.com Does It: Reputation Score.