Q&A with Pennie Sponsel, Head of People Operations at Reputation.com
Reputation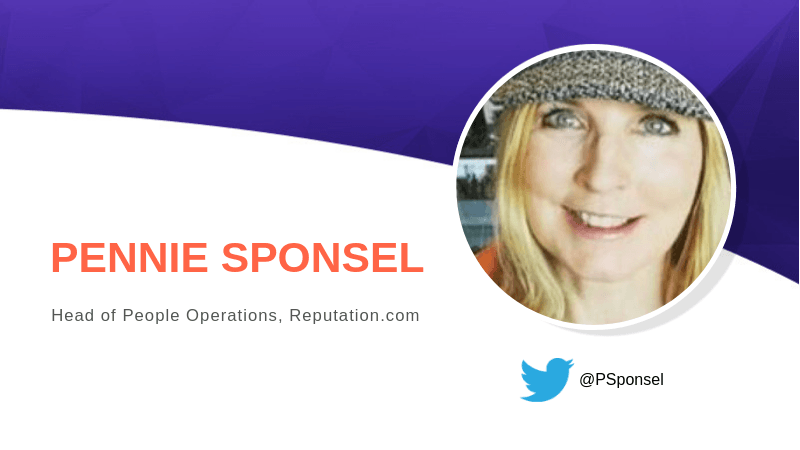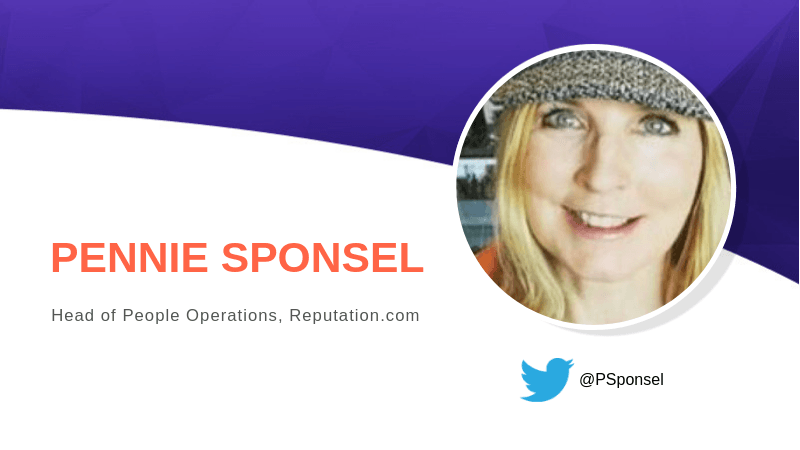 Pennie Sponsel is the Head of Global People Operations at Reputation.com. With more than 15 years of HR experience, Pennie specializes in culture development, compensation and performance management, talent acquisition and rapid organizational growth. Prior to joining Reputation.com, she held positions at ChargePoint and Workshare.
Pennie received a B.A. from Chadron State College and earned her Professional of HR (PHR) certification through the Society of Human Resources Management. She also prides herself on being a mentor to HR professionals beginning their careers.
In this interview, Pennie discusses International Women's Day, gender parity and the importance of work-life balance to company culture and employee happiness.
This interview has been edited and condensed.
International Women's Day (IWD) is March 8, 2019, and the theme is Balance for Better. How does Reputation.com help women in business find balance?
Reputation.com is a company just like others in the sense that we have women with families who also want to excel in their careers. We try to meet each person's requests and do what we can to help them attain their career goals.
Our company is getting to the stage where are beginning to insert levels in a position so that there is an opportunity for advancement. We have women who go out on maternity leave, and while we have our statutory requirements, we also offer paid parental leave to those who qualify. We work with each individual to maximize their benefits.
When women return to the workforce, we work with them if they have challenges and need a flexible schedule. For example, they can work from home or reduce their work schedules. We give women time when they're transitioning back into the workforce to help minimize stress. We do what we can to be sure they have everything they need.
IWD organizers point out "balance is not a women's issue, it's a business issue." How can businesses find better cultural balance?
Companies will have challenges with success without happy employees, and with happy employees comes an outstanding culture. For us, we have culture teams located at our Tempe, Chicago and Redwood City offices in the US, and in our Liverpool, UK office. We provide onsite lunches a few days a week, monthly happy hours and more. There's even a group of our engineers in Redwood City that get together every month to play Dungeons and Dragons!
We also have an arcade room that contains a basketball hoop game and a pool/ping pong table; plus, it is a quiet area for people to relax if they want to. We celebrate babies, anniversaries and birthdays. We celebrate many different holidays, such as Diwali.
We also give back to our community. We're sponsoring an Adopt-a-Puppy event next month at our Tempe office. Our employees will bring in donations of dog food, beds or anything that the charity organization can use to help the dogs get adopted.
During our global field kick-off event in February, we organized a Build-a-Bike event, during which we built bikes for 18 children. Working with the local YMCA, we invited five little girls to pick out their bikes on-site.
Our employees have a very strong sense of community. In our Redwood City location, a group of folks go almost every Sunday to a church in San Francisco to feed the homeless. We make donations of supplies to local schools, and we're now considering a program that I call A "Donation of Time," where instead of people taking a day off and getting paid for it, they use that time to go volunteer.
Employees don't always leave a company on a good note. What do you do to manage employee feedback about the company?
We know it's a digital society. People post how they feel in blogs, on Twitter, Facebook or Instagram; and whether it's a good or bad feeling, people pay attention. You can go from being the most amazing manager to being the most hated with a handful of bad reviews.
Glassdoor is one of the main venues for people to go and provide feedback on our company. Whether it's a negative or positive review, we're making a point to address each review and provide honest feedback.
It's important for businesses to respond to customer feedback in order to maintain their online reputation. Our product suite helps businesses track customer feedback, and provides a single dashboard where they can review and respond to it.
Gender parity is the big theme behind International Women's Day. Do you think women have found a measure of parity in the work world today?
I'm from the Midwest. When I was growing up, we were expected to finish high school, get married and have kids. Or you could become a hairdresser, get married and have kids. Or you could get a two-year degree, work in a grocery store, get married and have kids. That was what was expected for my generation in my hometown.
We weren't told about the opportunities out there. I was probably the only person in my family who left the Midwest. I went out on my own, and I'm really glad I did. I was the rebel in my family.
My parents did an excellent job instilling values: Be accountable, responsible, respectful and humble. In the end, it did a lot of good for me. But I didn't really find my way until about 20 years ago when I discovered that HR and People Ops would be my chosen fields.
I had to put myself through school, get myself a degree, certifications and experience. I didn't have people say, "we'll handle this for you." I think that's still true now. What I see now is that there are many employees, both male and female, that are taught that you need to be in school, you need to get degrees, you need to find companies to help you get there – and they do. It's part of their upbringing. I am seeing a lot of women coming into the workforce as engineers, whether it's hardware or software.
Thirty-five percent of our employees are female, and it's across the board. We've got female engineers, we have women in accounting and marketing, and all of my team except for one person is female.
That said, gender parity is still an issue in tech and other industries. But I'm seeing women in their 20s and 30s being vocal about this. That attention is awesome, because without raising our voices, we aren't going to get anywhere.
How does Reputation.com balance the needs of their diverse workforce and continue to attract the perfect mix of candidates – including women, of course – in a tight labor market?
So, we have offices in Chicago, Tempe and Redwood City in the U.S. Every city has different strengths. In the Bay Area, it's engineering. When our talent team is looking for a particular person, we write the job description for what the role should be. We bring the candidate into the interview, and then we do our best to hire the right individual for the role. Again, it's women in technology, but depending on the role, it can be less diversified because there aren't that many candidates to choose from.
In my prior company, we hired a female hardware engineer from Tesla. She's one of the smartest people I've ever met. She put herself through school and got a master's degree. She took a mindfulness course for six weeks and didn't speak to anyone during that time; it was all about listening and understanding. When she had a baby, we talked numerous times, and she wondered about coming back and what she could do. I told her, "You come back to your job."
I feel like we have to give more care to our women in technology. It's so easy to get dismayed and feel like they'll replace you with someone else. For me, I'm very careful about how I talk with people about sensitive topics like having a baby or changing a schedule, because they need to take care of their family. We do what we can to meet those needs. There's a gentle balance that needs to be considered with every situation.
To close, would you share some of your experience and wisdom with young women just coming into the HR community and workforce? What advice do you wish someone had shared with you when you started?
First, you have to be nosy in my business. You have to understand how people feel and investigate and check backgrounds. It's kind of like being an FBI agent, but with no gun.
New people coming into the workforce must understand that they won't be starting out as the head of people operations. I'm not trying to be conceited here, but I am trying to emphasize the point that it's hard work and there is a lot to learn along the way.
You have to be open to receiving feedback and criticism, and must be able to provide constructive and honest feedback in situations. You have to understand when someone comes to you with an issue that it's not your problem, but it is your problem to help solve. You're there to help guide, consult and resolve issues.
Another belief and value I hold is that it is important to not take things personally. Sometimes people won't agree with the decisions you have to make. I've experienced challenging situations where I've had to tell a company we've lost an employee. I've had to deal with companies downsizing, and let people know they were being laid off. There have been days where I would go home and cry, but at the end of the day, looking at these things holistically instead of personally is essential. In the end, it's not my problem, but I am here to help solve it – ethically, fairly and honorably.