Q&A with Pam Didner: Aligning Marketing With Sales to Create Great Customer Experiences
Reputation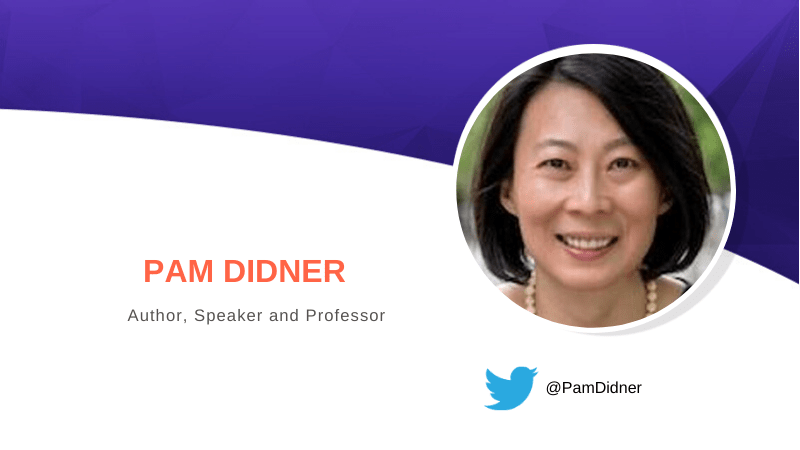 Pam Didner is an author, speaker and professor who helps companies and clients align their B2B marketing and sales strategies and programs to improve customer experience. 
Tell us a little bit about what you do.
I worked at Intel for 20 years, but about five years ago, I left the corporate world. I wrote two books, and then I started to do tech marketing consulting, teaching and training on my own. I currently focus on the alignment of sales and marketing, account-based marketing and content marketing. I work primarily with B2B clients, helping them accelerate marketing's contribution to sales, mainly through sales enablement and content marketing.
What has your experience taught you about the alignment between sales and marketing?
B2B marketing tends to be more transaction-based and the purchase cycle is typically longer than B2C. B2B clients sell to companies and enterprises, which makes the alignment between marketing and sales even more crucial.
In the digital age, customer experience is more essential than ever before, and both sales and marketing need to work together to give customers a top-notch experience from the top of the purchase funnel all the way down. Alignment between sales and marketing helps a company avoid duplicating content, which impacts credibility, wastes time and resources, and damages the customer experience.
How is technology changing the way companies do sales and marketing?
Before the digital age, people tended to get their information through print or through salespeople who shared their expertise directly. Now, so much information is available through mobile phones and computers that knowledge sharing and distribution have been greatly accelerated. Today, salespeople are more in the position of reacting to each person's level of knowledge rather than providing all the knowledge themselves.
Technology has taken content marketing to a much higher level. By the time you create a whitepaper, for example, there may be multiple other whitepapers with similar information already out there. So there's a lot of pressure to create more specialized content as well as to deliver it in the most effective way you can, whether that's by using social media, having a search-optimized website or something else that will reach your target market.
What part does content marketing play in sales?
It plays a critical role in sales, especially in B2B marketing. Content marketing is useful to educate customers about complex B2B products and their features, whether it's a blog post, a video or an email campaign. There's really no better way to showcase or illustrate your product than with content that offers valuable information while also explaining how the product fits the perceived needs of the potential purchaser. Continuous content marketing that exposes customers to your product in an interesting and engaging way is essential.
How do you find clients?
Primarily, I practice what I preach. I create content myself, syndicate my content to a number of different social media channels, and optimize my website so searchers will find it. I also do speaking and training, which helps people understand what I can do for them when we work together.
I create an editorial plan to be intentional about the content I put out there and how it is structured and scheduled. I also make targeted cold calls to prospects I have researched and identified as ideal customers for what I do. Sometimes I get referrals and word of mouth from other clients I have worked with or others who are aware of what I do.
What do you hope to help your clients learn to do?
A part of me wants to be on retainer forever with my clients, to have guaranteed billing and to continue to do things for them that bring value. On the other hand, what I really like to do with clients is to show them "how to fish" so they can do content marketing and sales alignment on their own. Then, they can fire me.
Once I have shown them what things need to be done and some tools for how it can be done, it eventually gets to the point where they don't really need me anymore for the reasons I was originally hired. Then I can work on different projects, or find different ways to help them and move them along even more.
The bottom line is, I want to pass on the knowledge I have to my clients and bring them along to the next level of functioning in their business. Sometimes my clients also learn how to run with what I've taught them and come up with even better ideas based on what we've done together, and that's great, too.
What is the role of reputation management in sales and marketing?
Reputation management is critical for sales and marketing. It's literally what a brand stands for that will gain it customers and allow it to stay in business at all. Marketing and salespeople can say anything, but if you don't have a quality product that people need, you don't really have anything that's going to last.
Reputation boils down to two words: Trust and respect. Any kind of sales transaction relies heavily on the reputation of the company for delivering a quality product and for having people that provide needed support and help for customers. As a customer, you want to know that promises will be kept and that you will have what you need to make the best possible decision for your own company.
Another aspect of reputation is to make sure that a salesperson or marketer offers high-quality information to a customer and that it is worth that customer's time and attention. I want my customers to look at me and know that when I say I will get something done, I will get it done and that it will be done well.
This interview has been edited and condensed.
Want to learn more about reputation and customer experience management? Download the Top Trends for Online Reputation and CX Management Report today.