New! Easy-to-Use Response Templates for Reviews, Surveys and Kiosk
Reputation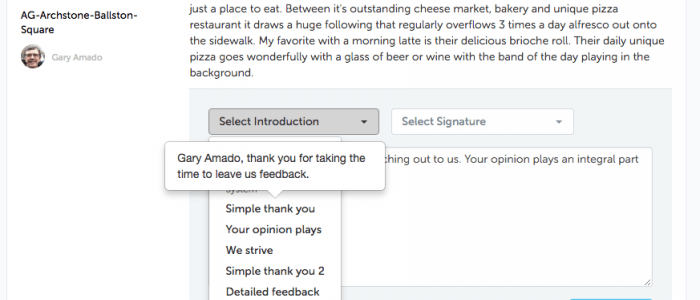 As a location manager, you know how difficult it can be responding to negative and positive reviews, especially if you're new to the process. Reputation.com makes your job easier with our new response templates — macros — that take the guesswork out of crafting responses.
Macros are also great for a decentralized review responding model. For example, a large business can now feel comfortable allowing local staff to respond to reviews using approved templates created by the business's corporate marketing department.
Here's How the Process Works:
Log in to the platform and you'll see system-level macros, introductions and signatures.
An introduction is the body of your response, and a signature is text you typically include in a conclusion of your response such as a location phone number.
Once you pick a template for your response, you can personalize the response by adding text.
Variables can also be added into the template. See a full list below:
This ensures that each response pulls in the correct location or customer information and adds a bit of customization.
What's more, to help each location manager use the correct template, we've added the ability for templates to appear only for positive ratings (4-5 stars) and others to appear only for negative ratings (1-3 stars or no rating).
This will ensure that you have the appropriate sentiment for each response.
We hope this helps you get started with review responding. If this is not a package that you currently have, please reach out to your account manager.