Net Promoter Score & Reputation Score: What's the Difference?
Adam Dorfman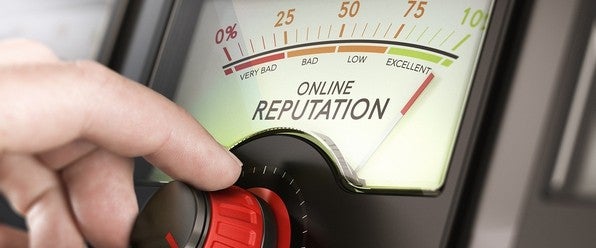 For years, companies have relied on Net Promoter Scores (NPS) to help them gauge customer engagement, brand identity, and satisfaction. However, NPS does not provide a complete picture and the insights your company needs to understand the customer fully.
That's why many companies are turning instead to reputation score, which gives you a broader perspective on customers using multiple data points.
In looking at NPS vs. reputation score, what are the differences?
Beginning at Bain
NPS was introduced in 2003 by Bain & Company fellow and author Fred Reichheld in a Harvard Business Review article. It asks one fundamental question: On a scale of zero to 10, what is the likelihood you would recommend Company XYZ to a friend or colleague.
The answers to that question are plugged into a formula that generates a score that businesses can use to assess customer engagement. Higher scores usually led to referrals, repeat business, and ultimately, more revenue.
Larger, Broader Focus
Companies today need a deeper level of understanding at various stage of the customer journey. There are many different sources for this information that companies can leverage.
Related: Know Exactly How to Improve Your Brand Reputation with Reputation Score X
Social media, for example, contains a treasure trove of information, including kudos, complaints, and questions. How can companies collect and quantify this qualitative information so it can be leveraged for the valuable insights it contains?
Another example is the information available in online reviews. What do all those comments and stars mean for your brand and how people are perceiving your products? Download our guide on How Better Customer Reviews Drive Revenue for more information.
Those and other data points contain insights in the aggregate that are valuable and powerful for your business.
Why NPS Is Incomplete
NPS is a powerful tool as well, but it does not provide the full picture. The biggest issue is a lack of context. While a high or low score may indicate you're doing something right or wrong, it's not clear what is working or not working. To gain a proper perspective, you'll need to understand why a customer gave you a particular score.
NPS has its advantages. It can give you one measure of the customer experience. However, it is most effective when it's part of a broader, comprehensive approach—reputation score.
Why Reputation Score Matters
Reputation Score gives you a comprehensive, accurate and complete representation of your brand's online reputation, delivered in real time. It also provides actionable insights that can help you improve where needed.
Related: What Factors Influence Reputation Score?
Reputation score has several key components, including:
Star ratings
Review volume, recency, length, and spread
Listings accuracy
Search impressions
Review response
Social engagement
Reputation.com uses patented algorithms that calculate your score and update it as the components change, giving you longitudinal data and a measure of new processes and improvements. You can compare your score to others in your industry and best-in-class rankings.
Most critically, you can use the insights to improve your business. Analysis of score components can identify areas of need and inform action plans to address those issues.
Your reputation score provides you with a 360-degree understanding of your online reputation. Using the score helps your organization, either collectively or at a single location, to improve the customer experience.
Interested in learning more about reputation scoring? Download our free guide to How We Calculate Your Reputation Score today.