Q&A with Michele Linn: Using Research to Grow Your Sphere of Influence
Reputation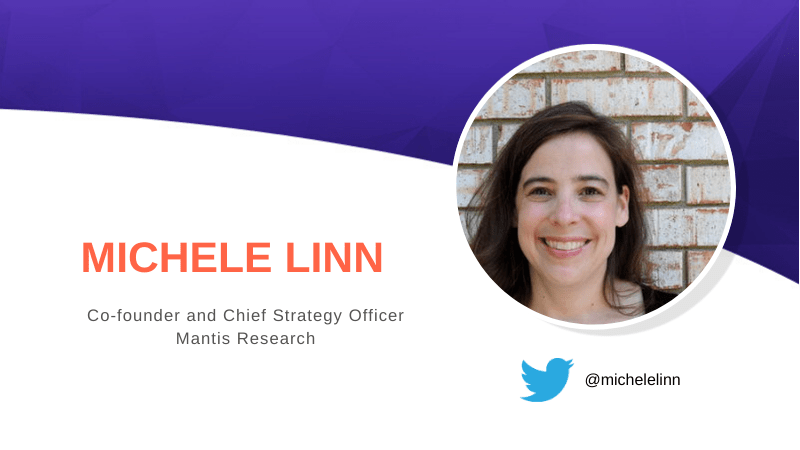 Michelle Linn is a long-time content marketer and blogger who served as Vice President of Content at Content Marketing Institute and now runs Mantis Research, a firm dedicated to producing and using original research to create unique marketing content for companies.
How did you get started in content marketing?
Back in 2008, I quit my corporate marketing job to freelance. I ended up connecting with five other women, and we started this blog back in the day called Savvy B2B Marketing. I honestly didn't know it at the time, but we were doing content marketing with the blog. We just wanted to help educate our audience. When I realized that I was using the blog to get my own clients and that it was content marketing, I started helping other people do the same thing.
What inspired you to start Mantis Research?
I worked for Content Marketing Institute (CMI) for about seven years, and I loved that job, writing and teaching about content marketing. When CMI was acquired by another company, I decided to go back out on my own. I looked for a segment of content marketing that didn't have too much coverage yet, and original research jumped out as an area that could use more development.
I was already partial to using original research in content marketing. I think it works incredibly well, and I enjoyed doing it, so it was a good fit. A lot of organizations offer original research as an option for content marketing, but not a lot show you how to actually do it.
What does Mantis Research do for companies?
As opposed to doing research for internal decision-making, we help marketers who want to publish original research to help with their content marketing efforts. Original research can help with things like getting backlinks, mentions, leads and subscribers to grow a company's potential customer base and reach, and that's what we aim to help companies do. Research can also help companies and individuals become thought leaders in a particular space.
We specialize in benchmark studies, which are survey-based research studies in a company's target or adjacent audience that help marketers find something new, different or meaningful to add to an already existing knowledge base in an area.
We think it works really well to take data and make from it a really compelling story that will attract people. Without a compelling story, you really won't be able to use the data you collect in ways that will meet your marketing goals. The other thing we do is help marketers find ways to amplify their findings. Marketers that create more content from their findings, whether blog posts, webinars, infographics or other types of content, are more likely to have their expectations for the research met. Research is ideal for creating many different types of content.
There are times when this research can also help with internal decision-making and serve a dual purpose, which only serves to increase the benefits it has for companies. You don't have to publish the answers to all of the questions you ask, so if companies want to throw in a few questions for internal purposes on the survey, they can do so.
What sets really good content apart from content that is just okay?
I honestly think to an extent it depends on where you are in your industry. If you are in a market that's already saturated with content, then you need to do something that's better packaged, better presented or provides new insights. If you are in a newer space, you still have to create good content that's packaged in a way the audience can use, but you can usually present more basic ideas and insights because they're not already out there.
With original research, you can find something that is new and different, and you can start a conversation that is meaningful to your audience based around those things. I think that's really powerful.
How can companies avoid "adding to the noise"?
I think companies really need to take a step back and figure out what their audience needs. When you consider quality versus quantity, it's kind of obvious that quality should win. But people get caught up in producing a certain amount of content because they think they should, and quality ends up suffering. Pick a few things that you can do really, really well rather than trying to do everything but not doing any of it to a high level of quality. There's too much danger of becoming disconnected with the audience when you focus on quantity at the expense of quality.
How do reputation management and a focus on customer and user experience play into a quality content marketing plan?
People think about the content that they write, but they don't necessarily think about the user experience it provides. Is it interactive and easy to navigate? Are there screenshots? Content that is easy to navigate, reads well and engages the reader is going to lead people who experience that content to think more highly of the brand.
I know that marketers are doing research because they want to get a marketing result, but we encourage companies to be marketing scientists and not to look for any certain result. When you look for a certain result, it lessens the impact of the research. It's very easy for your target audience to sense that and it doesn't go over as well. Investigating openly not only makes the research better; it makes it more credible.
You don't want to be the punch line to the joke in your industry. Doing research to validate your own convictions is a terrible reason to do research. Think about what you can do to help somebody in your audience do their job better, and make sure the research fits into your core values in some way that is clear, but not obvious.
This interview has been edited and condensed.
Are you looking to improve your online reputation with high-quality content and a strong reputation management platform that improves customer experience? Download our Top Trends for Online Reputation and CX Management Report today.