Q&A with Matt Bertram on Using Content as a Brand-Building Tool
Reputation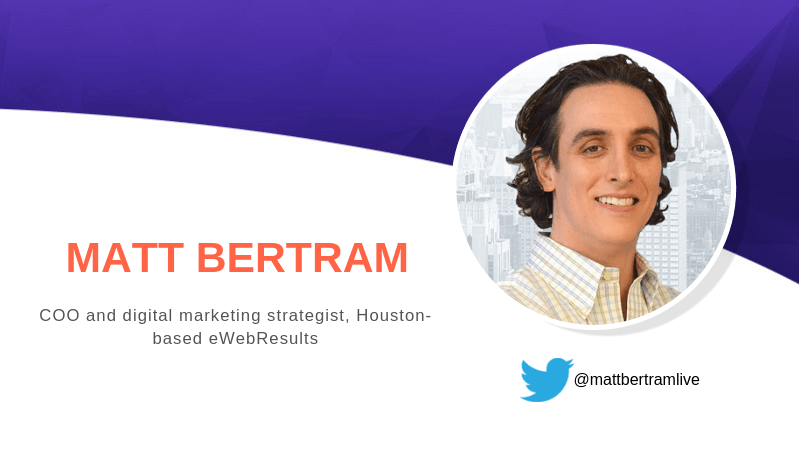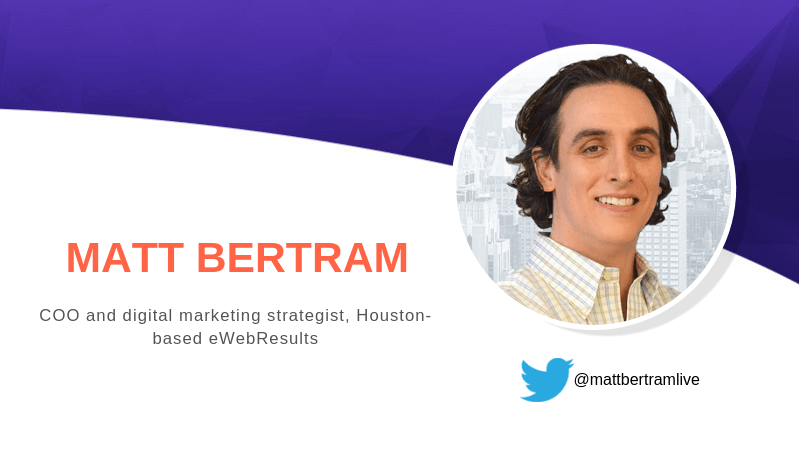 Matt Bertram is the interim COO and digital marketing strategist at Houston-based eWebResults, co-host of a popular internet marketing podcast and the author of Build Your Brand Mania: How to Transform Yourself Into an Authoritative Brand That Will Attract Your Ideal Customers. He talked with us recently about the importance of giving customers credible content that builds trust. 
This interview has been edited and condensed.
Tell us a little about your podcast and how it relates to your company.
The Unknown Secrets of Internet Marketing podcast has been around for about ten years and has over 450 episodes. We get into the nitty-gritty and the technical aspects of all things digital marketing, from website design and usability to reviews, business listings, email automation and social media marketing.
Digital marketing is a pretty broad topic, but our primary focus and specialty is inbound marketing. It's how we've built our business. My book, Build Your Brand Mania, is about how we view the world and how we design our inbound strategies.
You talk about being an "authoritative brand." Could you define that for us?
An authority has influence, is someone you look to for expertise and someone who can create movement in a certain direction. Authorities are trusted advisors. To become an authoritative brand, you need to get into your audience's inner circle and become that trusted advisor.
An authoritative brand is also distinctive because they own their brand online. They've claimed their map listings and business listings. There's consistency in what they're doing online, and they're doing it well. They occupy the real estate on the first page of Google with those listings, and by creating content that's relevant and that Google wants to show people.
How do brands build authority?
You have to give before you get, and it takes time to build authority. You can't just say you're an expert; you have to show you're an expert. Know your audience and provide valuable content that resonates with them. Typically, if you give somebody something of value, they will try to reciprocate in some way and give something back. That's how to get started.
And if you're interested in building authority in search, it's important to remember that Google's goal is to provide the best possible experience for the user and give them the information they're looking for. If that's your goal, too, then Google is going to reward you.
Your book talks about "the science behind credibility." What role do content and online reviews play in building brand credibility?
There are different things you can do to trigger that trust reaction and build credibility with your audience.
I emphasized earlier the importance of creating great content. If people spend a certain amount of time with your content, they feel like they know you and would like to do business with you. They will favor a company they are familiar with versus one they don't recognize. A lot of the things that Reputation.com is doing help to build that content and visibility online, ultimately boosting brand credibility.
The review aspects of what Reputation.com does are also important. Having great online reviews and lots of five-star ratings signals authority and credibility — and it also helps with your search rankings. Those reviews are like gold for a business; they are proof of the value of your products and services, both for prospective customers and search engines.
People want to see that your brand offers value, and you've created value for others. They're asking themselves: Do I trust you? Can you help me achieve my goals? Have you done it before? Can you do it for me?
Reputation.com is the leader in online reputation management using an all-in-one platform that combines social media management, online reviews and ratings, directory and business listings and customer surveys. Download our free Online Reputation Management Success Kit to get started.