Make the Reputation.com Platform Your Own with a Custom Dashboard
Reputation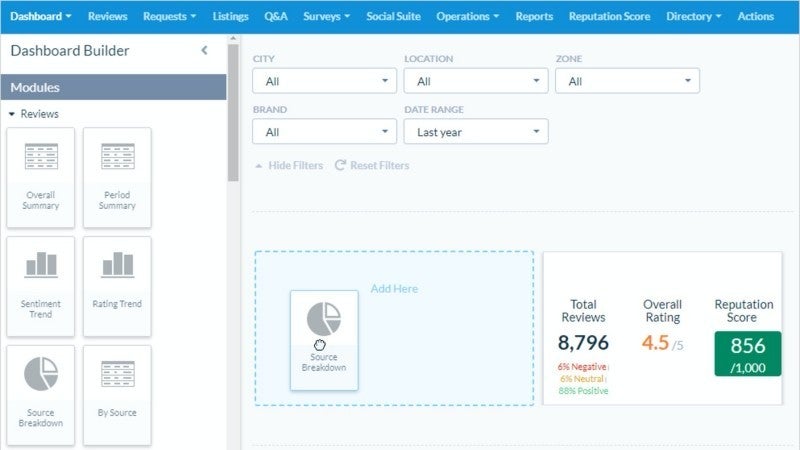 "One size fits all" is for socks, not software.
Our standard Map, Summary and Surveys dashboard views provide a helpful overview of your CX performance. But have you ever wished you could change things up to better suit your specific needs? If so, you're going to love our new Dashboard Builder.
Recognizing that every company and user is different, we're happy to launch fully customizable dashboards in the Reputation.com platform. With this brand new capability, you can:
Create a new dashboard from scratch using a simple drag-and-drop interface
Customize an existing public dashboard and save it for future use
Start From Scratch
If you're looking for complete control over what you see whenever you launch the Reputation.com platform, then you'll want to start with a blank slate. By choosing to create your own dashboard, you'll open up our easy-to-use drag-and-drop Dashboard Builder and have full control over the placement of each dashboard element.
With more than 100 charts and data widgets to choose from, all clearly organized by platform solution (Reviews, Surveys, Social, etc.), there's no limit to the insightful views you can come up with for your business.
Get a Head Start
Perhaps one of our existing dashboards works well for you, but you'd just like to make a few minor adjustments? Now you can customize a standard dashboard by changing the content or filters for any individual widget, or even by adding new widgets. Then, you'll be able to save your changes for future use. And not to worry — the standard view will always be there for you as well if you decide you'd like to revert back.
Use Your Creation
No matter the path you choose, with your newly created dashboard you can:
Set it as your default view that's displayed each time you launch the platform
Forward it to your team for unified reporting
Download it as a PDF to save for later
Schedule regular, automated deliveries via email
For a visual walk-through of our new Dashboard Builder, check out the instructional video below. Then be sure to try it out for yourself!