5 Key Takeaways from Transform '19
Reputation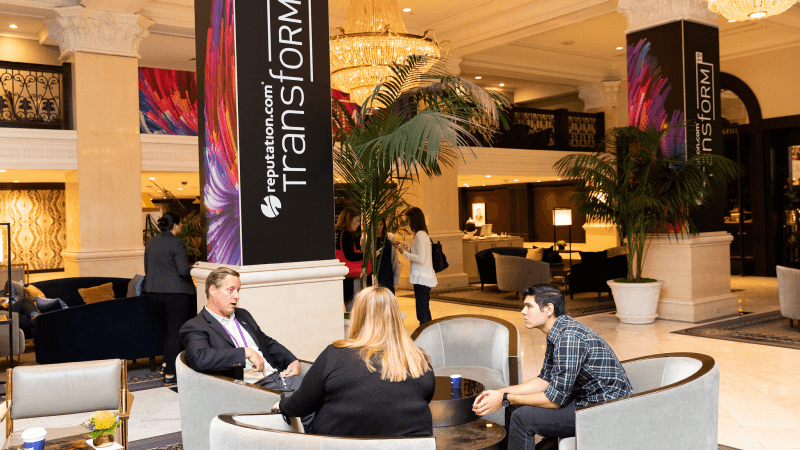 Transform'19 is a wrap — and wow! What a conference! From outstanding keynote speeches to industry-specific breakout sessions, attendees will be talking about the event and the great content for a long time to come.
Transform drew nearly 300  attendees from many different industries, including Healthcare, Automotive, Retail, Property Management, Financial Services and more. Speakers from Salesforce, Google, JD Power, Banner Health, AutoNation and many other leading companies graced the stage, discussing trends, sharing success stories and imparting their wisdom about reputation and CX management to an eager, attentive audience.
To summarize the learnings from this one-of-a-kind conference would take more space than we have in a blog post, so here are five important takeaways attendees took with them back to their organizations:
1.  The Feedback Economy is here!
Earlier this year, CEO Joe Fuca introduced the concept of the Feedback Economy. This was a key theme throughout the conference that really resonated with attendees. During his opening keynote, Fuca invited Reputation.com founder and author of The Reputation Economy, Michael Fertik, to share the stage and discuss how reputation management has evolved and must now encompass a growing number of customer touchpoints and data — both structured and "in the wild."
According to Fuca, three factors have given rise to the Feedback Economy:
Consumer behavior has evolved
Consumer trust is waning
Brands don't have control anymore
"In this new environment, feedback is everywhere and readily available, and it's the driving force behind all purchasing decisions," said Fuca, who cited that 93% of consumers look first to reviews for information before making a purchase. "Now consumers have an active role in shaping a business's reputation — meaning reputation is more heavily influenced by what's happening outside the organization than what the organization is telling the public," he said.
Fuca explained that the Feedback Economy is the driving force behind innovations to the Reputation.com platform, including our tight integrations with Google business services. Additionally, Fuca explained how, increasingly, companies are using Reputation Scoreto track, analyze and take action on feedback from all customer touchpoints to improve overall brand perception, attract and retain more customers and optimize the customer experience.
2. The customer is more disruptive than any new technology.
Salesforce Chief Evangelist and best-selling author of Growth IQ, Tiffani Bova, was the keynote headliner, and she rocked the audience with a riveting presentation on how to grow and thrive in this new highly transparent environment by focusing on customer engagement. "Growth and comfort will never co-exist," Bova said. To succeed, companies must get comfortable with being uncomfortable.
Part of this state of discomfort comes from customer-centric innovation. Historically, companies have innovated from the inside out, telling their customers what they need. This model, she said, was slow-moving and allowed for very little input from the customer. Today, a customer-centric model is necessary for success — but it moves quickly and requires agility and transparency that many companies aren't used to. Today, said Bova, "The customer is far more disruptive than technology."
Focusing on customer engagement is essential to every part of the business. Not only is the customer experience a competitive differentiator, but providing a great experience and meeting customer expectations is the top sales challenge today. This challenge, Bova said, is best solved from within.
"Eighty-five percent of executives surveyed said that internal, not external, obstacles keep their companies from growing profitably," she said. "Those obstacles can only be addressed by applying intelligence systematically to create positive feedback loops."
3. Reputation.com's Partnership with Google will Open Doors — and Drive Traffic — for Reputation.com Customers
During the conference, Reputation.com announced an expanded partnership and Premier Partner status with Google. Emi Wayner, head of Strategic Partnership Development, spoke to attendees about consumer trends in local search. Wayner provided the inside track on Google My Business, and discussed how the partnership with Reputation.com will help organizations with multiple locations improve their visibility in Google search with rich, accurate listings that rank higher and stand out.
Wayner pointed out that consumers today are more curious, demanding and impatient, echoing Joe Fuca's assertion that changing consumer behavior is a driving force behind the evolution of the Feedback Economy. To tap into customer intent and make the sale, said Wayner, businesses must:
"Be there" throughout the entire customer journey.
"Be valuable" by offering meaningful experiences to reach customers wherever they are.
"Be quick" by delivering customer needs in real time.
One in 5 searches on Google are related to location and the majority of customers are finding businesses not by typing their names, but by looking for similar businesses in the area. By creating more than three billion connections each month, Google My Business empowers businesses to provide rich and real-time experiences that meet customer expectations in a mobile world.
Google's integration with Reputation.com benefits businesses in three distinctive ways:
Maximizes visibility:Locations stand out everywhere customers search.
Increases engagement: Businesses can generate more customer traffic and become the customer's first choice.
Improves experience:Businesses gain access to customer experience insights and can act on issues in real time.
The full press release describes the details of the partnership and can be found here.
4. Reputation.com customers are seeing significant ROI from reputation management.
No user conference is complete without the opportunity to hear success stories from other customers, and Transform'19 delivered. Here are a few:
Banner Health's CMO Alexandra Morehouse took to the stage to talk about how she's made Reputation Management the cornerstone of her organization's integrated marketing strategy. She shared some surprising statistics: "Between one-third and one-half of customers are in the market for a new doctor at any given time," she said. "Fifty-seven percent of Millennials and 61% of parents with children are in the market for new doctors." Clearly, the market share for new patients is up for grabs in this environment, and providers who take advantage of reputation management strategies to raise awareness, increase transparency and build trust with existing and future customers will come out ahead.
Scentre Group's Director of Strategic Analytics Insights and Research, David LaMond shared how his organization significantly increased its Reputation Score by tuning into customers feedback. His team has established "learning loops" that enable locations to analyze feedback and take action to improve customer experience in its shopping centers. "A customer's experience at a retailer sets the tone for their experience at a Westfield center," said LaMond, whose team uses Reputation.com to understand that experience, plan improvements and take action. "We listen and respond to our customers' feedback, and curate the retail mix, services and experiences in each center to reflect their expectations."
FordDirect's Director of Social Media and Reputation Management, John Patterson, talked about how reputation management via Reputation.com has helped its dealerships increase sales. "Locations who have been enrolled in our Reputation Management program for three years are selling 2.4 more vehicles per month than the baseline," Patterson said. Patterson said FordDirect plans to expand the use of the platform to more dealerships, develop a deeper partnership with Reputation.com and leverage more of the platform to help dealers make more money.
5. Reputation.com users want to learn!
Our first-ever University Day was a huge success, thanks to Reputation.com's Learning & Development Training team led by, Kristin Lisson. The hands-on workshop was designed to help every level of user — from beginners to the most experienced — get the maximum benefit and results from the reputation.com platform. In light of all of the positive feedback we received, you can bet Transform'20 will provide even more learning opportunities for users, so they can expand their skill sets and knowledge about the platform and maximize their investments.