Q&A with Joe Lazauskas: Creating a Win-Win Proposition with Freelancers and Building Your Brand
Reputation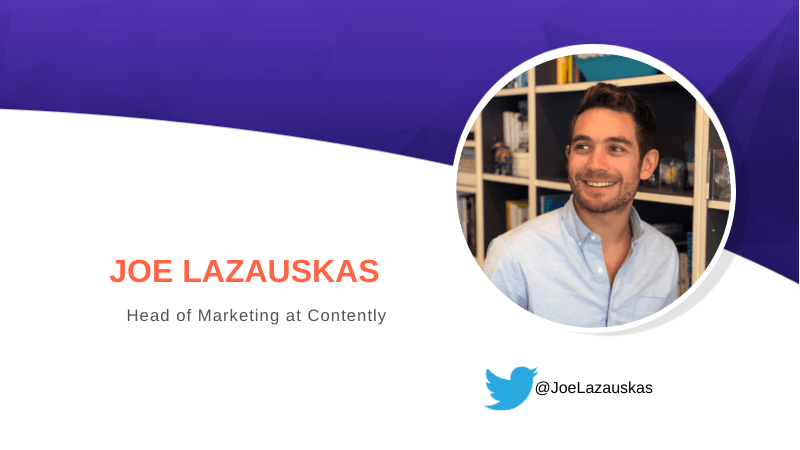 Joe Lazauskas is the head of marketing of Contently, which creates custom content and marketing solutions for large and small brands that want a quality experience for their brand.
Tell us a little bit about how you got started at Contently.
I come from a journalism background, and I started a news website called Faster Times out of college. We built up a pretty big audience, but one of the big challenges we had was monetizing our content. We started creating content for brands, both with a native advertising/sponsored content model and as somewhat of a content agency.
This was just at the advent of brands adopting the use of social media, with sites beginning to create an option for brands to have their own pages, and for brands to create more content and share it via social media sites. Early on, I was still covering technology in New York, and I came across Contently, a startup that had built a platform to connect brands with a huge network of journalists that they had built through an online tool. To me, that was a much better way of doing business than how I had been doing it previously.
With my business partner, I reached out to Contently to see if we could partner our writers and experience in content strategy for brands with what it was developing as a platform. I started working with Contently on a freelance/partner basis. When I sold Faster Times, I came on as Contently's Editor-in-Chief to help build that platform. I've had a number of roles there since, coming back recently to help with marketing.
What makes Contently different from a site like Upwork?
Contently is both a content company and a content marketing platform. We are a leader in Gartner's Magic Quadrant for content marketing platforms, and we also provide robust content strategy services, so it's really a solution that goes beyond just a marketplace of writers.
Typically when a client comes in and works with us, we first put them in what we call a strategy accelerator program, which includes an in-depth workshop to create their content strategy framework, determine their goals and KPIs, and do a deep analysis using proprietary content strategy technology to understand what content is going to resonate with their target audience, and so on.
All of that information goes directly into our platform, which will power how we pair them with and build their creative team, as well as inform a lot of the tools within the Contently platform. That includes our calendar, campaigns, an analyzer and SEO tools.
When it comes to the actual network, I think we're far more specialized and premium than other networks such as Upwork. We have incredibly careful vetting and training of everyone in our network, so we are able to staff the type of creators that you really have trouble finding otherwise. Our creators have worked with and staffed publications at the highest level.
For us, it's really a quality game as opposed to quantity. We curate the network very carefully so that our brands get the exact expertise and skill that they need. Upwork and Fivver are great platforms for those who just want to find a freelance writer to write about entertainment or cooking or sports topics. If you're trying to address a niche topic area, though, and you want the best of the best in the world, you come to Contently.
What are the advantages of the movement toward the gig economy for companies' hiring and for workers?
As a company that connects brands with freelancers, we feel that we have a really big responsibility to the freelance community. Most of our employees at Contently had previously been freelancers for an extended period of time, so we know the struggles; we know that life. That means that doing right by freelancers is a huge part of our mission.
For instance, our freelancers are paid as soon as they submit their first draft, even before it's published. We don't want our freelancers to have to wait 60 or 90 days to be paid or have to chase their money after they've already done the work. We also have a very high standard rate for all of our pieces of content, which helps to create loyalty among our writers and also ensure that they are being paid fairly for the work that they do.
We have a commitment to transparency about what portion of the income being generated the platform needs to take (which is very small relative to others in the industry), as well as transparency around how much we are charging brands for the writing freelancers are doing so they know we are not holding back or unfairly profiting from their work.
We started the Contently Foundation to support investigative journalism, and we are working now on launching other ways to support investigative journalism. So we think there's a huge responsibility on the part of a company like ours in the gig economy to support the writers that find work through our platform.
How is online reputation important for companies today?
I think online reputation is hugely important for building trust. Compared to even a decade ago, and definitely going back further than that, there is a greater emphasis placed on corporate responsibility and doing social good, particularly for Gen Z and Millennials. So you have to do the work of contributing to social good, first of all, but then you also have to tell a story about what you've done so that people can see it and know why your company believes what it does.
An important aspect of telling your story is creating content that is both compelling and native to the different channels such as social media, your website and even print—wherever your audience is. Being able to tell your stories will build your reputation.
What steps has Contently taken to protect its online reputation?
Earlier this spring, we floated the idea of adding an additional fee to our Paypal transactions because of increases in our own costs with the service. We never implemented the fee because we got a lot of feedback from our writers about it, saying that it was something that would hinder them in a number of ways that we had not anticipated.
Our then-CEO, who has since stepped down to pursue other priorities, listened to the feedback from our writers and very graciously apologized for considering adding the fee. We got a really good response to walking it back. To be able to admit that it wasn't maybe the best decision and that it didn't go along with the values that we had as a company turned what seemed like a negative situation for us into a net positive in the end.
I think the truth is, as a business, you're going to make a mistake at some point, even if you have the best intentions. It's okay just to say in very human, plain language, "We're sorry. We were wrong."
More broadly than online reputation, how has user experience become more important for companies to consider?
Design is hugely important; if your company website looks like a sketchy internet company from 1998, your target audience won't trust you no matter how good you actually are at what you do.
I think a lot of brands really struggle with user experience today, but it's one of the most important things you can tackle to build trust in your brand, especially if you are a startup or a new business. The good news is that it's easier than ever before and there are dynamic, very cool interactive experiences you can incorporate to generate interest in your site.
Want to make the most of your online presence to enhance your brand image?  Download our free ebook, Getting Started with Online Reputation Management today.