How to Create a Google My Business Location Group
Adam Dorfman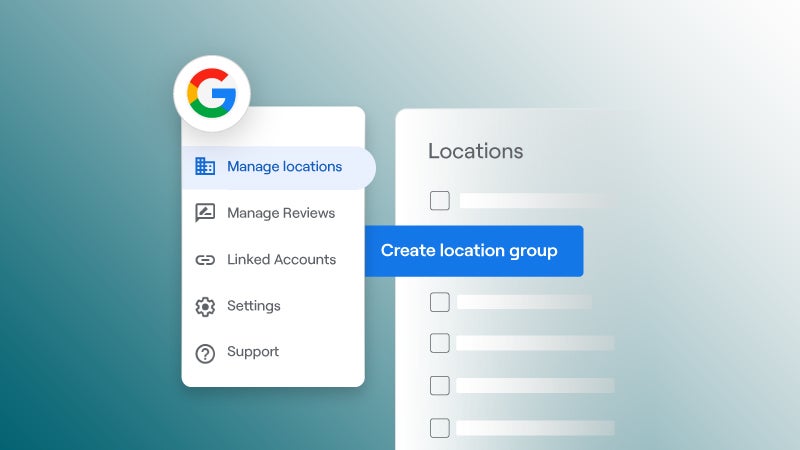 Ensuring that your business appears in relevant business listings is an essential part of managing your business and its reputation.
Google My Business is a tool that lets you create and manage a business profile in Google's business listings, so that it shows up correctly in search and on maps. Not only does a location group serve the critical function of a business listing, but it also allows extras, such as sharing your latest offers and promotions, as well as other helpful information like custom open hours and photos.
What's more, you can easily tap into customer insights, such as how many customers searched for your business in a given week, how many of them found you by searching on your business name, and how many found you through a traditional Google search.
The Google My Business location group is simply another word for "business account," and it allows you to share management of that account with multiple users through a shared folder.
Follow These Steps to Create a Location Group
Creating a location group in Google My Business is easy. Simply sign in to Google My Business (or create an account if you don't have one). If you only have one location group, click "Manage locations" on the menu.
Click on "Create location group" on the top right-hand corner of the screen. If your screen doesn't show this button, click on the 3-dash menu (the little stack of three parallel lines in the top left corner of the screen) and then click on "Create business account." Then you enter a location group name and click "Done."
The Convenience of a Google My Business Location Group
For many businesses, it's preferable to share location management with designated people, and a location group makes this easy. You can add or remove location group owners and managers easily by signing in to Google My Business and clicking on the gear icon or the three-dot menu. Then add the email addresses of the user you want to invite to share the location with. Bear in mind that only a designated "owner" of a location can add more owners and managers.
How Location Groups Help You Manage Your Online Reputation
Optimizing your location group is easy. Claiming and verifying a "Google My Business" listing for each of your business' locations is your first optimization step, and it helps ensure your business shows up in local search engine results. Google tends to favor its own current business listings when delivering local search results to users, so maintaining your Google My Business listing helps ensure the information you want to present to local users is rewarded with higher rankings.
Not only can authorized location users help ensure that all business information is current and correct, but it can also be helpful when something happens that could potentially affect your business reputation. An authorized user on the West Coast, for example, might be prepared to react after an authorized East Coast user has left work for the day and might not find out about the event until much later.
Whether or not you claim and manage your online business listings, your business will be talked about online. Therefore, it makes sense to claim these business listings and manage them regularly for accuracy and freshness. Interested in learning how to effectively manage your online reputation? Download our free Online Reputation Management Success Kit.